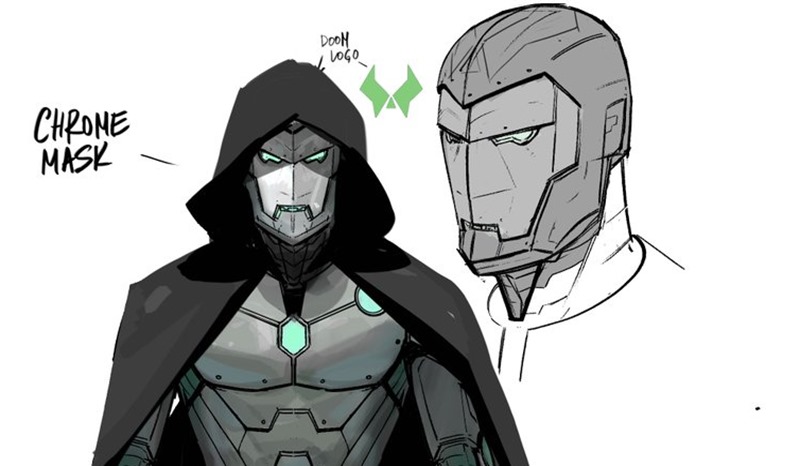 Most people can't make contrasting colours such as green and silver match, but they also have the distinct disadvantage of not being Doctor Doom. For years, the Latverian monarch flexed not only the power of science, magic and diplomatic immunity (HA! EVEN THE LAWS OF YOUR SO-CALLED UNITED NATIONS BOW BEFORE DOOM!), but also fashion. I mean, it's kind of hard to not take a man seriously when his boots alone carry enough firepower to level a building with ease.
Lately though, the good doctor has been experimenting with a change of wardrobe. Secret Wars saw Doom finally bury the fashion faux pas of that other Secret Wars event where he wore a green onesie into battle, with white cloth on finished armour that made the God-King of Battleworld look more regal than ever before.
Since the Secret Wars ended however, Doctor Doom has been more than happy to flaunt his restored good looks with a simple suit and tie combo. But when Doom dons the mantle of Iron Man, he'll be doing so with some new armour, and to hell with Edna Mode's rule about capes. After a tease last week of the first cover of Infamous Iron Man, artist Alex Maleev shared some new designs on his Twitter account of the full armour:
@Marvel Infamous Ironman concept part deux pic.twitter.com/0E0adNd8Z2

— Alex Maleev (@alexmaleev) July 15, 2016
@Marvel Infamous Ironman concept pic.twitter.com/0x2bUdavbs

— Alex Maleev (@alexmaleev) July 15, 2016
I quite like it. It's a union of Stark and Von Doom technology, that also borrows a few elements from the standard Doombot design. Simple and to the point, with a hood and cloak combo that gives it some personality. Tony Stark's current Invincible Iron Man armour is definitely prominent, but there are certain touches here that make it look very much like the product of Doom's thinking and style.
Now to see what makes the Infamous Iron Man armour pack an extra punch, considering how Doctor Doom isn't just one of the cleverest brains in the Marvel universe, but also one of the most powerful mages around who could give Doctor Strange a run for his money as sorcerer supreme.
Last Updated: July 19, 2016