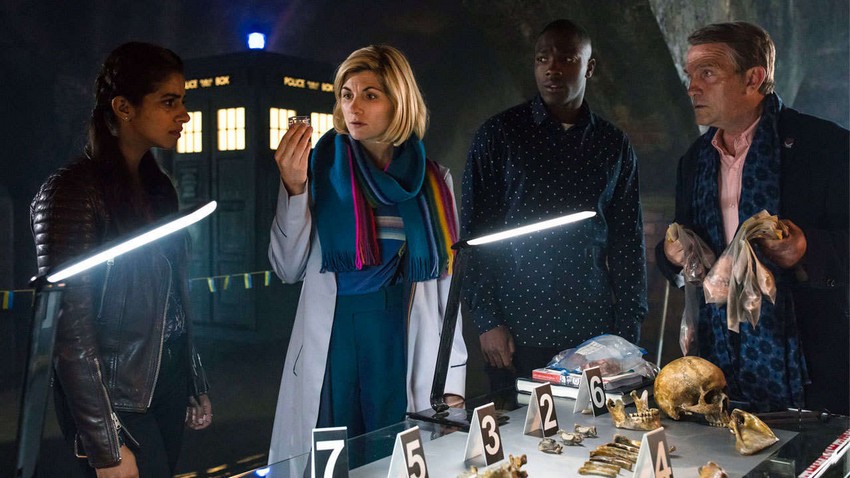 After relative radio silence for nearly a year, we finally got our very first glimpse at the upcoming twelfth season of Doctor Who when BBC released the first trailer just the other day. Barely a week later and now we have a second trailer. Apparently even a Time Lord needs to rush to make up for lost time.
Said Time Lord being Jodie Whittaker's Doctor who is all frantic and doomsday-ish in this new preview as she declares that a "big, serious crisis" is coming. No, this is not confirmation that the Doctor will be joining the cast of The CW's Arrowverse Crisis on Infinite Earths crossover (though, based on just how insane that cast is, I wouldn't be surprised), but it's clear that something rather major is going to be happening in the upcoming season.
Seeing as how new showrunner Chris Chibnall kept things relatively small-time in season 11 (sometimes frustratingly so) as compared to the epic universe-shaking longterm arcs that his predecessor Steven Moffat became famous for (sometimes also frustratingly so), it will be interesting to see if he steps things up now.
And now we officially know when this "big, serious crisis" will kick off as the new trailer reveals that season 12 of Doctor Who will be debuting on New Years Day 2020! Traditionally, Doctor Who has always had a Christmas special that took place before the new season started much later in the year. This time things are going to be different, of course. But while we're getting our Doctor Who fix earlier than normal, there will be less of it with no special, right? Well, maybe not.
According to insiders, the season 12 opening episode is rumoured to be one of the most ambitious ever done in the show's modern history. Titled Spyfall (which is clearly a nod to that other long-running British franchise), the season premiere is actually a two-parter with the second instalment airing just four days later on Sunday, 5 January, before the show settles into its regular weekly schedule.
Last Updated: December 3, 2019