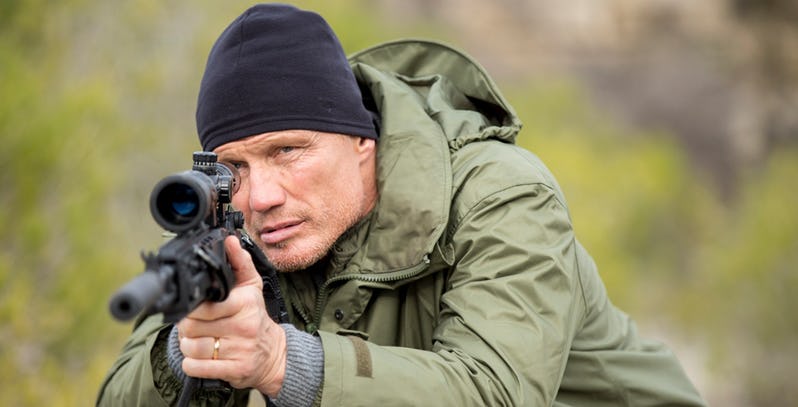 Despite having made his career as an action star over 30 years ago when he popped up in A View to Kill (blink and you'll miss it), age has not slowed down Dolph Lundgren's career at all. Lundgren's career seems to be back on track for him after The Expendables series and he has starred in two of his biggest films to date, Creed II and Aquaman.
Lundgren is taking centre stage once again in a reminder to the world why he was one of the biggest action heroes of his time as he takes on the role of a father and husband seeking revenge the action-thriller The Tracker. Can it showcase that Lundgren is even more threatening now than he was in his younger Apollo Creed-killing days or is his career as an action film hero firmly behind him?
If this movie trailer is anything to go by, it has dud written all over it. It's clear that this story from director Giorgi Serafini and co-writers Rab Berry, Scott Mallace, and Maria L. Morrison is trying to draw inspiration from the Liam Neeson's Taken series, but showcases absolutely none of its great action scenes and almost all of its terrible plot with even hammier performances this time around.
While I enjoy the odd revenge action thriller, this is not the kind of movie that is bound to get the pulses racing and definitely isn't a good tribute to Lundgren's reputation. The only thing dying in this film are the careers of several actors, but hopefully Lundgren can find another film in the near future (possibly Expendables 4) that will give us a better opportunity to see him as the icon we remember him as.
The Tracker is coming to Video on Demand and streaming services sometime in August. A good thing because I probably wouldn't spend any money on this at the cinema.
Last Updated: July 10, 2019