When international superstar Bruce Lee passed away unexpectedly in 1973 at the age of 32, it left a chasmic gap in the world of martial arts movies. Andrew Koji will probably be the first to tell you that to even try to fill Lee's black kung fu slippers is a fool's errand. That doesn't mean he's not doing a good job of it though.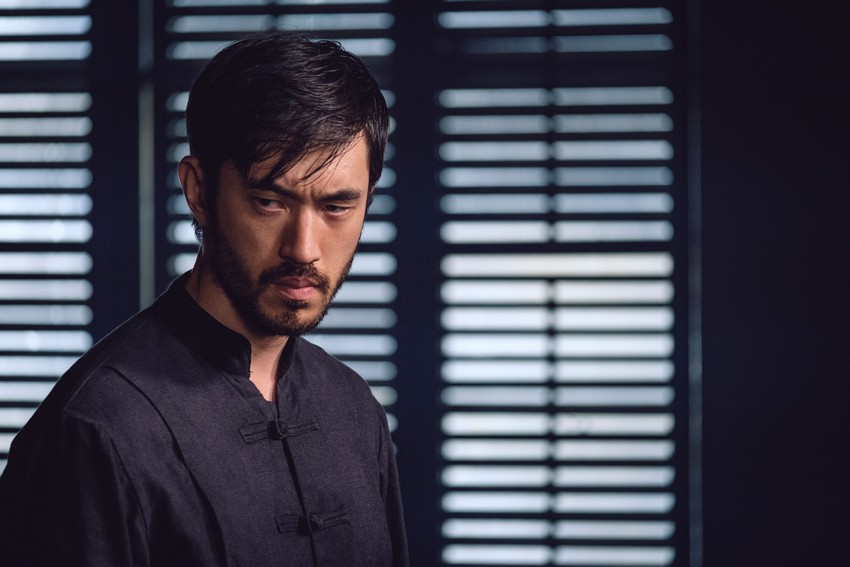 A British actor of mixed Japanese and English heritage who cut his teeth on BBC fare like Call the Midwife and Casualty, Koji may not be the likeliest pick on paper to reinvigorate Lee's legacy. That's exactly what he's been called on to do though, as he was tapped by producer Shannon Lee (Bruce Lee's daughter), producer/director Justin Lin (Fast and Furious franchise) and showrunner Jonathan Tropper (Banshee) to star in Warrior, a fantastic new martial arts drama series produced by Cinemax based on the original writings of Lee himself. To Andrew's credit, he's risen to the challenge by palpably imbuing his lead character of Ah Sahm – a Chinese immigrant in 1870s San Francisco who gets caught up in Chinatown gang warfare and local racial tensions when he comes looking for his sister – with much of Lee's physical mannerisms. There's the ballsy swagger, that famous nose flick, and even that mischievous grin.
We spoke to Koji telephonically last week while he was back home in England, and asked him whether all of that was intentional from the outset or just a result of working off Lee's work.
Yeah, it was intentional. There's supposed to be more nods at him, like a gesture, fighting styles… the nose flick. The swagger, I think, is because Jonathan loves his leading men with swagger. He loves Harrison Ford, those are the leading men he kind of likes. And I think it was for me, I never wanted be [a copy]. I never even questioned wanting to. To be honest, at some point I was also like "I don't want to do an impersonation of Bruce Lee," because I felt at the time, before I heard from Shannon and Justin, when I got the pilot script there were some indications of Bruce Lee that came to my mind. And I think that would be dangerous to do. I think Bruce Lee is about personal expression and just my gut was like "I've got to make this guy my own".
Continuing, Koji explained that when creating Ah Sahm – a character Lee had intended to play himself if his original pitch had ever been made into a series as he intended – he delved into Lee's persona and history to fill in the background.
I had to find parallels within Bruce Lee. Studying him was like a compass, it was directing me to create a different kind of version of the character in this representation of Ah Sahm rather than "Let's do Bruce Lee how Bruce Lee would have played this role". Ok, I'm going to try and fuse it. I take bits of Bruce Lee's biography and try and blend that into Ah Sahm's backstory that was appropriate at the time. And it was kind of like a waypoint that I could find.
Koji admitted that while he's never personally read Lee's original 8-page treatment for Warrior, he knows that Lee went through many versions of Ah Sahm ("At one point he may have been like a blind swordsman"). Lin and Tropper have studies Lee's writings though – complete his with scribbled notes and sketches – and "they tried to stay as truthful to his original ideas as possible".
There was definitely Ah Sahm coming off the boat and he was looking for his sister, there was definitely him joining a gang. And there it was quite violent and showed the underworld a lot more. And I think, obviously with modern TV being a different format and all that, I guess you never know. So I don't know exactly how much of the 8-page treatment survived, but I know they definitely tried to incorporate everything they could within the context of the modern age, Cinemax and all that.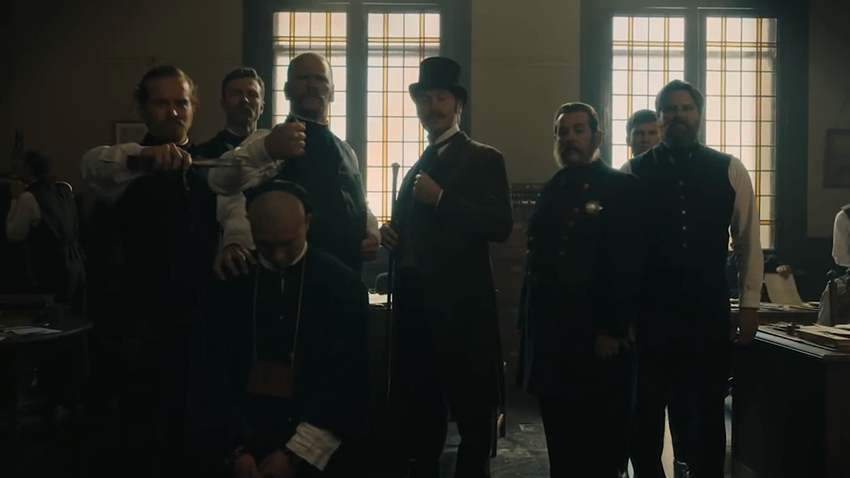 That "modern age" mentioned is rather pertinent. As Ah Sahm and his fellow immigrants are constantly met with xenophobia, while the disgruntled and angry "locals" – who themselves are actually Irish immigrants – fear their livelihood being taken away from them and lash out in anger, you would have to be blind to not see the parallels to current world politics. As the 19th-century set Warrior makes clear though, these aren't new problems.
Jonathan is conscious of the political climate in America, but I think he started working on it before a lot of the political stuff started to manifest through Trump etc. He started writing a good couple of years ago – it was all a happy coincidence… I think essentially he's just trying to be truthful to what was happening at the time, which happens to be something that human beings haven't moved on from since then and is mirrored in the current-day climate.
For Koji though, Warrior is more than the political allegories. It's a tale of a Ah Sahm looking for his sister but getting sucked into a new family in the form of the Hop Wei – one of the many Tongs (aka Chinese gangs) who are at war in Chinatown – and having his loyalties challenged. It's a tale about a sister, in Dianna Doan's Mai Ling, finding her own path in life; of a son, in Jason Tobin's Young Jun, trying to please his Tong boss father; of a wife, in Joanna Vanderham's Penelope Blake, trying make do with a loveless political marriage; of a father, in Kieran Bew's Officer Bill O'Hara, trying to do whatever it takes to provide for his family. These and other stories are what make these characters.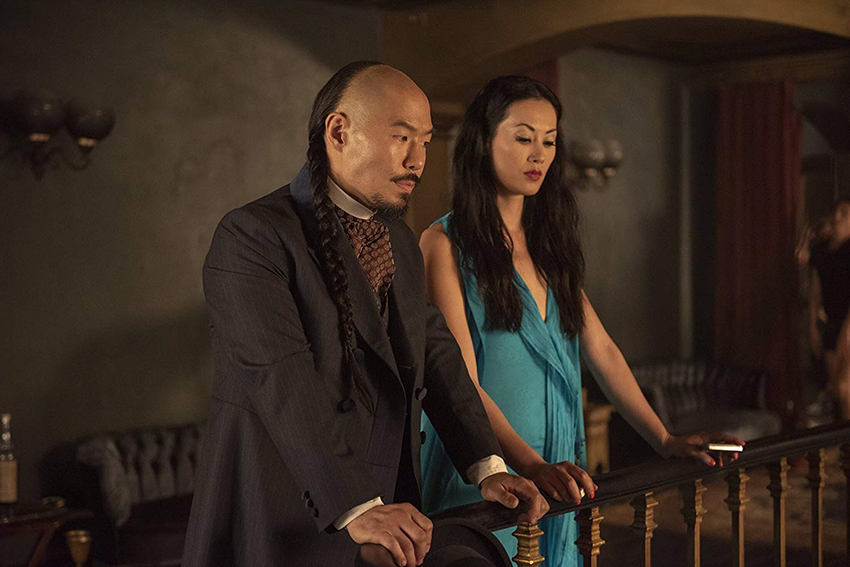 Jonathan essentially loves to write about family and where they belong, I think that's what the underbelly of Banshee is and what Warrior is – the relationships beneath that. So I think they are very much the backbone of the show and what differentiates it from any other action shows is that it does touch on those issues. For me and the other actors, that's what makes it interesting. It charges the fight scenes, it charges the energy of the show. Jonathan knows what he's doing essentially, he's a very clever guy.
You know what else charges those fight scenes? Amazing choreography and execution. That's something that became synonymous with Tropper on Banshee, where he staged some of the best hand-to-hand brawls TV has ever seen. Warrior continues in that vein with more of a traditional kung fu approach and according to Koji, this is very much a collaborative effort between Tropper (who has a black belt in karate himself), his second unit director/stunt co-ordinator Brett Chan, and the actors doing most of the fights themselves.
Jonathan, in the scripts, he writes super detailed fight scenes. Like the guy turns around and he does a left block and then he parries with a double-fisted strike etc. He writes very detailed things and then what Bret Chan does, he goes to talk to JT and asks "What's your vision?". He'll incorporate some of that but it doesn't translate to a full fight scene yet, so Brett will develop that and do his own thing. And then, at that point, the actors will be given the pre-viz or the choreography and then we would add our own input. We would develop a relationship with Brett to collaborate and go "Maybe my character, I think, would do this punch or do that punch". So basically it will be all of us coming together to do that. We try and do that as much as we can.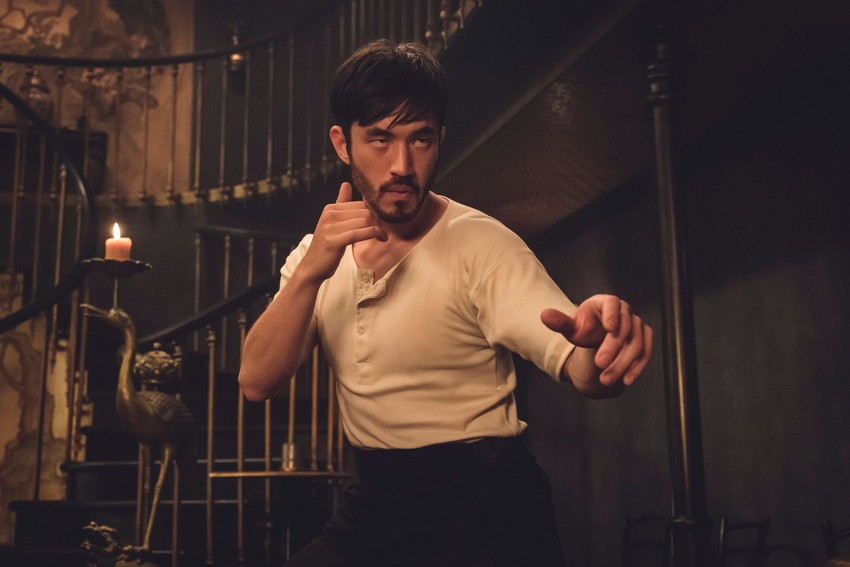 One of the aspects of Warrior that had some of the most appeal to me was that it was shot in my proverbial back yard here in and around Cape Town, with some really fantastic production designing transforming it into the San Francisco of 150 years ago. Koji was quick to tell me that he "loved" shooting here, but there's something in particular about Cape Town that he took to.
The food there is amazing. And obviously the scenery, the landscape is beautiful. Coming from London where it's gloom and rain and grey, I think it's beautiful. Absolutely beautiful. Table Mountain, Lion's Head, yeah. You guys just know how to do food too.
Prompted by that answer, I couldn't help but ask if he's had a gatsby yet. Unfortunately, he hadn't yet sampled Cape Town's iconic junk food, but he was incredibly excited to try it out when the production returned to film season 2, telling me "Thanks, mah bru" for the recommendation and even dropping in a "Lekker, lekker" in anticipation. A great attitude like that and he can kick butt like Bruce Lee? How can you not like Andrew Koji?
Warrior is currently airing on Cinemax in the US, but will debut locally in South Africa in July on DStv/Showmax.
Last Updated: April 24, 2019