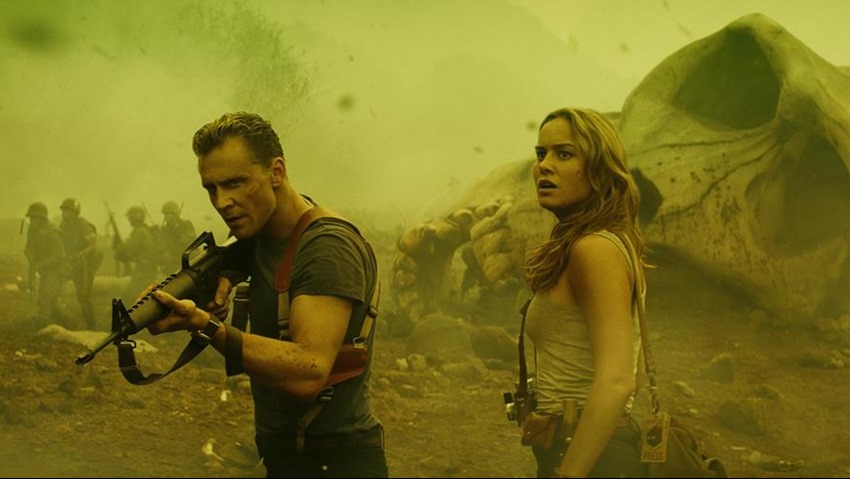 If ever there was a movie that has me wishing that it lives up to the trailers, it has to be Kong: Skull Island. The entire marketing blitz for the first King Kong movie in over a decade has been one of a most groovy nature: The swinging seventies, Vietnam War-era soundtracks and a vibe that would feel right at home on the set of Apocalypse Now. While substance always trumps style, there's something about the psychedelic push to get the latest King Kong movie resonating with audiences that just works for me.
And this latest trailer is no exception. Hell it might be the best trailer so far, with The Animals' We gotta get outta this place as a theme tune. Check it out for yourself below:
The producers of Godzilla reimagine the origins of one the most powerful monster myths of all in "Kong: Skull Island," from Warner Bros. Pictures, Legendary Pictures and Tencent Pictures.  This compelling, original adventure from director Jordan Vogt-Roberts ("The Kings of Summer") tells the story of a diverse team of scientists, soldiers and adventurers uniting to explore a mythical, uncharted island in the Pacific, as dangerous as it is beautiful.

Cut off from everything they know, the team ventures into the domain of the mighty Kong, igniting the ultimate battle between man and nature.  As their mission of discovery becomes one of survival, they must fight to escape a primal Eden in which humanity does not belong.
Not long to go now before Kong stomps into cinemas on March 10, bringing Tom Hiddleston, John C. Reilly, Samuel L. Jackson, John Goodman, and Corey Hawkins along for the ride. Jordan "Kings of Summer" Vogt-Roberts directs, most likely from the top of a mountain of special effects artist corpses who all died bringing the biggest of apes to life one hair at a time.
Last Updated: February 28, 2017