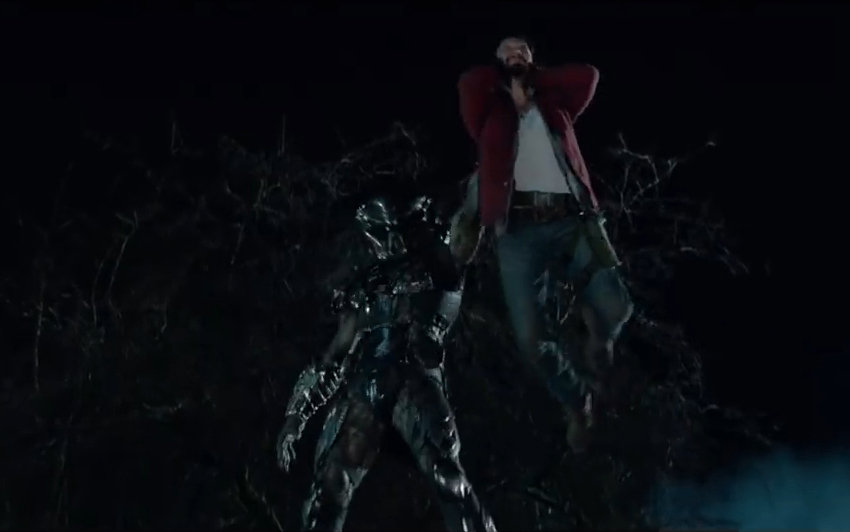 As our grumpy leader Geoff would put it, the first trailer for The Predator was fine. This first look at writer/director Shane Black's follow-up to the classic sci-fi action thriller franchise was clearly held back by its green band status as it couldn't really give a fair representation of the film's action, focusing more on kids and remote-controlled spaceships. The first R-rated red band trailer was a huge improvement though, as we got to finally get a glimpse at what Black was bringing to the table with his band of mercs led by Boyd Holbrook having to throw down against the most lethal version of the Predator we've seen on screen yet (well, two most lethal versions as we soon learned). It was just a glimpse though, but that's where this final trailer comes in.
The latest red band preview truly lets us know that we're not only watching an R-rated Predator movie here, but a Shane Black movie as a combo of brutal violence, crazy characters and quippy dialogue is the order of the day here. Black became one of the hottest writers in Hollywood in the 80s and 90s for his brand of snappy machismo action screenplays like Lethal Weapon 1 & 2, The Last Boy Scout, The Last Kiss Goodnight and more. Most recently, Iron Man 3 proved that he could make big budget special FX-laden blockbusters, while The Nice Guys showed he had lost none of his bite when it came to unhinged character stories. Now all of that – plus some huge angry aliens and their dogs! – seems to be coming together in The Predator and it looks like bloody good fun. Pun fully intended.
Check it out below.
From the outer reaches of space to the backwoods of southern Georgia, the hunt comes home in Shane Black's explosive reinvention of the Predator series. Now, the universe's most lethal hunters are stronger, smarter and deadlier than ever before. And only a ragtag crew of ex-soldiers and an evolutionary biology professor can prevent the end of the human race.
The Predator stars Boyd Holbrook, Trevante Rhodes, Jacob Tremblay, Keegan-Michael Key, Olivia Munn, Sterling K. Brown, Alfie Allen, Thomas Jane, Augusto Aguilera, Jake Busey, and Yvonne Strahovski. It is scheduled for release on 14 September 2018.
Last Updated: September 3, 2018