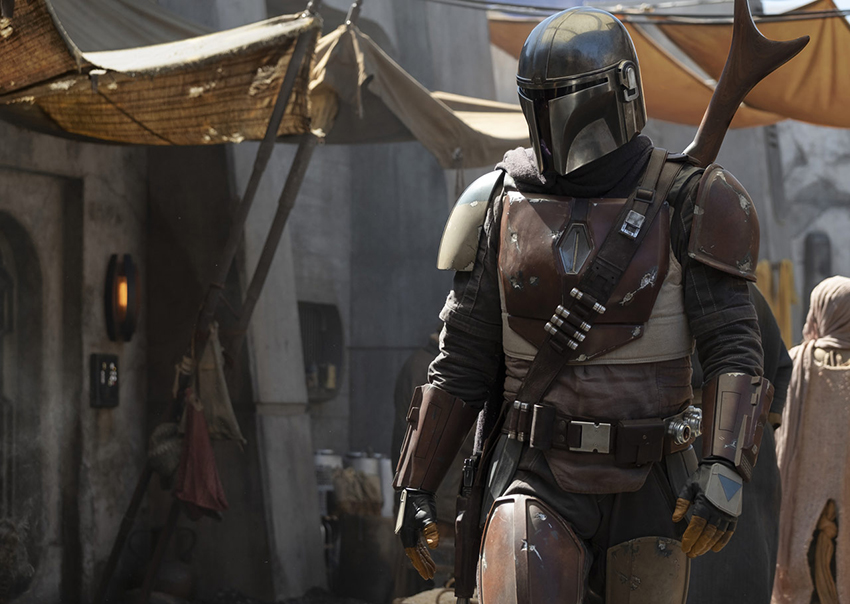 Disney CEO Bob Iger made the huge announcement on Friday that following the release of Star Wars: The Rise of Skywalker (ooh, still getting goosebumps) in December, which will be completing the 9-film Skywalker Saga that started all the way back in 1977, Star Wars movies would be taking a break. Please note: Star Wars movies. There will still be plenty of Star Wars around for junkies like myself, just not on the big screen. And leading the pack will be The Mandalorian!
Created by acclaimed filmmaker Jon Favreau (Iron Man, The Jungle Book), The Mandalorian is the flagship Star Wars show that will be launching with the Disney+ streaming service in November. Taking place between the events of Return of the Jedi and The Force Awakens, the Mandalorian stars Pedro Pascal (Game of Throne) as the titular armour-wearing badass, who is described as "a lone gunfighter in the outer reaches of the galaxy far from the authority of the New Republic." And that's really all we know.
Well, knew. Because the Mandalorian panel at Star Wars Celebration just finished and we got to hear a whole lot. I specifically say "hear" because unfortunately while footage was shown to the audience in attendance, the online stream was blacked out while it was playing. When the stream got turned back on though, people were losing their minds… so yeah that's probably going to leak online very quickly and we'll update as soon as it does. We already know that there's at least one scene when the Mandalorian rides a Dewback like a cowboy.
From what we did see, Lucasfilm President Kathleen Kennedy was initially joined on-stage by Favreau and Star Wars: The Clone Wars/Star Wars Rebels creator Dave Filoni who revealed how they first met at Skywalker Ranch while Favreau was making Iron Man and Filoni was making The Clone Wars. Both were each other's first respective test audience and Filoni asked Favreau to voice a Mandalorian in the animated series. That and Favreau's obsession with what happened after the end of Return of the Jedi and how the universe reacted to the fall of the empire stayed with the filmmaker for years.
If you look throughout history, it's fun at first, but it gets very complicated very quickly. The idea of that world after The Return of the Jedi and what would happen and what sort of characters would survive, and what it was like until the new Republic took over. You have vestiges of the Empire. You have only the strong surviving. You have chaos taking over the galaxy.
According to Kennedy, when Disney+ gave Lucasfilm the opportunity to make Star Wars series, Favreau pitched The Mandalorian and "it was instantaneous. We were so excited to bring this idea to the screen."
Joining Favreau and Filoni on-stage for the panel was Pascal, along with ex-MMA figher-turned-actress Gina Carano, and beloved veteran Carl Weathers. Pascal didn't name his Mandalorian, and played very coy about the subject, but I still believe him to be Cobb Vanth, the self-made lawman introduced in Chuck Wendig's Aftermath books. According to Pascal, he has very questionable morals and is made in the mould of classic lone gunman or samurai. We also know that the ship he flies around in is an ex-army surplus gunship named the Razorcrest.
It was revealed that Carano's character was named Kara Dune (spelling?) and she's an ex-Rebels shocktrooper who is a bit of loner who is trying to reintegrate into society. Weathers' character is Grief Carga (again, spelling?), the head of a guild of bounty hunters, who's looking for somebody to go after a "certain product" for a client that's very valuable. He hires Pascal's Mandalorian for the job.
One cool detail mentioned on the panel, is that when the production needed more Stormtroopers for scenes, they called up the 501st Legion, the long-running Stormtrooper cosplay group. The group had no idea what they were being called for, thinking it was some kind of charity or promo event, only to get their minds blown by discovering they were going to be in this historic show.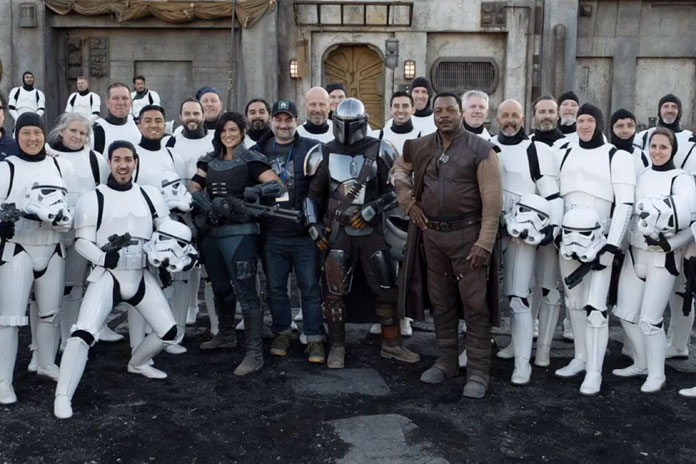 Favreau and Filoni also showed something that made my geeky heart leap with joy, as they revealed that they wen't completely old school and used physical scale models of the Razorcrest with tracking camera shots on top of the cutting edge digital effects technologies Favreau used on The Jungle Book and VR. I've always absolutely loved the way models looked onscreen, and always wished people would use them more. Yes, CGI is far more flexible, but you can't beat the look of those practical effects as they just really age.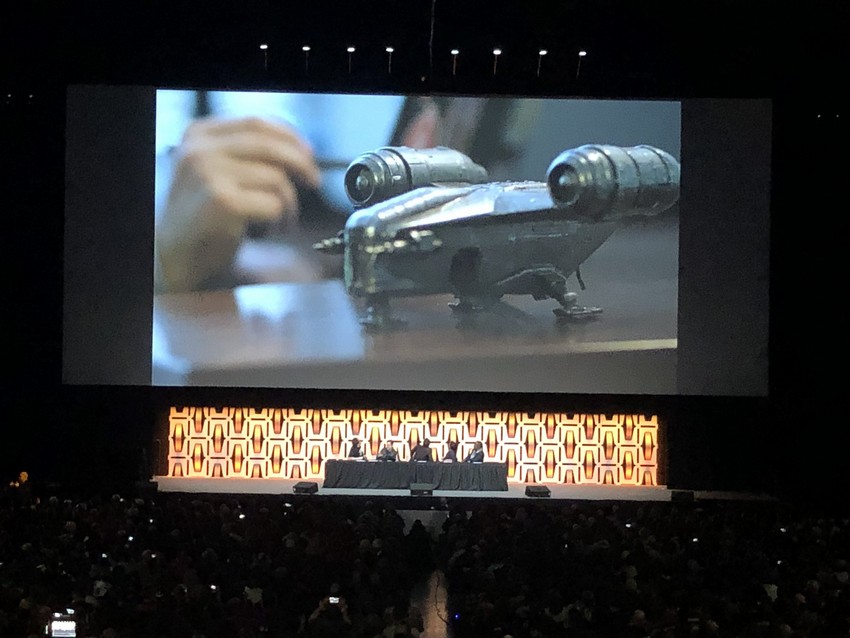 The Mandalorian also stars Nick Nolte, Giancarlo Esposito, Emily Swallow, Carl Weathers, Omid Abtahi, Werner Herzog, and Taika Waititi. Yes, that Taika Waititi. The Thor: Ragnarok director is playing a mysterious role, but also directed sat least one of the episodes alongside Favreau, Filoni (making his live-action directing debut), Bryce Dallas Howard, Rick Famuyiwa, and Deborah Chow. That's quite an eclectic bunch, but that was by design, according to Favreau.
Everyone was from a different perspective, different generation. We love pulling all the different stories together. For people who have been fans for 40 years, we have a lot in there for you. But these are new characters and new stories, so it's a great way to invite new people in. … Much like we did with Marvel with Iron Man, let's make it something people could jump in on who don't know anything about Star Wars and enjoy, but if you've been a fan, there's been a lot of care that goes into all the details.
The 8-episode first season (I'm assuming there will be more) of The Mandalorian will be premiering when Disney+ drops on 12 November. In the meantime, you can watch the full panel below (it starts just after the 16:00 mark).
Last Updated: April 15, 2019