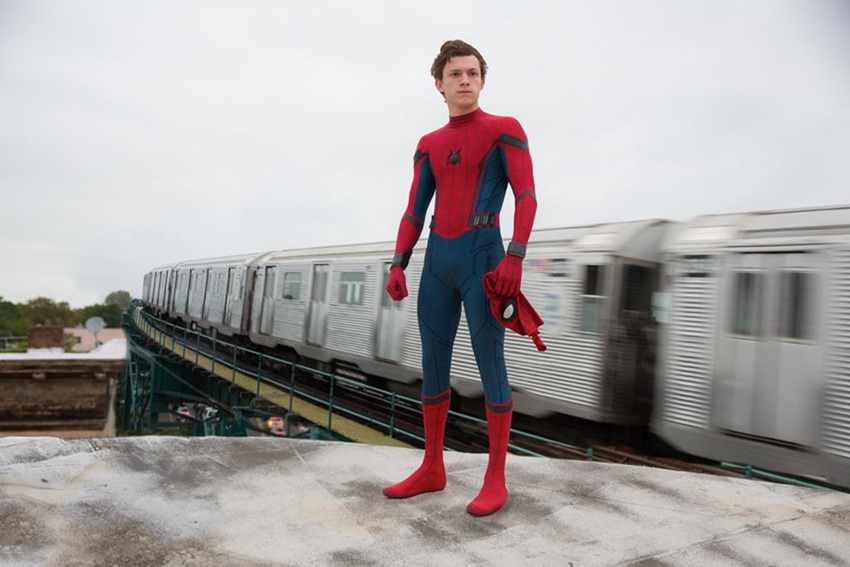 After the reports from early in last week, I'm sure many of you woke up this morning asking "Hey, where my Spider-Man: Far From Home trailer at?!". So did the pundits have it wrong in their assessment that Marvel was going to take the unprecedented route of releasing three trailers in one week? Actually, no. They were right on that money as the first look at the new Spidey flick did indeed debut at the Comic-Con Experience in Brazil as predicted, but Sony – who still retain the character rights and co-produce with Marvel – decided to delay the online release of the trailer until later in the month (watercooler talk pegs 18 December as the release date).
Luckily for us unfortunate folks that weren't in attendance at CCXP, we don't have to go completely dry until then. You can check out a beat-by-beat breakdown of the trailer over on Collider (although Steve Weintraub couldn't be too detailed since the crowd was so loud that he missed a lot of the dialogue), but even better is that the first image has been revealed (via DanielRPK) of titular star Tom Holland wearing the black Spider-Man stealth suit we've been hearing about.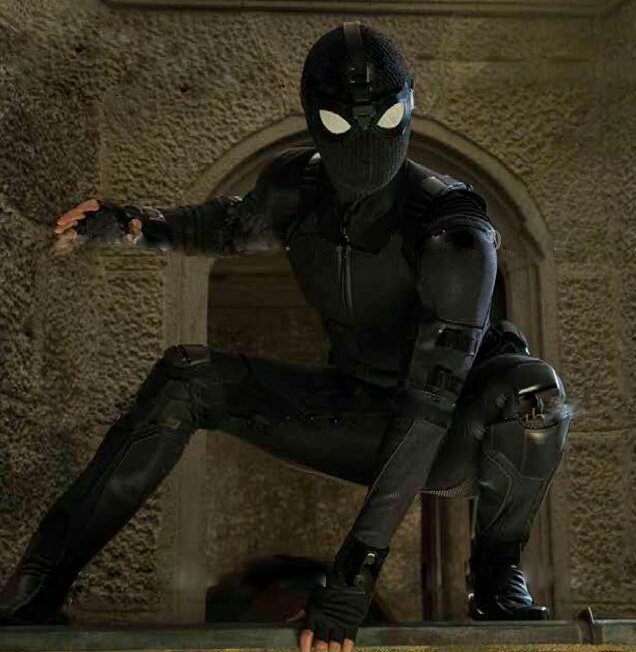 We still don't know exactly how the stealth suit factors into things and whether Holland's Peter Parker gets it from Tony Stark or somewhere else. That last part is telling as the folks in attendance all report one oddity about the footage shown which is that Far From Home doesn't appear to acknowledge whatever happens in Avengers: Endgame at all, despite the fact that Marvel has said it takes place straight after that film.
The panel for the film was actually full of surprises. While co-star Jacob Batalon, who plays Parker's best friend Ned, was the only cast member confirmed to be in attendance, the crowd got a nice surprise when Holland and Jake Gyllenhaal showed up as well.
.@TomHolland1996 just surprised the #ccxp2018 crowd and came out in the @SonyPictures panel. The #SpiderManFarFromHome trailer is about to drop. pic.twitter.com/gld68cUN79

— Steven Weintraub (@colliderfrosty) December 8, 2018
So @SonyPictures just world premiered the #SpiderManFarFromHome trailer (which looks fucking awesome) and then #jakegyllenhaal came out and surprised the #ccxp2018 crowd. The crowd was so loud during the trailer I could barely hear some of the dialogue! pic.twitter.com/BSRUIDJ8j9

— Steven Weintraub (@colliderfrosty) December 8, 2018
Gyllenhaal is playing the classic Spider-Man villain Quentin Beck aka Mysterio and reports of the shown footage state that director Jon Watts has recreated the baddie perfectly on-screen, including his signature "fish-bowl" look. However, a rather surprising revelation has been made about Mysterio's role in the movie.
[POTENTIAL SPOILER ALERT]
As SuperBroMovies explained, while in attendance, Holland revealed that Spider-Man and Mysterio are actually teaming up in the movie after Samuel L. Jackson's Nick Fury recruits both of them to battle "the Elementals". Gyllenhaal went on to confirm this unexpected team-up, stating that it's Beck's knowledge that gets him involved and this original take on the character is what drew the Oscar nominee to the role.
There are these threats to the world, the Elementals, elemental creatures. And Mysterio is someone who knows about them and wants to make sure that the world is safe from them. And Nick Fury asks him to come on and help because he's the only one who really understands them. And then he teams up with friendly neighborhood Spider-Man and unfortunately has to make him become more than a friendly neighborhood Spider-Man.

This character Mysterio, when they showed it to me, was so original. And the idea of who he is and why he's there is so original and so special, I was like 'Man, they did it again.' I didn't think [Sony and Marvel] could, and they do it every time.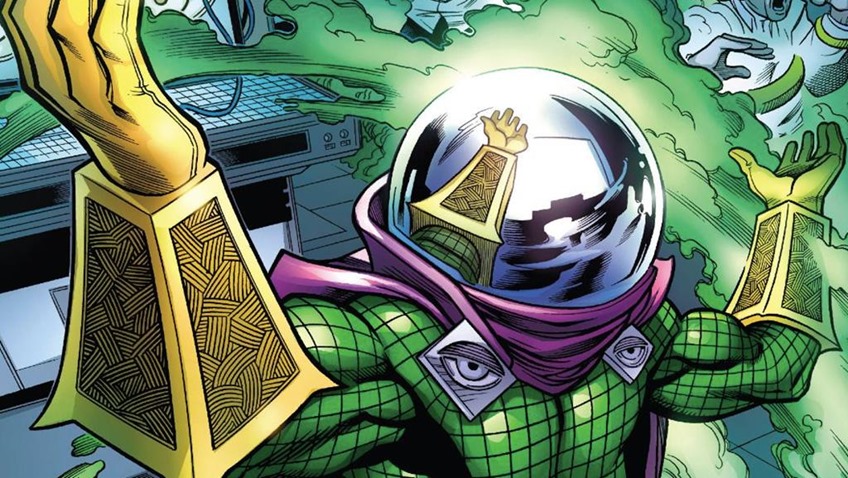 So who are these Elementals? Introduced all the way back in Supernatural Thrillers #8 in 1974, the group is a quartet of beings that were cast out of their own universe and ended up on Earth millennia ago where the would establish and rule over an ancient kingdom that would one day become Egypt. With each of the members drawing their powers from the respective four elements, the group consisted of Hydron (Lord of Waters), Magnum (Master of the Earth), Hellfire (Wielder of Flame) and Zephyr (Mistress of The Winds).
The Elementals were traditionally foes of some of other classic B-list Marvel superhero characters and had a brief run-in Captain Marvel back in the early days of her career when she still went by Ms Marvel. The important thing though is that they've never had anything to do with Spider-Man in the comics. So what does that mean? If I was a betting man, I would put my money on the entire Elementals angle being nothing but subterfuge from Mysterio himself. He is, after all, the master of illusions and misdirection, so him teaming up on the side of the good guys to fight a group of enemies he just so happens to have experience with sounds like a long con to me.
Of course, I could be wrong and Mysterio is actually going to be a good guy now. I guess we'll find out for sure when Spider-Man: Far From Home releases.
Last Updated: December 10, 2018