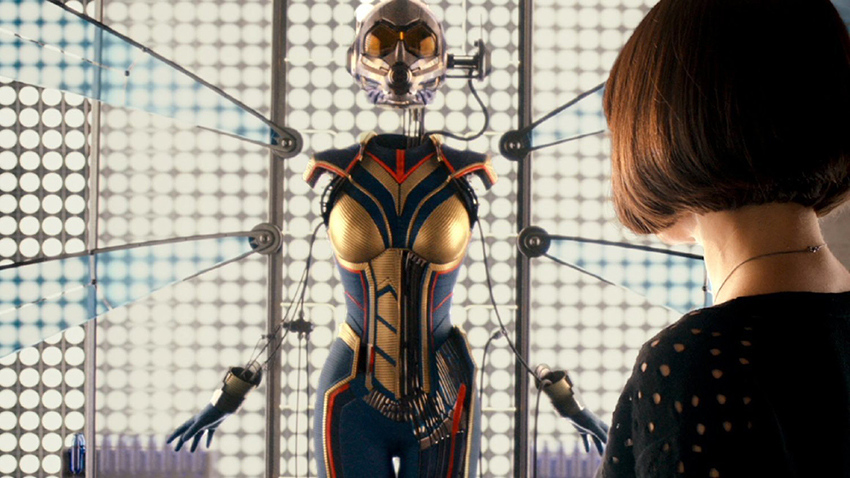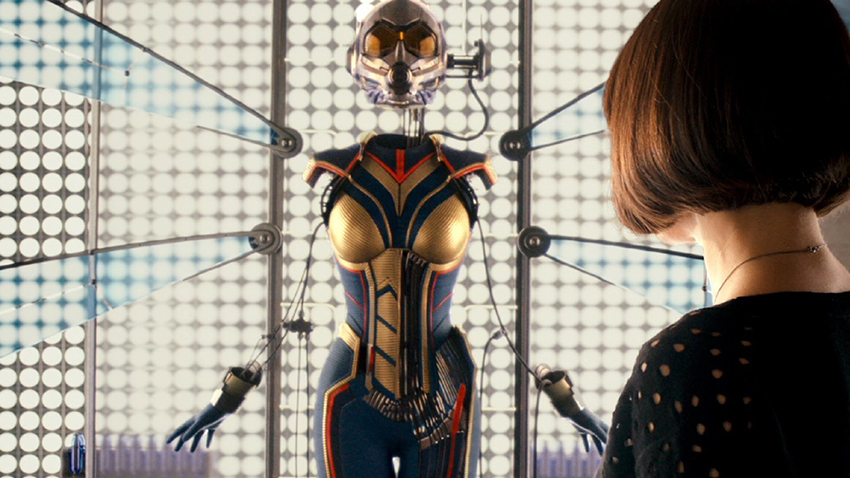 Pardon the pun, but 2015's Ant-Man was a bit of a marvel. Out of all the Marvel Studios films it had by far the most tumultuous production life-cycle, what with Edgar Wright dropping out of nearly decade-long passion project at the eleventh hour leaving Marvel to hop from filmmaker to filmmaker before Peyton Reed eventually took the reins. Despite all that though, we got a fantastic little superhero heist film that refreshingly kept its scope small.
As can be guessed by the title though – and the first film's post-credits teaser seen above – Ant-Man and the Wasp will be expanding that scope in a way, by having Evangeline Lilly's Hope Van Dyne suit up next to Paul Rudd's Ant-Man as fan-favourite comic book superhero the Wasp. And although the movie is still a long way off, we actually get to see what that looks like now as the actress took to social media to reveal the first official image of her in costume.
I am honoured to be on set today playing #TheWasp on what would be Jack Kirby's 100th birthday.
.#ThankYouJackKirby #AntManAndTheWasp pic.twitter.com/EBsV8jTK34

— Evangeline Lilly (@EvangelineLilly) August 28, 2017
I have to admit, I'm a tad disappointed. The costume originally shown at the end of Ant-Man was a lot more colourful and distinctive (so too, the concept reportedly shown to attendees at the D23 Expo). This looks like a generic sci-fi suit that could have come from anywhere. The film is still very early in production though so I'm hoping this isn't the final design or that it's going to get spruced up a bit in post-production later. There's been rumours that Marvel will be unveiling a look at Wasp's signature helmet soon as well, so hopefully that will be a bit more striking.
As she explained in her tweet, Lilly posted the pic in celebration of what would have been the 100th birthday of legendary comic book creator Jack Kirby, who co-created Wasp with Stan Lee way back in 1963. That Wasp was, of course, Janet Van Dyne, Hope's mother, who will be played in the upcoming sequel by Michelle Pfeiffer. It is assumed that rescuing Janet Van Dyne from the quantum realm in which she became trapped when she was still donning the costume in her young days will inform a large part of the movie's plot line. I am also assuming that Lilly's Wasp will be punching whatever is trapping her mom into its constituent atoms based on how incredibly buffed up she got for the role.
#Wasp ready arms. ??. They better be. First official day of shooting for me tomorrow! ?. #putmeincoach! pic.twitter.com/CtuCfBU8vw

— Evangeline Lilly (@EvangelineLilly) August 6, 2017
Daaaaaaaamn!
Ant-Man and the Wasp also stars Michael Douglas and Michael Pena, reprising their respective roles as Hank Pym and Luis. Joining the cast for the sequel will be Laurence Fishburne, Hannah John-Kamen, Walton Goggins and Randall Park. Peyton Reed is returning to direct the film, which is scheduled for release on July 6, 2018. Here's the full synopsis:
From the Marvel Cinematic Universe comes a new chapter featuring heroes with the astonishing ability to shrink: Ant-Man and The Wasp. In the aftermath of Captain America: Civil War, Scott Lang (Rudd) grapples with the consequences of his choices as both a Super Hero and a father. As he struggles to rebalance his home life with his responsibilities as Ant-Man, he's confronted by Hope van Dyne (Lilly) and Dr. Hank Pym (Douglas) with an urgent new mission. Scott must once again put on the suit and learn to fight alongside The Wasp as the team works together to uncover secrets from their past.
Last Updated: August 29, 2017