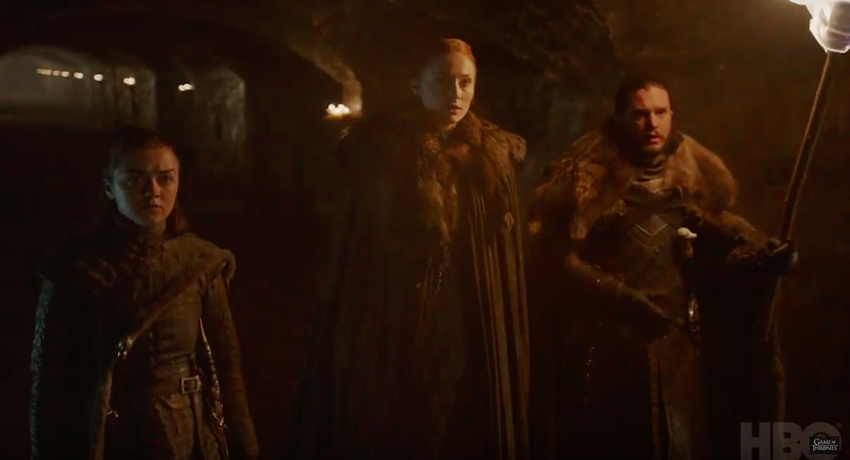 Mark your calendars for 14 April, folks! Winter is no longer coming. It's actually here. Well, close enough at least, as now we know exactly when Ned Stark's long prophesied meteorological phenomenon will actually take place thanks to HBO having now released the first teaser trailer for the final season of Game of Thrones. Check it out below.
While this trailer is devoid of dragons, demonic ice kings, and all the other fantastical elements that has made Game of Thrones such a worldwide phenomenon, there's still some great eerie undertones and cyptic hints in this preview. That feather is the biggest one here, as it's actually the very same feather placed on the crypt statue of Leanna Stark, Ned Stark's sister, by Robert Baratheon in the show's very first episode. As we've come to learn, Jon Snow is not actually Ned's bastard son, but rather the son of Lyanna and Rhaegar Targaryen. Besides for meaning that he's now, unbeknownst to him, bumping uglies with his aunt Daenerys Targaryen, it also gives him the most legitimate claim to the Iron Throne.
Also, this series began in Winterfell with the Starks so it's only fitting that it ends there with them. Well, what's left of them at least. And being Game of Thrones, just because their number has already been whittled down to the trio of Jon, Sansa and Arya (wait, where's Bran?!) doesn't mean there won't be some more whittling done!
Not that the upcoming final season will just be focusing on Ned Stark's brood though. As co-executive producer Bryan Cogman told EW last year, these final few episodes will be about "all of these disparate characters coming together to face a common enemy, dealing with their own past, and defining the person they want to be in the face of certain death."
It's an incredibly emotional haunting bittersweet final season and I think it honors very much what [author George R.R. Martin] set out to do — which is flipping this kind of story on its head.
Said season will be the shortest in the series' history, consisting of just 6 episodes. However, as confirmed by director David Nutter, each episode will "be longer than 60 minutes. They'll be dancing around the bigger numbers, I know that for sure." It's been hinted that some would even hit 90 minutes in length. And such feature-length running time numbers will probably be needed to contain the epic-ness of what's coming as we already know that the season will feature a battle so big that it took months to film Initial reports were 55 days, but it was later clarified that this was just for the outdoor scenes, while there were still weeks of filming left for the indoor portions of the battle. That makes this the biggest battle scene ever filmed for TV, and one of the biggest even in movie history. So big, in fact, that star Peter Dinklage told EW that it makes season 6's already eye-popping, awe-inspiring Battle of the Bastards "look like a theme park."
14 April can't come quick enough.
Last Updated: January 15, 2019