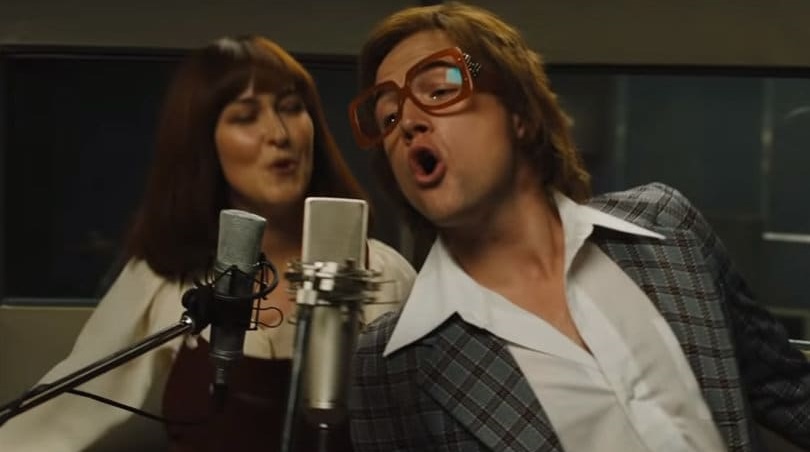 I'll be honest, when I heard that they were casting Kingsman star Taron Egerton to play the role of music legend Elton John, I was a little concerned. Not only did I feel he didn't quite look the part, I was concerned that he wouldn't be able to pull off the singer's explosive live performances either. Well, the first teaser trailer for the Paramount Pictures biopic, appropriately titled Rocketman has dropped and finally gives us an indication on whether Egerton can successful pull-off playing one of the world's most flamboyant stars.
And I must say I am both surprised and impressed. Impressed, because Egerton really does look the part here and really has transformed himself into playing the role of the John effortlessly. The small glimpse we get of him performing also looks incredibly exciting. Exciting that is until the trailer starts getting a little dreamlike and that's when my surprise kicks in.
Written by Lee Hall, Rocketman is supposed to give us a no-holds-barred look at the life of Elton John including all of the wild parts of it to as the singer dived head first into the life of sex, drugs and rock 'n roll. Based on the evidence of this trailer though, I think it's safe to say is delving quite heavily into the drug components because Elton John being high is the only way to describe those scenes. It is a refreshingly different approach though to a movie which you expect to be a lot more grounded in its delivery and definitely has my interested piqued.
Rocketman is directed by Dexter Fletcher, who incidentally also stepped in to finish up some scenes on the Queen biopic Bohemian Rhapsody after director Bryan Singer needed to take a leave of absence for personal reasons. This film though will be his vision entirely and not simply just needing to complete another person's vision. There may be a lot of similarities that can be drawn between both Freddie Mercury and John in terms of their lifestyle, but based on the evidence of this short teaser, the two films couldn't be further apart.
Rocketman is scheduled for release on May 31, 2019 and looks to be every bit as wild and exuberant as the singer himself.
Last Updated: October 2, 2018