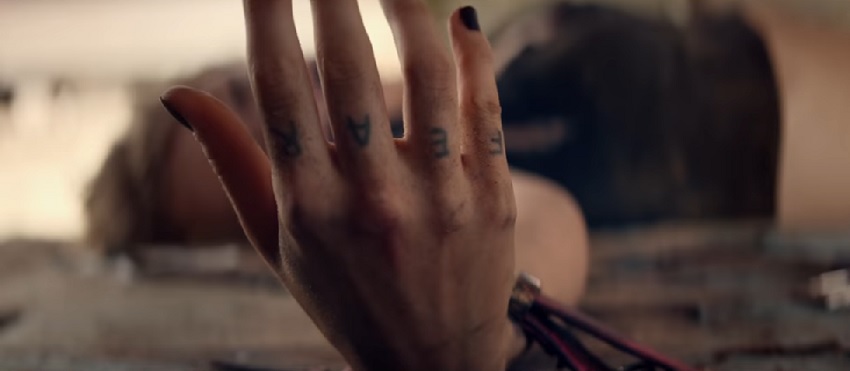 The Bad Batch is an upcoming romance movie from writer/director Ana Lily Amirpour (A Girl Walks Home Alone at Night). At least it's billed as a romance movie – I've heard of bad and toxic romances, but never of one that includes cannibalism. You heard me.
Suki Waterhouse stars as Arlen, a young woman who ventures into a fenced off section of Texas that's been declared outside of the United States and not subject to any of its laws, and is filled with society's renegades and rejects. Those include Jason Mamoa in pink sweat pants, Keanu Reeves as a seedy night club owner / cult leader (I assume) and Jim Carrey as a bergie – I guess we know why they're the bad batch.
The official plot synopsis is as follows:
A savage dystopian fairytale set in a Texas wasteland where society's rejects are just trying to make ends meat.
Well that's not much to go on but I'm intrigued by "savage dystopian fairytale", and what exactly do they mean by making ends… meat? Let's take a look:
I don't know what the hell is going on in this trailer. That's usually a bad thing, but in this case it looks like we're dropping acid and taking a bad trip down a serious rabbit hole; and I'm very intrigued to see where it goes. It's also helped by stunning shots of the desolate scenery, the utterly weird nature of the characters, and the all-star cast acting as our tour guides on this descent into madness.
We also know that Mamoa can make a mean Curry. What do you think?
The Bad Batch is due for release in the US on 23 June. Written and directed by Ana Lily Amirpour, it stars Suki Waterhouse, Jason Mamoa, Keanu Reeves, Giovanni Ribisi, Diego Luna and Jim Carrey.
Last Updated: February 15, 2017