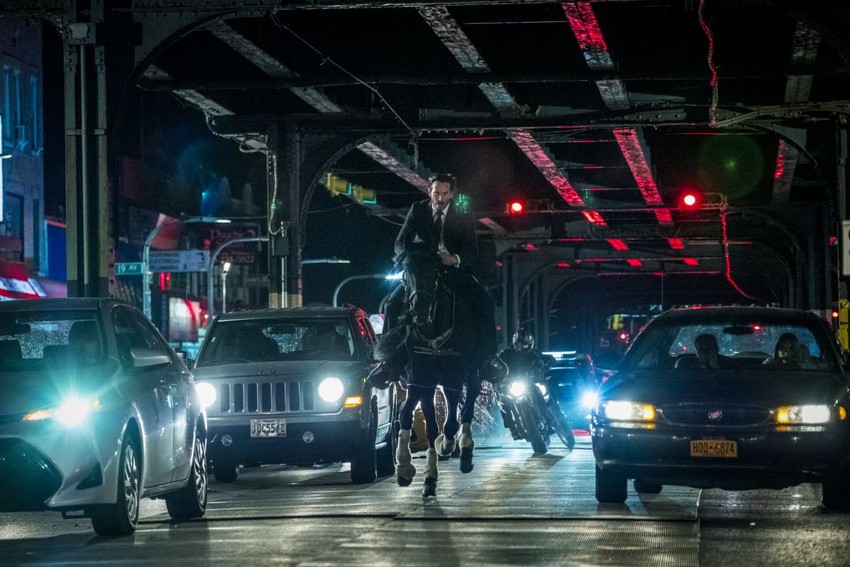 When you think of Keanu Reeves, chances are you think of either him as hacker-turned-techno-messiah Neo in Matrix or as ass-kicking hitman John Wick. Now you can think of them both at the same time. That's thanks to the latest trailer for (the clumsily titled) John Wick: Chapter 3 – Parabellum which sees Reeves' titular assassin borrow his line from The Matrix when asked by Ian McShane's Winston as to what he needs to escape the bounty on his head: "Guns… Lots of guns."
There's also lots of dogs, horses, bombs, motorcycles, swords, and knives (that last bit being the most painful looking as you'll see) in this action-packed preview. Returning director Chad Stahelski and writer Derek Kolstad seemingly haven't run out of ideas on how to stage the most incredible action beats to put Reeves in. And the supporting cast keeps getting better as well, with Halle Berry, Angelica Huston, Asia Kate Dillon, and Jason Mantzoukas joining in.
The other additions that have me the most excited though is veteran martial artist Mark Dacascos as a major villain (though apparently not the central antagonist who is rumoured to be played by Hiroyuki Sanada), alongside The Raid's Yayan Ruhian and Cecep Arif Rahman and Man of Tai Chi's Tiger Hu Chen. That's a whole lot of badassery right there, and I can't wait to see them all throw down!
In this third installment of the adrenaline-fueled action franchise, super-assassin John Wick (Keanu Reeves) returns with a $14 million price tag on his head and an army of bounty-hunting killers on his trail. After killing a member of the shadowy international assassin's guild, the High Table, John Wick is excommunicado, but the world's most ruthless hit men and women await his every turn.
Ooh, that motorcycle fight! Reminds me very much of South Korean action masterpiece The Villainess, which is definitely the type of movie you want to copy from. Along with that incredible trailer, Lionsgate has also released a series of character posters highlighting the stars of this movie. And yes, John Wick's dog is included.
Laurence Fishburne, Lance Reddick, Ruby Rose are expected to reprise their roles in the sequel, while Saïd Taghmaoui, Jeremy Flynn and Robin Lord Taylor are more newcomers. John Wick: Chapter 3 – Parabellum is scheduled for release on 17 May 2019.

Last Updated: March 22, 2019