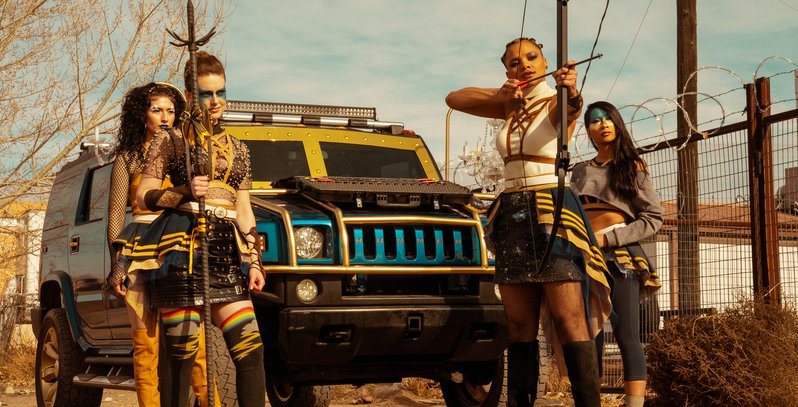 If the world were to succumb to a tragic nuclear fallout do you know who would survive? Cockroaches, because they survive anything. Do you know what else would survive? Teenagers because they, like annoying cockroaches, will always find a way to adapt and leech off whatever the world throws at them.
That's the idea behind Netflix's new series Daybreak, which sees a group of teenagers led by Colin Ford (Under the Dome), Ashtin Crute (Atlanta), and Alyvia Alyn Lind (Future Man) get ready to reshape the world after a nuclear attack sends the world into the post-apocalyptic madness that George Miller predicted in his Mad Max movies. Of course, it wouldn't be a high school movie if there wasn't an ever-present school principal and who better to play the role of the school principal than the actor that took on principal's himself during his younger days. Matthew Broderick.
This series looks like it could be a lot of fun. There is definitely the usual high school cliché's going on here as various school cliques form rival wasteland gangs, but there is enough about the show's premise that suggests it could work. After all, most post-apocalyptic stories make the earth look bleak, whereas this time it looks humans might actually have some fun too.
Daybreak comes from co-creators Aron Eli Colette (Star Trek: Discovery) and director Brad Peyton (Rampage, San Andreas), along with executive producer Jeff Fierson (Frontier) and is scheduled for release on Netflix on October 24th.
You can read a full synopsis of the new series below:
In this post-apocalyptic, genre-bending series, the city of Glendale, California is populated by marauding gangs of jocks, gamers, the 4-H Club, and other fearsome tribes who are kicking ass as they fight to survive in the wake of a nuclear blast (on the night of Homecoming…ugh). Following an eclectic group of survivors as they navigate this strange and treacherous world, DAYBREAK is part samurai saga, part endearing coming-of-age story, and part Battle Royale.
Last Updated: September 17, 2019