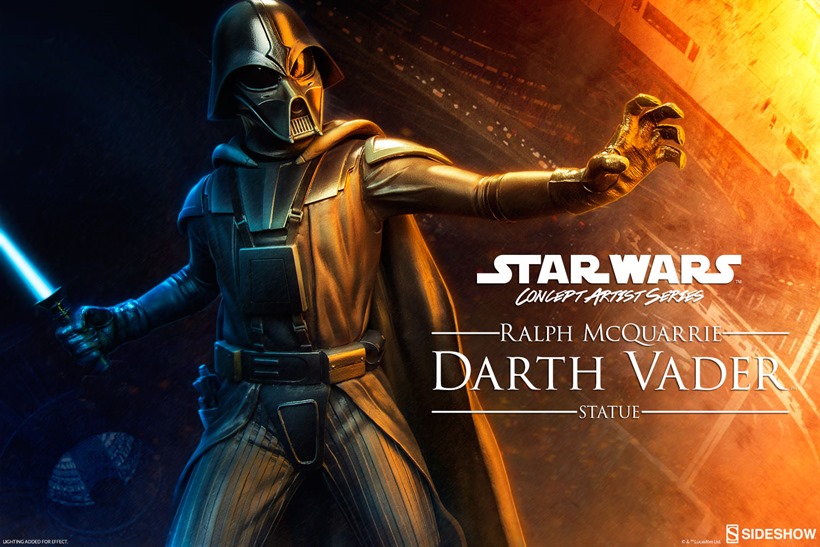 Star Wars is very much thought of as the creation of one man. And that's something that is both true and false. While George Lucas dreamed up his signature galaxy, pinching a few ideas from radio serials, Japanese movies and the aftermath of World War Two, Star Wars is more accurately the combined effort of many creative people who worked under the big man.
And while they all left their own mark on the franchise, we wouldn't even have an entire universe of iconic characters such as Darth Vader without the work of one particularly talented artist: Ralph McQuarrie. McQuarrie is responsible for the entire look of Star Wars. He designed the worlds of the original trilogy, came up with the look of Chewbacca and is responsible for the droid tag team of C3P0 and R2-D2. But it's his design of Darth Vader that is simply legendary.
Even though the concept art was tweaked, the design was very much set in stone. And it's that original concept which I think still looks better than the Darth Vader we got on the big screen. This idea of an evil cyborg mercenary, dressed in head to toe leather and sporting a gaunt, hungry frame that had murdered hundreds of Jedi. Outside of the films, this particular incarnation could be found in the second season of the superb Star Wars Rebels, a show which has made heavy use of the McQuarrie designs.
But nothing is more flattering than seeing your 2D art made three dimensional:
The Darth Vader replica measures in at a whopping size of 22.25″ H (565.15mm) x 16″ W (406.4mm) x 11″ L (279.4mm). Which weighs just under 3 kilograms. Sideshow says that you'll be breathing heavy when this figure sets you back $474.99 when it releases next year in March. Don't be afraid of this replica, because at least that way you'll die braver than most other wallets.
Last Updated: May 4, 2016