The acclaimed Netflix Marvel series that launched a whole small screen universe of street-level New York vigilantes returns on 19 October for its third season. Ahead of the season debut, we had a chance to chat with Charlie Cox, who plays the titular Devil of Hells Kitchen – AKA Matt Murdock, a blind attorney who fights for justice through legal channels during the day, when he isn't running around on rooftops in red body armour at night.
Chatting to Cox, we delved into what we can expect from the Man Without Fear's third Netflix outing, as well as his own real-life hero work with Sightsavers, a global charity dedicated to protecting sight, fighting diseases and promoting equal opportunities for people with visual disabilities.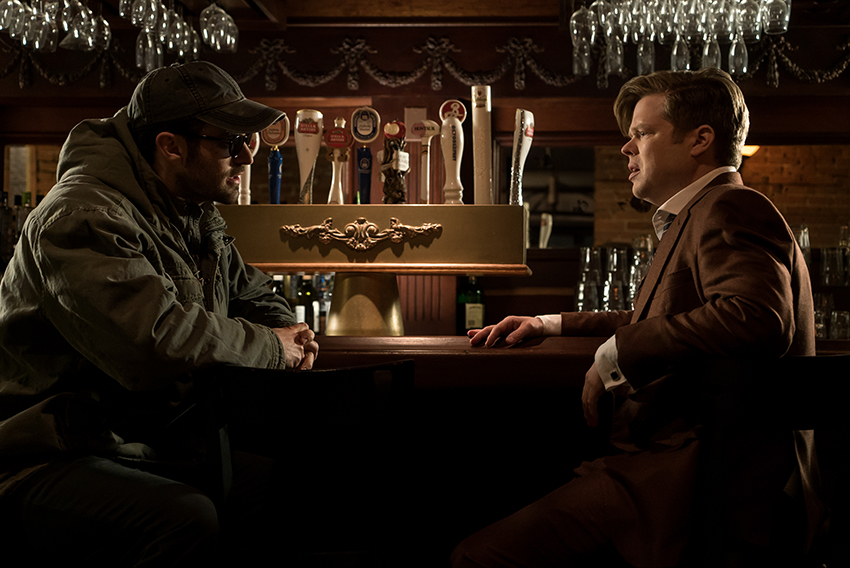 Please tell us a bit more about your involvement with Sightsavers.
I've only very recently made contact with the folks from Sightsavers we've been trying to figure out what my role will be exactly and how we can be involved. Obviously, the fact that this character I play on Netflix is visually impaired, we can utilize that. We're working on how we can use it and the fact it will help in fundraising for them. It's very much in the early stages, I don't have many specifics yet for you, unfortunately.
So how did your journey with Sightsavers start?
They contacted me, they reached out to me. In the past few years, they have a kind of a project that they do where celebrities give their expensive sunglasses to be auctioned for the charity. I've been part of that, I've donated glasses and that was the first point of contact. Obviously, it's close for me, playing a visually impaired person highlighted for me the importance of awareness around that disability and how it impacts people and what can be done to help.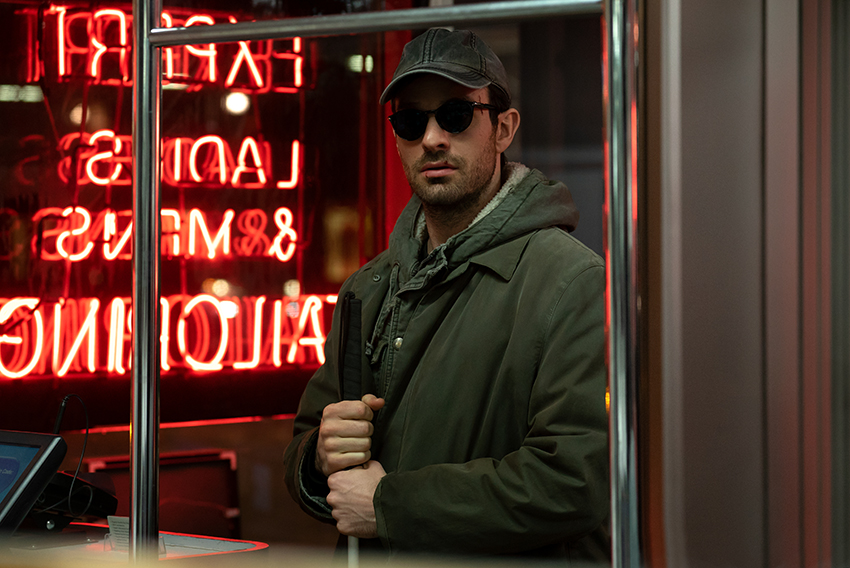 Are there any interesting things you learned about while getting into character as a visually impaired person?
Yeah, an endless amount. I kind of knew very little and so that was a really fascinating and interesting journey. You know, just from small things like, how one uses a cane to walk, how do you as a visually impaired person do very mundane things like making a cup of tea, how do they get around doing their hair and clothes. There are loads and loads of fascinating little things I learned that we've managed to use in the show.
Moving on to the show, Cox was very excited to talk about what we can look forward to. Returning characters, new introductions, and comfortable… pyjamas?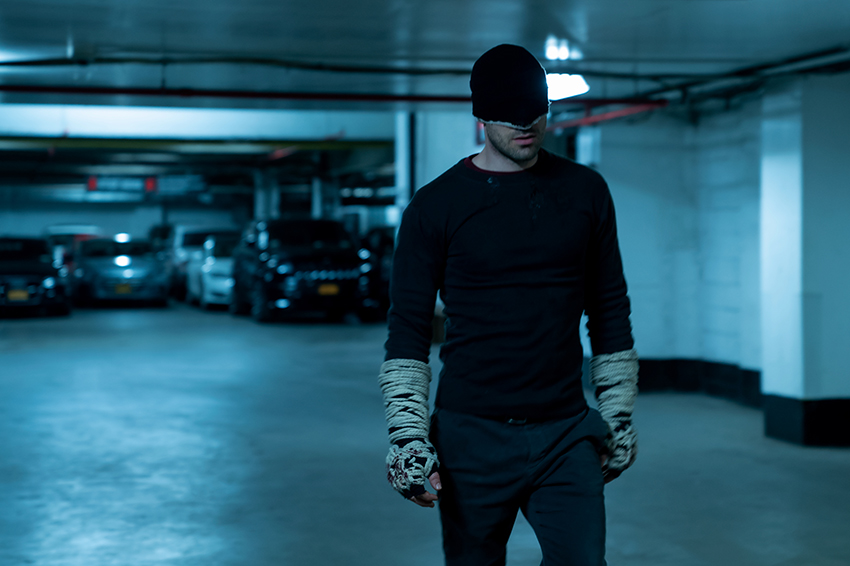 Speaking of the show, how does it feel to be back in the comfortable black pyjamas again, instead of the red suit?
Pyjamas? [Laughs]. They're definitely more comfortable than the red suit, although I have to say the red suit is very comfortable as well, it's not terrible. It's kind of a homage to the first season, which was more the black suit. It's all part of the story, the reason for the change. Why is he not wearing the red suit, what has changed it, why he's abandoned that look? That was really fun to explore.
Will Daredevil Season 3 have something like the now famous "hallway fight" scene?
There's a really cool scene coming up, in many ways it's an even more impressive sequence than the one in Season One. I'm very proud of it. I'm kind of amazed we were able to achieve it. I couldn't believe what they were going to attempt when I saw the scope of it. It's about five minutes long, it's one shot and it's the only thing I've seen of the entire series so far but I'm really pleased with it.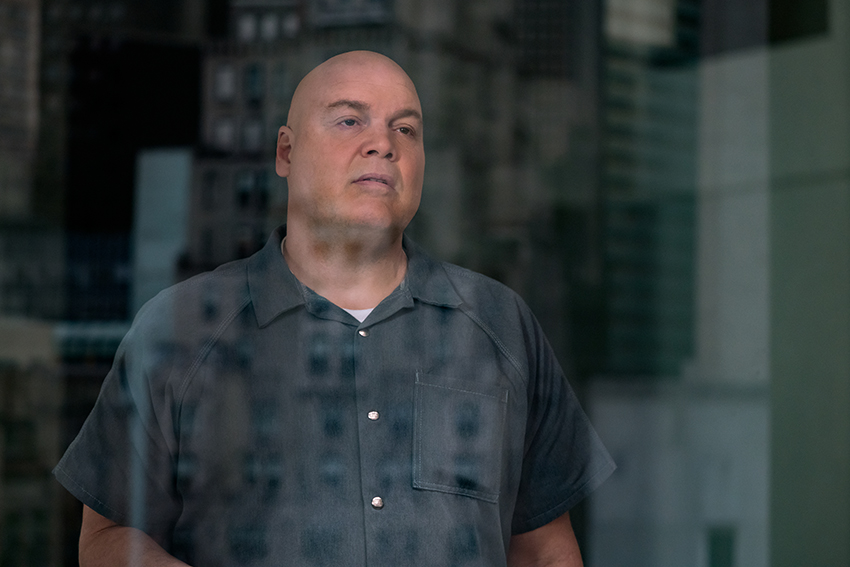 Is there anything else you'd like to tell us that you're looking forward to about Season 3?
There are many things I'm excited about. Obviously, we've got Vince D'Onofrioback as the character of Wilson Fisk, I think what he does with that character is incredibly special. We have the introduction of a new comic book villain called Bullseye, played by Wilson Bethel. He goes from being one of the good guys to one of the bad guys and that's a really fascinating journey to watch. Finally, we have Joanne Whalley playing Sister Maggie, she's a fantastic addition to the cast. she brings out a whole new side to Matt that we haven't seen before. The scenes with her were particularly special to me.
One last thing, because I really have to know, how is that there are so many British actors playing American superheroes now?
Someone has managed to manipulate Hollywood to get all the superheroes to be British, I have no idea how that happened or why that happened. It's so weird, it seems to be happening a great deal. I'll tell you what I am very grateful that I'm around at the time and able to benefit from that.
Check out the great work that Sightsavers does on their website. Marvel's Daredevil Season Three premieres worldwide on Netflix on October 19, 2018.
Last Updated: October 9, 2018