If you're a struggling actor who hasn't been able to maintain their success in Hollywood, there is always the option to make a reality TV show and boost yourself back into popularity. While I wouldn't say Rob Lowe is struggling as an actor, he is definitely not as big as he used to be. And now he is taking a bite out of the reality show pie. This time though we have a unique take on the genre as Robe Lowe and his sons, in a show titled The Lowe Files, look to bring the X-files into a genre that has become far too stale and focused on copying itself over and over again.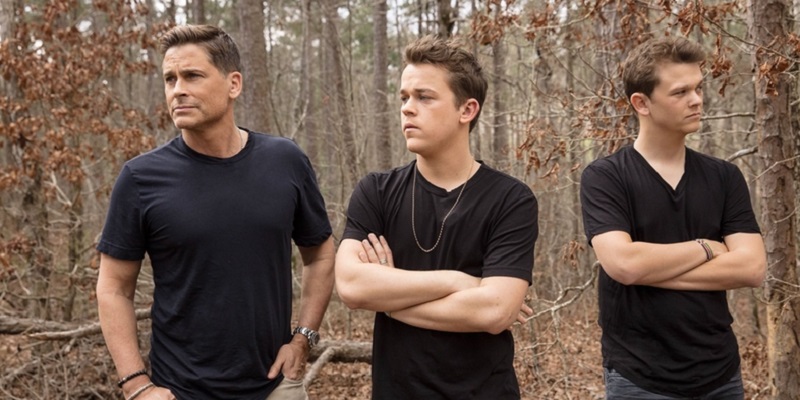 I personally can't stand most reality TV shows, but this is definitely something that looks interesting and up my alley. The Lowe Files, which is styling itself as a documentary type series and not just your typical reality TV show, sees Lowe and his two mini-mes travel across the US, as they investigate a mass of unexplained sightings and weird incidents. The project was first announced in March, and A&E has just released the first trailer for the show [above], with the premiere due on August 2nd.
With the release of the trailer, Lowe spoke to EW about how the show came about and claims that the show is not made up and that they experience some truly creepy moments in putting the series together:
It was initially something the family wanted to do "just for a laugh," but it soon escalated into something bigger when A&E got involved. Nothing is staged, nothing is trick-cut — no B.S. I believe there are probably ghosts out there. The rest of [what we found I accepted on a] case-by-case basis, but we had an incredible encounter with what locals call the wood ape, which is in the Ozark Mountains. I'm fully aware that I sound like a crazy, Hollywood kook right now … Genuinely terrified? I was lying on the ground thinking I was going to be killed.
If I ever call Lowe a kook, it's because he said it first. Seriously though, what we have in this trailer looks like a fun take on these often spooky investigations and something that could become a huge hit if the rest of the show plays out like this trailer. The Lowe Files launches start on August 2 on A&E.
Last Updated: June 28, 2017