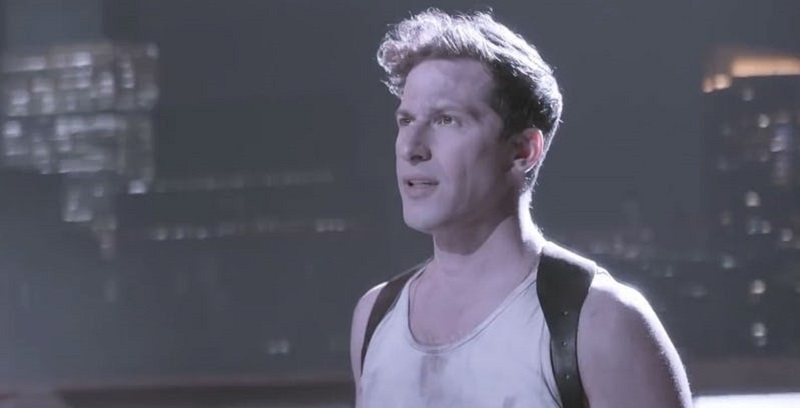 It gives me great pleasure to write this article because it means one of TV's best series is back –  after it suffered the fate of nearly being cancelled. Like Bruce Willis's Joh McClane it turns out this series is one that is also not going to die a quiet death.  the world has its incredible fan base to thank for that as following the show's cancellation by Fox earlier this year in the great TV cull of 2018. NBC was willing to step up and save the show and along with it, the world of TV comedy.
And it's a show which has always worn its love for Die Hard on its sleeve as the movie and character of McClane forms the inspiration behind Jake Peralta's (Andy Samberg) desire to want to be a police officer. Paying homage to that tradition is this new trailer for the shows long-awaited sixth season which honours its shows survival instinct by honouring that film too – except in a way that only Brooklyn Nine-nine can.
The best thing about this outlandish trailer is that it shows that despite the changing network, the core humour and strength of its remarkable characters remains firmly in place. Considering most of the production team and writers have stayed on board for this sixth season, along with the show's cast that includes Melissa Fumero, Stephanie Beatriz, Terry Crews, Joe Lo Truglio, Chelsea Peretti and Andre Braugher, this shouldn't be a surprise. One major change that we do know is coming though is that Peretti is leaving the show at the end of the season and there is apparently a big two-part finale that has been written to showcase her dramatic departure from the Nine-Nine.
The best part about this all is that the show is nearly upon us with season sixth set to premiere in the US on January 10th. The show used to be broadcast soon after in South Africa through Multichoice and then Showmax, who were both well ahead of other streaming services like Netflix in getting the latest seasons of the show. Whether that will still be the case with the show moving over to NBC though is something we will have to wait and see. Either way, the Nine-Nine is back and we don't have to wait much longer to see what Peralta and friends get up to this time.
Last Updated: December 10, 2018