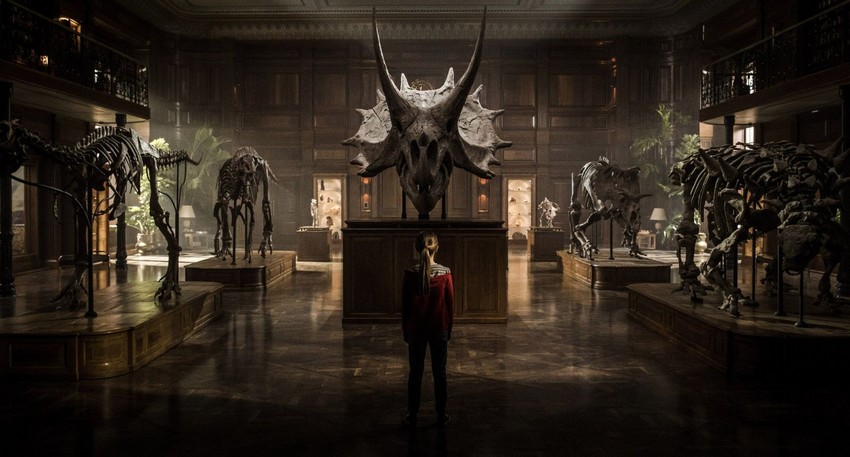 While 2015's Jurassic World, the 20-year later revival of Steven Spielberg's Jurassic Park trilogy, was not an all-out smash with critics (for what it's worth, Nick and I enjoyed it), it shattered box office records worldwide and launched the career of writer/director Colin Trevorrow into a galaxy far, far away. With Trevorrow not returning to direct the planned sequel so that he can instead focus on helming Star Wars: Episode IX, the director's chair for Jurassic World 2 passed to Juan Antonio Bayona (The Impossible, A Monster Calls, The Orphanage). Jurassic World stars Chris Pratt and Bryce Dallas Howard would be reprising their roles, and recently we learned the awesome news that Jeff Goldblum would be reviving his original Jurassic Park trilogy character of Ian Malcolm for this one.
And that – barring the one teaser pic above released by Bayona – is honestly all we've known about the movie… Until now! Well, actually until Friday past, which marked exactly one year until the release of the follow-up to the 2015 record-setting Jurassic World. A follow-up that now has a title which was revealed with a first poster by its official Twitter account – Jurassic World: Fallen Kingdom. Ooh, ominous.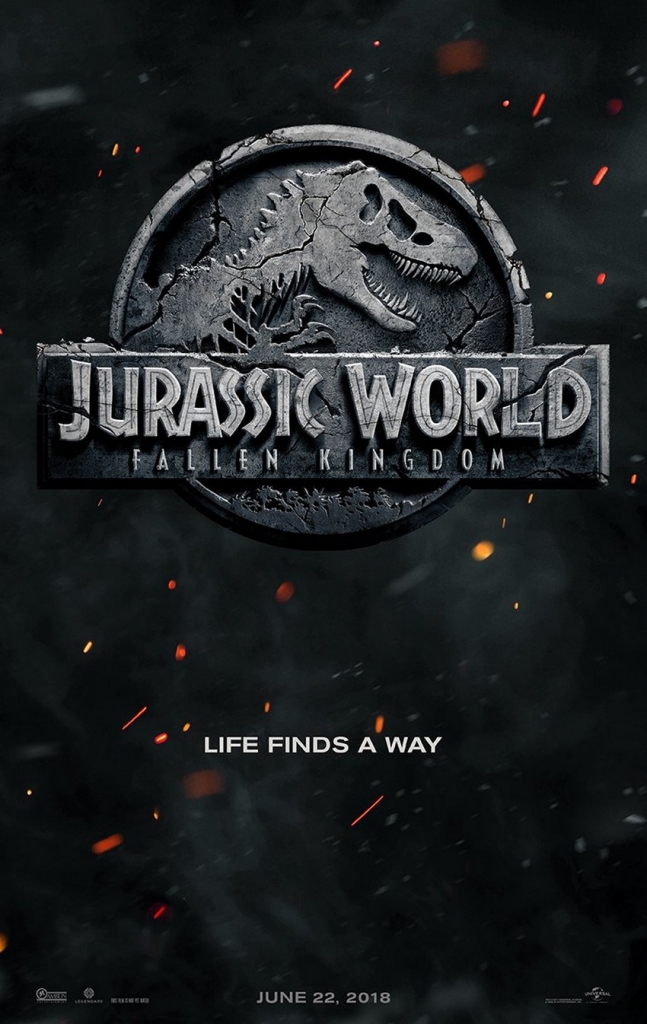 While on first glance, that title may not tell us a lot, it does actually play into something Trevorrow said to ComingSoon last year about how it was a quote by Goldblum's Ian Malcolm in Spielberg's original Jurassic Park that actually inspired both Jurassic World and its planned sequels:
Honestly, the trilogy is articulated in Jurassic Park, it's all in there… Jurassic World is all based on Ian Malcolm's quote, 'You stood on the shoulders of geniuses to accomplish something as fast as you could, and before you even knew what you had, you patented it, and packaged it, and slapped it on a plastic lunchbox, and now you wanna sell it.' That to me is Jurassic World, that's why I had all the product placement, that's what it was. The second one, Jurassic World 2, and as we were driving we tried to find, what is the foundation? 'Dinosaurs and man, separated by 65 million years of evolution have been thrown back into the mix together. How can we know what to expect?' That's why it's exciting that the movie did well, that leaves us a lot of room to run, and it was part of this design, it had a beginning, middle, and end when we wrote the first movie.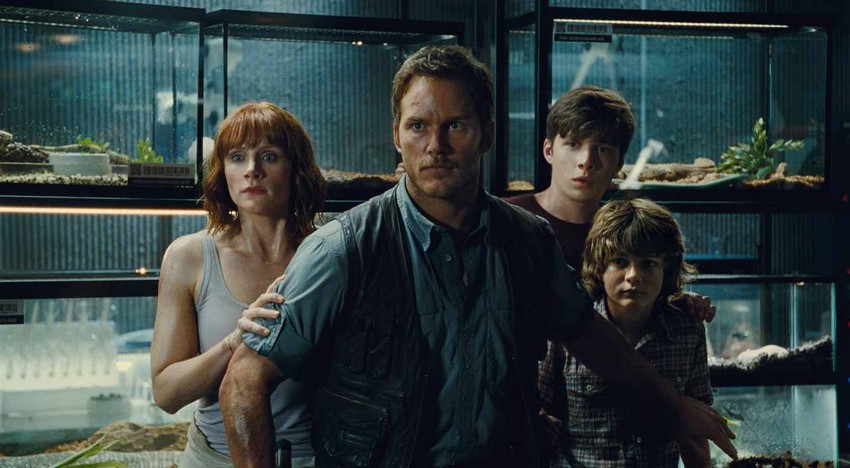 Well, it would appear that this middle will get to see things come off the rails completely, even more so than in Jurassic World. And with Bayona at the helm, with his signature gothic visuals and ability to truly frighten, it should get a little bit darker.
I think it's very interesting where the new movie is heading. It's so different from the other films, it talks a lot about the moment we live in right now. It's darker… but at the same time it's going to be a lot of fun. It's a blockbuster, you have Chris Pratt, it's a great adventure, but it's very interesting the way the film is darker than the other ones.
Now no offence to Trevorrow, but I honestly think Bayona to be a much better filmmaker. With Jurassic World, Trevorrow basically just did a Steven Spielberg impersonation. And while I guess it could be said that if you're going to borrow, borrow from the best, the result was a fun and thrilling movie, but one which sometimes felt more like a cover version than its own thing. Bayona should change that up a bit, however Trevorrow – who is still producing and co-writing the script with original collaborator Derek Connolly – will still have his touch all over this film.
Jurassic ended up taking up more time and attention than I expected just because I care about it so much. I surprised myself by how much I wanted to be there for J.A. [Bayona], just as a writer. I remember directing a Jurassic Park movie and how much I would have loved to have a writer to think about the dailies and wonder what alterations we could make that would make it that much more effective. I was there with him every day to try and provide something for him that I didn't have myself.
Trevorrow has previously indicated that Bayona's film will be using more animatronics like Spielberg did and that he is also dipping back into Michael Crichton's 1990 novel, which inspired the original film, for dialogue and story elements. As a result, he thinks Jurassic World: Fallen Kingdom will "be a better movie". If that is the case, consider me even more stoked. It will hit theatres on June 22, 2018.
Last Updated: June 26, 2017