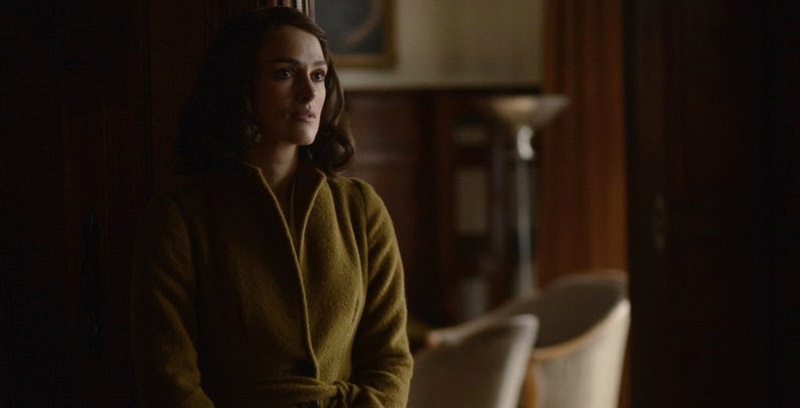 It's easy to tell stories about the many battles and triumphant moments of World War II, but telling stories about the after-effects of the war and how that trauma affected different people's lives is not something related as often  The Aftermath looks to shine some light on that often forgotten emotional baggage. However rather than just providing a highly emotive drama about PTSD or overcoming prejudices, it chooses to go down the romance root, because that is what people really want to see. Apparently.
Set in 1946, The Aftermath is based on the 2013 novel by Rhidian Brook and follows a woman named Rachael Morgan (Kiera Knightley) as she journeys to post-WWII Hamburg in the dead of winter, in order to reunite with her husband Lewis (Jason Clarke), a British colonel overseeing the German city's reconstruction. However, much to Rachael's dismay, she arrives to discover that Lewis has decided to share the house the pair are staying in with its original German owner, Stefan Lubert (Alexander Skarsgård), and his daughter. What initially starts out though as fear and enmity between them eventually turns into passion and romance.
The film is directed by James Kent who has made a career of big historical productions. Skills which certainly come in handy with this movie. To be fair, as much as I'm a little put off by the films romance angle, I definitely think it looks quite intriguing and love the way it handles those sensitive prejudices and biases that are bound to form after massive conflicts like World War 2. Hopefully the final product is more raw drama and less soap opera.
The acting also looks quite superb and it's actually a surprise that the studio is only planning to release this in April 2019 and not during the typical awards season window. Either a sign that it's not quite good enough for competing there or more hopefully, the studio is less bothered about the award season and believes it will get the recognition it needs regardless. Something I would like to see change in the movie industry which has become a little too formulaic with their release cycles on movies such as these.
Last Updated: October 17, 2018