Talk about being blindsided! In the wake of cancellations for Iron Fist and Luke Cage, Netflix has now also the dropped the axe on Marvel's Daredevil just a month after the comic book show's critically acclaimed third season premiered. This appears to be the latest step Netflix is taking in preparation of the inevitable war that will happen when Marvel owner Disney launches its own rival streaming service next year. Besides for just the looming competition, Netflix has reportedly been bumping heads with Disney over lowering their series episode counts from the original 13, partially in a bid to cut costs of these rather expensive shows. Creatively, most of these shows also had much narrative fat to trim as the vastly improved second season of Iron Fist proved with its shorter 10-episode season. As a result of these and other squabbles, the collaborative relationship between Netflix and Marvel has apparently eroded quite far.
Daredevil – which saw Charlie Cox starring as the eponymous blind lawyer by day, ass-kicking vigilante by night – was the flagship show in that Marvel-Netflix collaboration, launching this small-screen corner of the Marvel Cinematic Universe back in 2015. Although it went through some behind the scenes shakeups with a different showrunner each season and boasted a divisive second season, it has always been regarded as the yardstick by which to measure the other shows. In fact, Daredevil's most recent season is widely regarded as the best bit of television Marvel and Netflix have ever produced.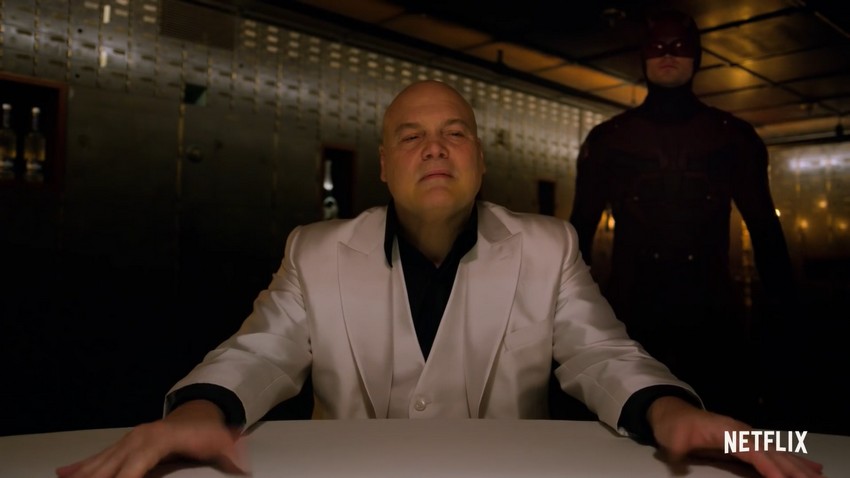 With that type of critical hype behind it, this cancellation may come as a surprise to some. Actor Vincent D'Onofrio, who plays the villainous Wilson Fisk aka Kingpin – arguably Marvel's best on-screen baddie – was even talking about a fourth season just recently. However, the same thing happened with Luke Cage as showrunner Cheo Hodari Coker had already had half the scripts for a potential third season in the can and negotiations had already been underway when the cancellation order came. Unlike that axe-drop though, the split here appears to have been a bit more amicable as Netflix and Marvel revealed in a press release (via Deadline) that it was felt "best to close this chapter on a high note" and that Cox's Daredevil would "live on in future projects for Marvel".
Marvel's Daredevil will not return for a fourth season on Netflix. We are tremendously proud of the show's last and final season and although it's painful for the fans, we feel it best to close this chapter on a high note. We're thankful to our partners at Marvel, showrunner Erik Oleson, the show's writers, stellar crew and incredible cast including Charlie Cox as Daredevil himself, and we're grateful to the fans who have supported the show over the years.

While the series on Netflix has ended, the three existing seasons will remain on the service for years to come, while the Daredevil character will live on in future projects for Marvel.
Of all the Netflix Marvel characters, Daredevil had always easily seemed the best candidate to make the transition from small-screen hero to big screen Avenger, however Deadline's sources indicate that a movie option "seems unlikely". Marvel still has a second season of The Punisher on the way, and given how that show actually spun out of Daredevil's second season, the character could easily pop up there.
The other seemingly obvious answer would be for Daredevil to get another show on the Disney+ streaming service, alongside the already confirmed Loki, Scarlet Witch, and Falcon and Winter Soldier solo series, but the show leans quite hard into its mature rating and that probably won't be a good fit for the more family-friendly Disney service. Disney-owned Hulu might just be the next best thing, as it already hosts Marvel's Runaways and won't have that many qualms about showing off some violence or mature imagery.
Either way, wherever Daredevil does end up – and it would be criminal for Disney to not use the character again – it certainly doesn't bode well for Jessica Jones, the only other Marvel Netflix show that has been hanging in limbo since its less well-received second season earlier this year. With the crossover miniseries The Defenders all but confirmed to be a one-and-done effort, and not even a rumble of a third season renewal for Jessica Jones, chances are we'll be writing up another one of these articles for the Krysten Ritter-led noir superhero show very soon as well.
Last Updated: November 30, 2018