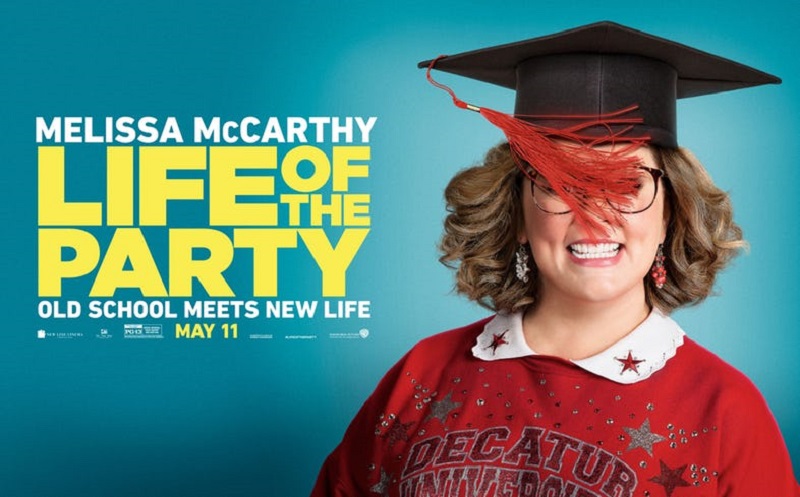 To be honest, it's hard to imagine Melissa McCarthy being anything other than the life of the party, but nonetheless, it seems like she is going to try to convince us again in her upcoming movie that she is one anyway. This time though, instead of taking in people her own age, it's college students that will be her potential suitor/victims this time around. Which is probably about he same age group in which her strange brand of humour appeals to most anyway.
Life of the Party, which is directed by McCarthy's husband and regular collaborator Ben Falcone (Tammy, The Boss), sees McCarthy as Deanna, a woman looking to rebound from the apparently unexpected end of her marriage by returning to college to get the degree she never quite finished before starting a family. The only catch, and from the look of things in the trailer, the source of most of the comedy, is that Deanna's headed to the same university attended by her daughter Maddie (Molly Gordon). It should come as no surprise that things go crazy as McCarthy ends up doing what McCarthy does best, I guess.
Personally, while I have enjoyed McCarthy's performance in movies like Bridesmaids and Spy, I find McCarthy and Falcone's brand of humour too over-the-top for me and it feels like McCarthy is practically playing the same character in every one of her movies. The situations and locations might change, but at the end of the day, you know what to expect from a Melissa McCarthy movie. So, I guess whether you love Life of the Party will depend on whether you like McCarthy's previous work and can stomach this type of comedy or not.
Life of the Party is due out in the US on May 11, when I'd rather be spending my money on the likes of Avengers: Infinity War or Deadpool instead.
Last Updated: February 6, 2018