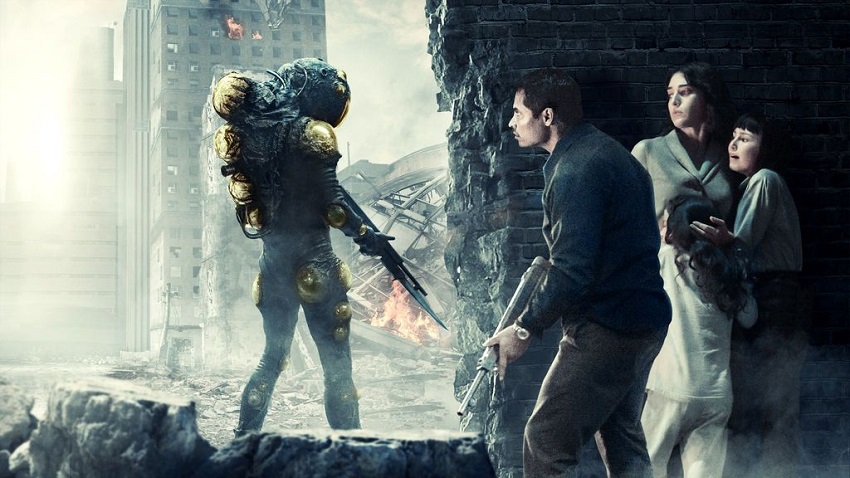 Extinction is the upcoming Netflix Original apocalyptic sci-fi action-drama from director Ben Young (Hounds of Love). Well, it's a Netflix Original now. Universal was on track to release the movie in cinemas in January this year, but pulled the movie from their schedule two months before release without giving any reason. However as Craig told us in February, Netflix then purchased the rights to the movie from Universal – much like they did with The Cloverfield Paradox and Annihilation (both from Paramount).
Michael Peña (American Hustle, Ant-Man and the Wasp) stars as an ordinary working-class father who experiences a recurring nightmare in which he loses his family in a violent attack, causing him to suffer from lack of sleep and his wife (Lizzy Caplan – The Disaster Artist, Cloverfield) to worry about his state of mind. However his nightmare turns out to be prophetic, and what he's dreamed becomes reality when the Earth is attacked by alien invaders. Now he has to unravel the truth behind his visions while doing everything in his power to keep them from coming true.
The official plot synopsis is as follows:
A father has a recurring dream of losing his family. His nightmare turns into reality when the planet is invaded by a force bent on destruction. Now, fighting for their lives, he comes to realize an unknown strength to keep them safe from harm.
Let's take a look:
I really like the look of this, especially the juxtaposition of his ordinary (and dare I say boring) life with the reality of an alien invasion that tosses everything he thought he knew straight out of the window. Something that everybody would be wholly unprepared for, except not everybody has received visions of the future. Now if this movie starred Dwayne Johnson (or any regular action hero staple) we'd all know how this turns out – he'd kick every alien's candy ass off the planet. But it doesn't, and Extinction doesn't look like it follows the standard tropes of an alien invasion action movie we're all used to. I'm going to hazard a guess that this movie won't end up with a happily ever after for everyone.
That tagline on the poster below also makes me wonder about the identity of these invaders – are they really alien? What do you think?
Extinction will premiere on Netflix on 27 July. Written by Eric Heisserer (Arrival), it also stars Mike Colter, Emma Booth, Israel Broussard, Tom Riley, Lilly Aspell, Amelia Crouch, and Eric Tremblay.
Last Updated: July 12, 2018