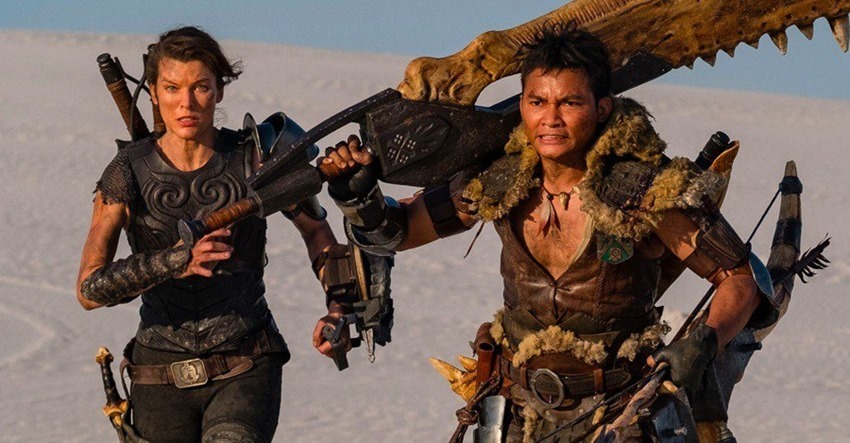 Monster Hunter World has become Capcom's biggest-selling series this generation, and that's for good reason. The co-op monster-hunting game, released early last year, is a gem, an addictive game that took one of the company's most hardcore games and managed to make it accessible without negatively impacting the experience. Here's what we said of the game:
"Monster Hunter World is an addictive, thrilling but ultimately satisfying experience. It's the perfect starting point for newcomers, but it also has all the depth that long-time fans enjoy, making this easily the best game in the series."
The number of Monster Hunter fans, then has shot up significantly this generation – which makes it a perfect time to make a movie about the series. That movie is coming, and we've received our first look of it, thanks to some terribly grainy mobile phone footage of it out of the Shanghai International Film Festival. The film is being directed by Resident Evil film director Paul W. S. Anderson, and stars – of course – his wife Milla Jovovich, Ong Bak's Tony Jaa, Diego Boneta and Ron Perlman.
The trailer is short, but gives us a look at the hunters' costumes, as well as the beasties Rathalos and Diablos. It looks cheesy – and given how Anderson butchered Resident Evil, I don't have especially high hopes for this.
"Behind our world, there is another: a world of dangerous and powerful monsters that rule their domain with deadly ferocity. When Lt. Artemis (Milla Jovovich) and her loyal soldiers are transported from our world to the new world, the unflappable lieutenant receives the shock of her life. In her desperate battle for survival against enormous enemies with incredible powers and unstoppable, revolting attacks, Artemis will team up with a mysterious man who has found a way to fight back."
Last Updated: June 20, 2019