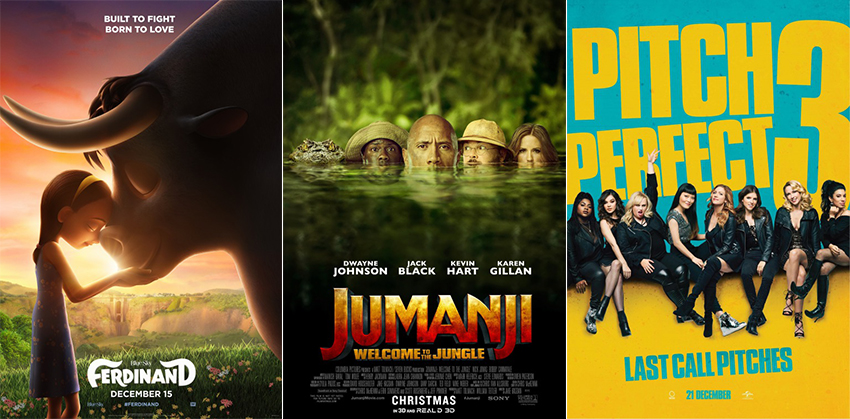 While a lot of you are already on leave, some of us are still working hard (much to my chagrin). Luckily, my leave starts today, woohoo! Unluckily, these holidays are going to be super busy. So if you've got all the free time that I'm currently lacking and want to spend it at the cinemas, here are your new movie releases for the next two weeks.
Note: all Rotten Tomatoes and Metacritic scores are accurate as of date of publication
Ferdinand
Age Restriction: PG V
Ferdinand tells the story of a giant bull with a big heart. After being mistaken for a dangerous beast, he is captured and torn from his home. Determined to return to his family, he rallies a misfit team on the ultimate adventure. Set in Spain, Ferdinand proves you can't judge a bull by its cover.
Based on the much-loved children's book Ferdinand the Bull, the big screen adaptation doesn't take the story in any new or unexpected directions. But, the timeless themes alongside the colourful animation and outstanding voice-acting from John Cena (yes, you read that right), Ferdinand is a worthwhile distraction for the kids this Christmas.
Rotten Tomatoes: 72%
Metacritic: 58
Release date: 22 December
Pitch Perfect 3
Age Restriction: 13 L V
After the highs of winning the World Championships, the Bellas find themselves split apart and discovering there aren't job prospects for making music with your mouth. But when they get the chance to reunite for an overseas USO tour, this group of awesome nerds will come together to make some music, and some questionable decisions, one last time.
Pitch Perfect 1 was a surprise hit, and the follow-up Pitch Perfect 2 still managed to hit the high notes of its predecessor. Unfortunately, everything has fallen apart in this third (and allegedly final) instalment. The few reviews I've found have been less than kind. So this is how it ends for the Bellas, not with a bang but with a whimper.
Rotten Tomatoes: 37%
Metacritic: 45
Release date: 22 December
Wonder Wheel
Age Restriction: TBA
Wonder Wheel tells the story of four characters whose lives intertwine amid the hustle and bustle of the Coney Island amusement park in the 1950s: Ginny (Kate Winslet), an emotionally volatile former actress now working as a waitress in a clam house; Humpty (Jim Belushi), Ginny's rough-hewn carousel operator husband; Mickey (Justin Timberlake), a handsome young lifeguard who dreams of becoming a playwright; and Carolina (Juno Temple), Humpty's long-estranged daughter, who is now hiding out from gangsters at her father's apartment.
A choppy, unenthusiastic film by director Woody Allen, Wonder Wheel is not the romantic melodrama it pretends to be. Instead, it plays off as a low-effort afterthought of a director already running on empty.
Rotten Tomatoes: 30%
Metacritic: 45
Release date: 22 December
Jumanji: Welcome to the Jungle
Age Restriction: 13 L V
When four teenagers in detention discover an old video game console with a game they've never heard of, they are immediately thrust into the game's jungle setting, into the bodies of their avatars, played by Dwayne Johnson, Jack Black, Kevin Hart, and Karen Gillan. What they discover is that you don't just play Jumanji -Jumanji plays you. They'll have to go on the most dangerous adventure of their lives, or they'll be stuck in the game forever.
Jumanji: Welcome to the Jungle is the best kind of surprise hit. No need to lower your expectations with this sequel, it's genuinely fantastic. Welcome to the Jungle pays excellent homage to the original film while still contemporising it for modern times, and packs in great action beats, a lot of heart and even more humour than the trailers led you to expect.
Critical Hit: 8/10
Rotten Tomatoes: 80%
Metacritic: 57
Release date: 29 December
The Greatest Showman
Age Restriction: 10-12 PG P V
Inspired by the ambition and imagination of P.T. Barnum, The Greatest Showman tells the story of a visionary who rose from nothing to create a mesmerizing spectacle that became a worldwide sensation  
At the time of writing there was nary a scrap of information to be found about The Greatest Showman, so, unfortunately, I can't give you any idea what it's like or if you should watch it or not. All I can tell you is that now you know what Hugh Jackman has been up to since Logan.
Rotten Tomatoes: TBD
Metacritic: TBD
Release date: 29 December
Beatriz at Dinner
Age Restriction: 13 D L P
Beatriz (Salma Hayek), an immigrant from a poor town in Mexico, has drawn on her innate kindness to build a career as a health practitioner in Los Angeles. Doug Strutt (John Lithgow) is a cutthroat, self-satisfied billionaire. When these two opposites meet at a dinner party, their worlds collide and neither will ever be the same.
As intriguing as Beatriz at Dinner's social commentary may be, the film is still torn between harsh, biting satire and heartfelt earnestness. Both Salma Hayek and John Lithgow put in excellent performances, but the overall effect of Beatriz at Dinner is not a subtle one.
Rotten Tomatoes: 75%
Metacritic: 68
Release date: 29 December
For more information about the age restrictions, click here.
Last Updated: December 20, 2017