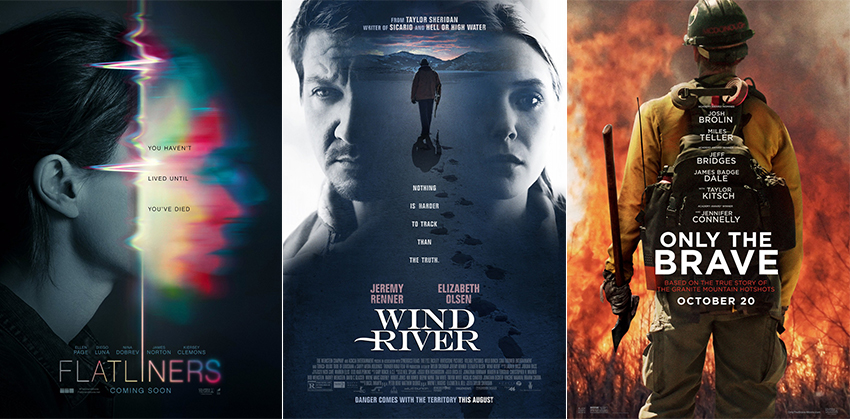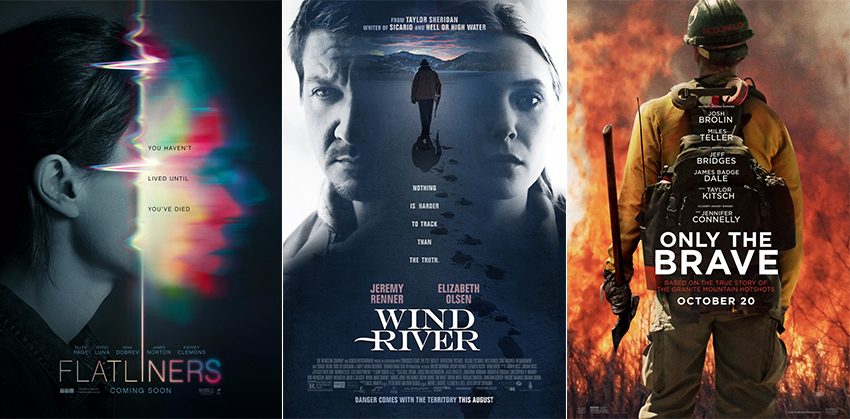 Welcome to November, the start of the downhill slide towards the silly season. Luckily, the only "silly" movie opening today is the unwanted Flatliners remake. Everything else is top-notch entertainment!
Wind River
Age Restriction: 16 L V (SV)
U.S. Fish & Wildlife agent Cory Lambert discovers a body in the rugged wilderness of the Wind River Indian Reservation. The FBI sends in rookie agent Jane Banner, but she's unprepared for the difficulties created by the oppressive weather and isolation of the Wyoming winter. When she employs Cory as a tracker, the two venture deep into a world ravaged by violence and the elements. Wind River is a stark look at life on the edge of an imposing wilderness, where the rule of law is eclipsed by the laws of nature.
With Sicario and Hell and High Water, Taylor Sheridan already established himself as a master of writing smart and tense adult thrillers filled with meaty characters, but with Wind River, he proves he can do the same as a director as well. This is one of the year's sleeper hits, not to be missed.
Rotten Tomatoes: 87%
Metacritic: 73
Book at Nu Metro or Ster Kinekor (2D)
Flatliners
Age Restriction: 16 H S V
Five medical students, obsessed by the mystery of what lies beyond the confines of life, embark on a daring and dangerous experiment: by stopping their hearts for short periods of time, each triggers a near-death experience – giving them a firsthand account of the afterlife. But as their experiments become increasingly dangerous, they are each haunted by the sins of their pasts, brought on by the paranormal consequences of trespassing to the other side.
Despite its semi-cult status, the original Flatliners from 1990 is, admittedly, a pretty mediocre film. Unfortunately, so is this one. What should have been an excellent chance to fix up the mistakes of the predecessor and make it truly great, instead falls flat (ha!) on its face by repeating the past and adding nothing new. If you've seen the original, there's no reason for you to watch this remake. If you haven't, there's no reason to watch this one either.
Rotten Tomatoes: 5%
Metacritic: 27
Book at Nu Metro or Ster Kinekor (2D)
Only the Brave
Age Restriction: 10-12 PG L
Only the Brave, based on the true story of the Granite Mountain Hotshots, is the heroic story of one unit of local firefighters that through hope, determination, sacrifice, and the drive to protect families, communities, and our country become one of the most elite firefighting teams in the country. As most of us run from danger, they run toward it – they watch over our lives, our homes, everything we hold dear, as they forge a unique brotherhood that comes into focus with one fateful fire
Director Joseph Kosinski approaches the real-life events of Only the Brave in a respectful, though at times overly-sentimental manner that does great justice to the bravery of the firefighters involved. The surprisingly humorous movie also boasts a solid cast of actors in a drama that will have you caring for the well-developed protagonists. Our full review will be up next week, but in the meantime, Nick gives it a solid 8/10.
Rotten Tomatoes: 90%
Metacritic: 73
Book at Nu Metro or Ster Kinekor (2D)
House on Willow Street
Age Restriction: 16 H V
Led by the tough-as-nails Hazel (Sharni Vinson), a band of desperate criminals abduct Katherine (Carlyn Burchell), the daughter of an ultra-wealthy family, for ransom. What the gang doesn't realize is that although they have Katherine's body, her soul is already in possession of a demonic force that's about to turn the tables on them.
House on Willow Street (or From a House on Willow Street) is apparently a South African production, as I learned from Wikipedia. Unfortunately, it's not a game-changer for the horror genre, new horror movies seldom are. But the premise works surprisingly well and has a lot of technical prowess, so where it relies too heavily on jump scares, it makes up for that with outrageous violence and macabre fun.
Rotten Tomatoes: 63%
Metacritic: TBD
Book at Ster Kinekor (2D)
For more information about the age restrictions, click here.
Last Updated: November 3, 2017