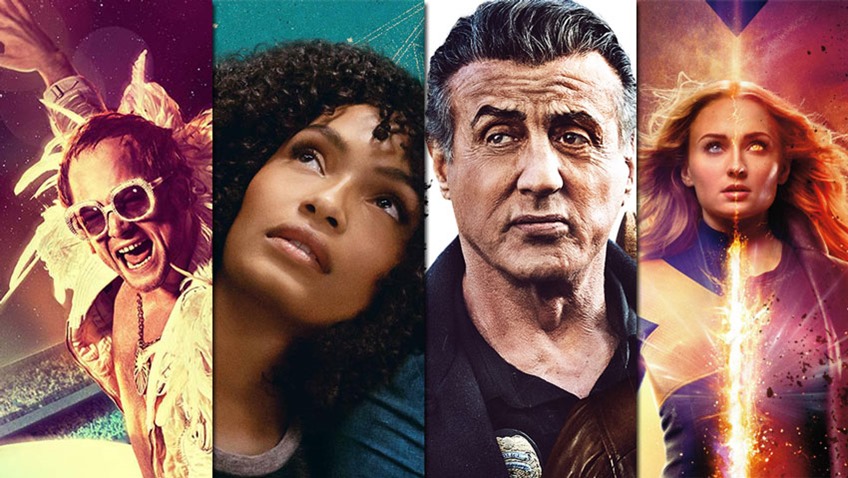 The anti-Bohemian Rhapsody, a Sly dog with new tricks and the end of an era for Marvel's not so merry mutants. Here's a look at every movie out this weekend!
Rocketman
Age Restriction: 16 D IAT L P S
The story of Elton John's life, from his years as a prodigy at the Royal Academy of Music through his influential and enduring musical partnership with Bernie Taupin.
Bohemian Rhapsody may have been a sugar-coated look back at the life of Freddie Mercury that portrayed Queen as living saints, but Rocket Man doesn't bother hiding any of the skeletons in its closet. Filled with some of Elton John's finest musical performances and also some of the lowest points in the life of the musical icon, Rocket Man is an autobiography that is honest to a fault and still able to make you tap your feet in celebration whenever a musical scene breaks out.
X-Men: Dark Phoenix
Age Restriction: 13 L V
In Dark Phoenix, the X-Men face their most formidable and powerful foe: one of their own, Jean Grey. During a rescue mission in space, Jean is nearly killed when she is hit by a mysterious cosmic force. Once she returns home, this force not only makes her infinitely more powerful, but far more unstable. Wrestling with this entity inside her, Jean unleashes her powers in ways she can neither comprehend nor contain.

With Jean spiraling out of control, and hurting the ones she loves most, she begins to unravel the very fabric that holds the X-Men together. Now, with this family falling apart, they must find a way to unite — not only to save Jean's soul, but to save our very planet from aliens who wish to weaponize this force and rule the galaxy
X-Men: Dark Phoenix may have accomplished the impossible: A film starring the children of the atom, that is somehow worse than X-Men 3: The Last stand. Aimless, dumb beyond conventional belief and just downright boring, 20th Century Fox's final X-Men movie is going out not with a bang but a whimper.
The Sun Is Also A Star
Age Restriction: 13 L V S
"What if I told you I could get you to fall in love with me…?" College-bound romantic Daniel Bae (Charles Melton) and Jamaica-born pragmatist Natasha Kingsley (Yara Shahidi) meet—and fall for each other—over one magical day amidst the fervor and flurry of New York City. Sparks immediately fly between these two strangers, who might never have met had fate not given them a little push.

But will fate be enough to take these teens from star-crossed to lucky in love? With just hours left on the clock in what looks to be her last day in the U.S., Natasha is fighting against her family's deportation as fiercely as she's fighting her budding feelings for Daniel, who is working just as hard to convince her they are destined to be together.
A perfectly alright slice of romance, The Sun Is Also A Star whose two main leads are more than likeable, although the storyline of love and deportation in the US of A may requires some very very heavy suspension of disbelief.
Backtrace
Age Restriction: 16 L V D
After suffering a brain injury from a bank heist gone wrong, MacDonald (Matthew Modine) develops amnesia and is put into a prison psychiatric ward. Following his seventh year in evaluation, he is coerced by an inmate and a ward doctor (Ryan Guzman and Meadow Williams) to break out of prison and injected with a serum that forces him to relive the life he's forgotten.

MacDonald must now elude a local detective (Sylvester Stallone), a toughened FBI agent (Christopher McDonald) and the drug's dangerous side effects in order to recover the stolen money all while confronting his past.
While Sylvester Stallone's name might sell this standard action flick, he's pretty much present for a paycheque and a light working schedule while leaving all the heavy lifting to Matthew Modine as an amnesiac bank robber who finds himself on the run after several years behind bars. Less an action caper and more of a tense chase towards a stash of ill-gotten loot, Backtrace is an above-average Friday night escape from reality that still manages to throw a few curveballs at seasoned couch detectives.
For more information about the age restrictions, click here.
Last Updated: June 7, 2019