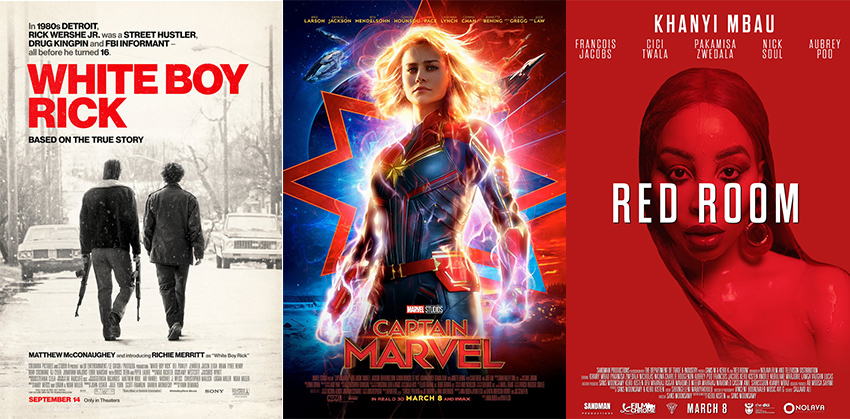 Kick-ass women lead the way with this week's new releases.
---
Captain Marvel
Age Restriction: 13
Set in the 1990s, Marvel Studios' Captain Marvel is an all-new adventure from a previously unseen period in the history of the Marvel Cinematic Universe that follows the journey of Carol Danvers as she becomes one of the universe's most powerful heroes. While a galactic war between two alien races reaches Earth, Danvers finds herself and a small cadre of allies at the center of the maelstrom.
Captain Marvel is a standard "character introduction" film as far as the Marvel Cinematic Universe goes, but it's a formula that works so I really don't mind. With easy character chemistry, a kick-ass soundtrack, an even more kick-ass protagonist and a scene-stealing cat, Captain Marvel definitely lived up to my expectations.
Critical Hit: 7/10 (Noelle) & 7.5/10 (Kervyn)
Rotten Tomatoes: 83% (Certified Fresh)
Metacritic: 65 (Generally Favourable Reviews)
---
White Boy Rick
Age Restriction: 16 L V D
Set in 1980s Detroit at the height of the crack epidemic and the War on Drugs, White Boy Rick is based on the moving true story of a blue-collar father and his teenage son, Rick Wershe Jr., who became an undercover police informant and later a drug dealer, before he was abandoned by his handlers and sentenced to life in prison.
Despite yet another excellent performance from Matthew McConaughey, and solid performances from the cast all round, White Boy Rick is marred by missed opportunities. Instead of committing to full thriller or drama, it wallows somewhere in between the two, and ends up doing nothing much in terms of either.
Rotten Tomatoes: 58% (Rotten)
Metacritic: 59 (Mixed or Average Reviews)
---
Red Room
Age Restriction: 16 D L S V
When the husband of an affluent woman kills himself, the woman loses the high life—and pretty much everything else—and ends up on the street, days before is due to give birth. With nowhere to go and no money, she is attacked and mugged, but a good Samaritan rescues her and takes her to a shelter called 'God's Haven,' a place of safety. She gives birth there, but God's Haven turns out to be an entirely different underworld—a world of danger, desire and deception.
Local thriller Red Room is a very different outing for local actress Khanyi Mbau, who made her feature film debut in Happiness is a Four Letter Word in 2016. In an interview with Channel24, Mbau said that the film is "quite dark, it's about sexual abuse, it's about physical abuse, and it's a dark film. I mean, probably just the first 15 minutes of the film are the lightest part, the happiest part, then throughout the film it's just journey of survival." Sounds pretty hectic to me.
---
For more information about the age restrictions, click here.
Last Updated: March 8, 2019