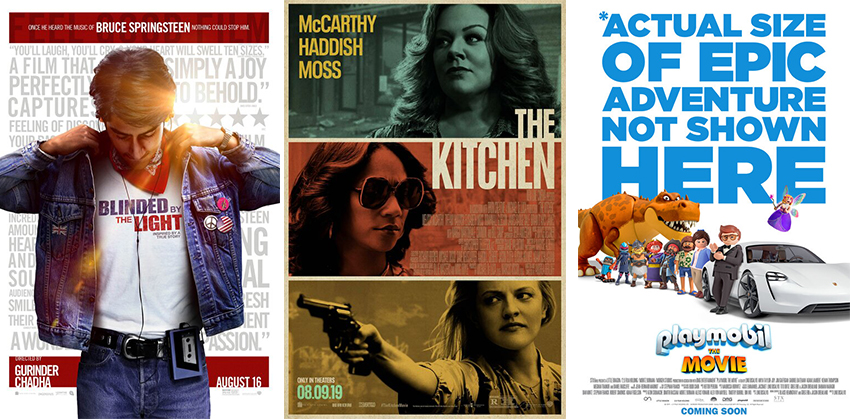 For a very long time, I thought that Lego and Playmobil was the same thing. Unfortunately for Playmobil, they're not, and it looks like they can't match the massive success that The Lego Movies have had.
---
The Kitchen
Age Restriction: 16 D IAT L P S V
Based on the Vertigo comic book series from DC Entertainment, the film stars Oscar nominee Melissa McCarthy, Tiffany Haddish and Elisabeth Moss as three 1978 Hell's Kitchen housewives whose mobster husbands are sent to prison by the FBI. Left with little but a sharp ax to grind, the ladies take the Irish mafia's matters into their own hands–proving unexpectedly adept at everything from running the rackets to taking out the competition… literally.
Rotten Tomatoes: 21% (Rotten)
Metacritic: 36 (Generally Unfavourable Reviews)
---
Blinded by the Light
Age Restriction: 13 L V P
1987. When music fanatic Javed discovers the illustrious back catalogue of The Boss his world is turned upside down; already a creative soul his passion for music and writing is set alight by the songs of the working-class poet, whose lyrics feel all too familiar to the aspirational teenager. Yearning to escape his rundown hometown and the rules of his traditional Pakistani household, Javed finds himself caught in between two worlds and must discover if he too is Born to Run…
Rotten Tomatoes: 92% (Certified Fresh)
Metacritic: 74 (Generally Favourable Reviews)
---
Playmobil
Age Restriction: 7-9 PG V
In PLAYMOBIL's® animated action adventure, a top secret organization has caused citizens from different lands to vanish from thin air. The dashing and charismatic secret agent Rex Dasher (Daniel Radcliffe) must partner with smooth-talking food truck driver Del (Jim Gaffigan) and Marla (Anya Taylor-Joy) a smart, savvy civilian with her own secret agenda, to rescue them. Against unthinkable odds, the trio go on a fantastic journey across stunning new worlds as they gather clues for their rescue mission.
Rotten Tomatoes: 24% (Rotten)
Metacritic: 25 (Generally Unfavourable Reviews)
---
For more information about the age restrictions, click here.
Last Updated: August 16, 2019