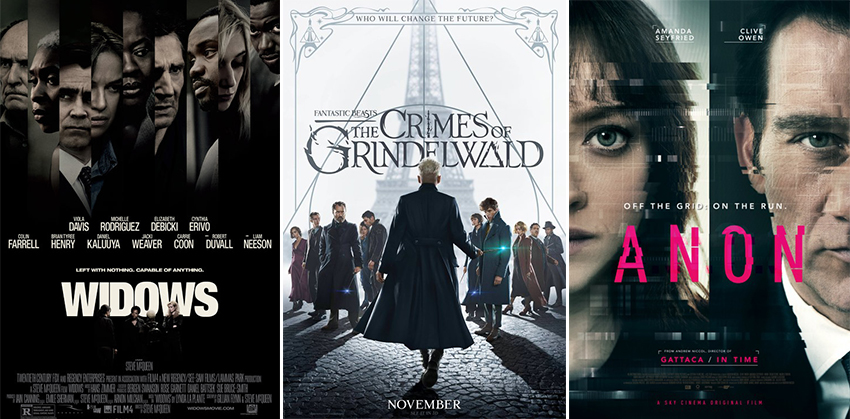 This week's cinematic magic doesn't come from the latest Harry Potter universe instalment, to no-one's real surprise.
Fantastic Beasts: The Crimes of Grindelwald
Age Restriction: 13 H V
At the end of the first film, the powerful Dark wizard Gellert Grindelwald (Johnny Depp) was captured by MACUSA (Magical Congress of the United States of America), with the help of Newt Scamander (Eddie Redmayne). But, making good on his threat, Grindelwald escaped custody and has set about gathering followers, most unsuspecting of his true agenda: to raise pure-blood wizards up to rule over all non-magical beings. In an effort to thwart Grindelwald's plans, Albus Dumbledore (Jude Law) enlists his former student Newt Scamander, who agrees to help, unaware of the dangers that lie ahead. Lines are drawn as love and loyalty are tested, even among the truest friends and family, in an increasingly divided wizarding world.
There are a few glimpses of the magic we originally saw in Fantastic Beasts and Where to Find Them, certainly enough to keep die-hard fans entertained, but sadly the plot of the film is stretched too thin. At this point, you can tell the passion from the Harry Potter universe is on the wane and, with five more movies to go in the series, you wonder how they are going to recover.
Critical Hit: 7/10
Rotten Tomatoes: 52% (Rotten)
Metacritic: 58 (Mixed or Average Reviews)
Widows
Age Restriction: 18 L V N S P
Widows is the story of four women with nothing in common except a debt left behind by their dead husbands' criminal activities. Set in contemporary Chicago, amid a time of turmoil, tensions build when Veronica (Viola Davis), Alice (Elizabeth Debicki), Linda (Michelle Rodriguez) and Belle (Cynthia Erivo) take their fate into their own hands and conspire to forge a future on their own terms.
Twisty, tense and thrilling, Widows is a fresh take on the heist thriller genre and another fantastic turn for director Steve McQueen (12 Years a Slave).
Rotten Tomatoes: 92% (Certified Fresh)
Metacritic: 86 (Universal Acclaim | Metacritic Must See)
Anon
Age Restriction: 16 L V N S D
Sal Frieland (Clive Owen) is a detective in a world with no privacy, ignorance, or anonymity; where everyone's lives are transparent, traceable, and recorded by the authorities; where crime almost ceases to exist. But in trying to solve a series of unsolved murders, Frieland stumbles on a young woman known only as the Girl (Amanda Seyfried). She has no identity, no history and is invisible to the cops. Sal realizes this may not be the end of crime, but the beginning.
Anon's ambitious premise and stylish aesthetic is undermined by a lack of depth and meaning to the story, ending up as a pretty, but utterly forgettable, experience.
Rotten Tomatoes: 39% (Rotten)
Metacritic: 54 (Mixed or Average Reviews)
For more information about the age restrictions, click here.
Last Updated: November 16, 2018