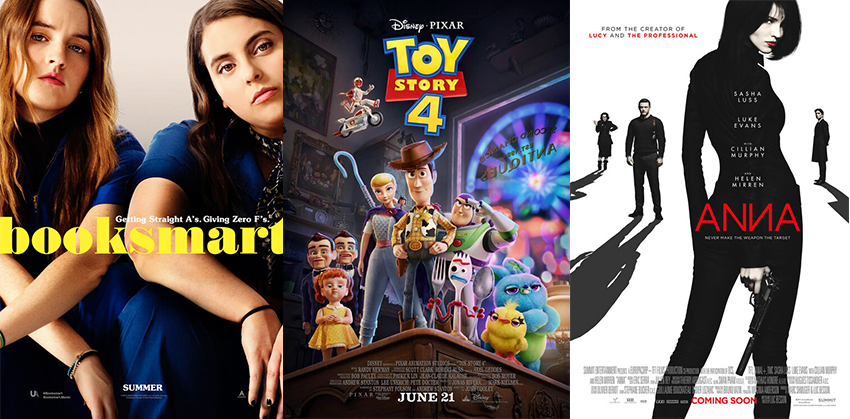 The potential conclusion to a long-running series joins some original (and not so original) new releases in cinemas this week.
---
Toy Story 4
Age Restriction: PG V
Woody has always been confident about his place in the world, and that his priority is taking care of his kid, whether that's Andy or Bonnie. So when Bonnie's beloved new craft-project-turned-toy, Forky, declares himself as "trash" and not a toy, Woody takes it upon himself to show Forky why he should embrace being a toy. But when Bonnie takes the whole gang on her family's road trip excursion, Woody ends up on an unexpected detour that includes a reunion with his long-lost friend Bo Peep. After years of being on her own, Bo's adventurous spirit and life on the road belie her delicate porcelain exterior. As Woody and Bo realize they're worlds apart when it comes to life as a toy, they soon come to find that's the least of their worries.
I always worry when franchises go on too long, but it seems my fears are unfounded with Toy Story 4. It's heartwarming, funny and practically perfect. A fitting (potential) end to a fantastic franchise.
Rotten Tomatoes: 98% (Certified Fresh)
Metacritic: 84 (Universal Acclaim | Metacritic Must See)
---
Booksmart
Age Restriction: 13 D L S
Told from a wildly original, fresh and modern perspective, Booksmart is an unfiltered comedy about high school friendships and the bonds we create that last a lifetime. Capturing the spirit of our times, the film is a coming of age story for a new generation.
A mix of American Pie, Superbad and the majority of John Hughes' filmography, Booksmart is a witty, perceptive addition to the coming of age sub-genre, with some welcome additions in terms of inclusivity.
Critical Hit: 8/10
Rotten Tomatoes: 97% (Certified Fresh)
Metacritic: 84 (Universal Acclaim | Metacritic Must See)
---
Ma
Age Restriction: 16 D L N S V
Sue Ann (Octavia Spencer) is a loner who keeps to herself in her quiet Ohio town. One day, she is asked by Maggie, a new teenager in town (Diana Silvers), to buy some booze for her and her friends, and Sue Ann sees the chance to make some unsuspecting, if younger, friends of her own. She offers the kids the chance to avoid drinking and driving by hanging out in the basement of her home. But there are some house rules: One of the kids has to stay sober. Don't curse. Never go upstairs. And call her "Ma." But as Ma's hospitality starts to curdle into obsession, what began as a teenage dream turns into a terrorizing nightmare, and Ma's place goes from the best place in town to the worst place on earth.
The only thing that manages to keep Ma glued together is Octavia Spencer's powerful performance. Unfortunately, thanks to the uneven pacing and a laboured story, this thriller never fully realises its unhinged potential.
Rotten Tomatoes: 56% (Rotten)
Metacritic: 53 (Mixed or Average Reviews)
---
Anna
Age Restriction: 18 L P S V
Beneath Anna Poliatova's striking beauty lies a secret that will unleash her indelible strength and skill to become one of the world's most feared government assassins.
Luc Besson's Anna certainly looks like a lot of fun, but it's a Luc Besson movie, so it's sure to be flawed. I'm just keen for Helen Mirren kicking ass.
Rotten Tomatoes: Tomatometer not available
Metacritic: To be determined
---
Tolkien
Age Restriction: 13 D V
TOLKIEN explores the formative years of the renowned author's life as he finds friendship, courage and inspiration among a fellow group of writers and artists at school. Their brotherhood strengthens as they grow up and weather love and loss together, including Tolkien's tumultuous courtship of his beloved Edith Bratt, until the outbreak of the First World War which threatens to tear their fellowship apart. All of these experiences would later inspire Tolkien to write his famous Middle-earth novels.
Tolkien might have all the period-piece trappings and praise-worthy performances of a worthy biopic, but completely lacks imagination. Which is a pity, if you consider the subject matter of the man himself.
Rotten Tomatoes: 51% (Rotten)
Metacritic: 48 (Mixed or Average Reviews)
---
For more information about the age restrictions, click here.
Last Updated: June 21, 2019