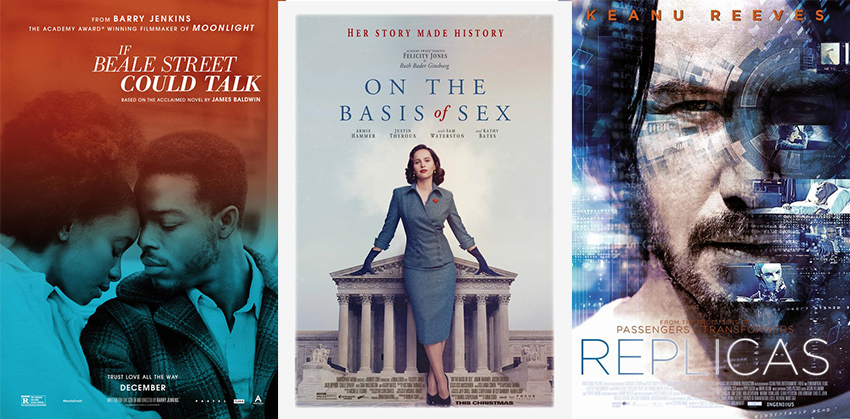 The end of Januworry is finally here! It's Friday, it's payday, and there are six new movies opening in cinemas this weekend. What more could you want?
---
If Beale Street Could Talk
Age restriction: 18 D L N P S SV V
Set in early-1970s Harlem, If Beale Street Could Talk is a timeless and moving love story of both a couple's unbreakable bond and the African-American family's empowering embrace, as told through the eyes of 19-year-old Tish Rivers (screen newcomer KiKi Layne). A daughter and wife-to-be, Tish vividly recalls the passion, respect and trust that have connected her and her artist fiancé Alonzo Hunt, who goes by the nickname Fonny (Stephan James). Friends since childhood, the devoted couple dream of a future together but their plans are derailed when Fonny is arrested for a crime he did not commit. Through the unique intimacy and power of cinema, If Beale Street Could Talk honors the author's prescient words and imagery, charting the emotional currents navigated in an unforgiving and racially biased world as the filmmaker poetically crosses time frames to show how love and humanity endure.
While If Beale Street Could Talk didn't get the Best Picture nod for this year's Academy Awards, it's still up for a few, including a Best Supporting Actress nomination for Regina King. It's a pity Barry King missed out on a Best Director nomination, as his beautiful, and faithful, adaptation is a narrative masterpiece.
Rotten Tomatoes: 95% (Certified Fresh)
Metacritic: 87 (Metacritic Must See: Universal Acclaim)
---
Replicas
Age restriction: TBA
After a car accident kills his family, a daring synthetic biologist (Reeves) will stop at nothing to bring them back, even if it means pitting himself against a government-controlled laboratory, a police task force, and the physical laws of science.
And on the complete opposite end of the Oscar-worthy spectrum is Replicas, a movie that only scored 1.5 from Sam because if he'd scored it just at a 1, you might have thought he was taking the piss. But he's deliberate and deadly serious when he says that Replicas is, quite literally, the worst.
Critical Hit: 1.5/10
Rotten Tomatoes: 10% (Rotten)
Metacritic: 18 (Overwhelming Dislike)
---
On the Basis of Sex
Age restriction: 13 D L P S
Young lawyer Ruth Bader Ginsburg (Felicity Jones) teams with her husband Marty to bring a groundbreaking case before the U.S. Court of Appeals and overturn a century of gender discrimination.
Though On The Basis Of Sex may fail in its mission to be a legitimate biopic, thanks to its over-stretching of the truth and formulaic narrative, it's still a fascinating story with an engaging script. Felicity Jones in particular shines in her role, as do the rest of the cast.
Critical Hit: 6/10
Rotten Tomatoes: 71% (Fresh)
Metacritic: 60 (Mixed or Average Reviews)
---
3 Days to Go
Age restriction: 13 D L P
When their father passes away, four grown siblings gather with their collection of husbands, wives, children and grandchildren. Together, this crazy family needs to survive itself for three days, under one roof, before they spread their father's ashes and part ways again. As the siblings re-examine their shared history and their tattered relationships, they learn how miserable they've become and how they can no longer blame anyone else for their own decisions.
No family is perfect – well ain't that the truth. 3 Days to Go puts a spotlight on families and the drama that tends to occur around any gathering of the clans. It's going to be a familiar story, because you've probably seen something similar happen at your own reunions.
---
Matwetwe
Age Restriction: 16 D L S V
A coming-of-age adventure following Lefa and Papi, best friends and recent high school graduates, on the biggest hustle of their young lives. Over the course of one action-packed New Year's Eve in the iconic township of Atteridgeville, the boys try to pull off a huge deal, dodge a kingpin gangster and his violent gang members, get the girl and, ultimately, save their own lives in this hilarious but sometimes very serious escapade.
According to an interview with SowetanLIVE, comedian-turned-director Kagiso Lediga has been sitting on the idea for Matwetwe since his days in university. It occurred to him; he wrote it down and then promptly forgot about it. But it's finally made it to the big screen, as an endearing, captivating and sometimes shocking coming-of-age comedy-drama with a perfect backing soundtrack from local artists.

---
Dominee Tienie
Age Restriction: 10-12 PG L
Reverend Tienie Benade is confronted by a crossroads that will test his career, his marriage and his faith. A story about a man who needs to win back his confidence to again become the light he once was for everyone around him.
Adapted from the Dana Snyman play of the same name, Dominee Tienie sees Frank Opperman reprise the same role he played on stage in the one-man show for this big-screen version.
---
For more information about the age restrictions, click here.
Last Updated: January 25, 2019