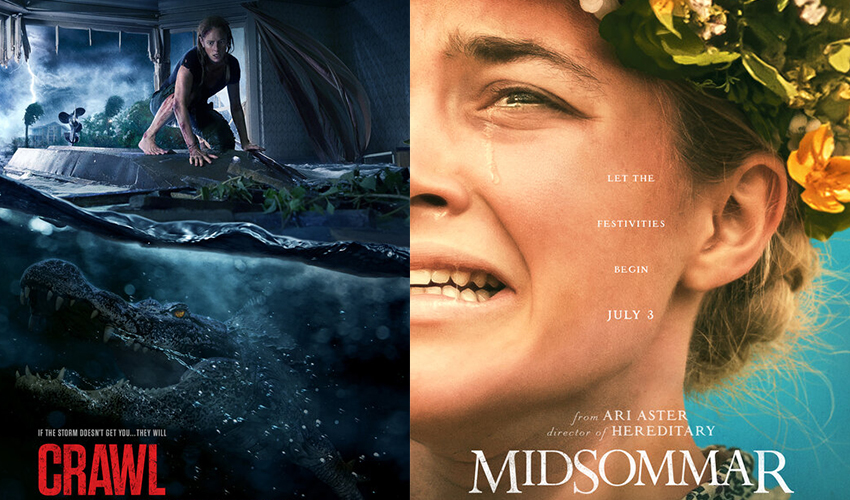 Coinciding with the reformation of my horror movie group, there are two excellent horror films in cinemas this week, one scarily unnerving and the other survival-action-creature-feature. It's a good week for fans of the genre!
---
Crawl
Age Restriction: 16 H L V
When a massive hurricane hits her Florida hometown, Haley (Kaya Scodelario) ignores evacuation orders to search for her missing father (Barry Pepper). Finding him gravely injured in the crawl space of their family home, the two become trapped by quickly encroaching floodwaters. As time runs out to escape the strengthening storm, Haley and her father discover that the rising water level is the least of their fears.
With a setup as simplistic in narrative as it is effective in scaring the poop out of us and keeping us coming back for more, Crawl is some of the best creature-feature horror-action you will find in the cinema this year. You should definitely run – not crawl – to catch it when it swims into cinemas this coming Friday. – 8/10
Rotten Tomatoes: 83% (Certified Fresh)
Metacritic: 63 (Generally Favourable Reviews)
---
Midsommar
Age Restriction: 18 D H L N V S
Dani (Florence Pugh) and Christian (Jack Reynor) are a young American couple with a relationship on the brink of falling apart. But after a family tragedy keeps them together, a grieving Dani invites herself to join Christian and his friends on a trip to a once-in-a-lifetime midsummer festival in a remote Swedish village. What begins as a carefree summer holiday in a land of eternal sunlight takes a sinister turn when the insular villagers invite their guests to partake in festivities that render the pastoral paradise increasingly unnerving and viscerally disturbing.
Rotten Tomatoes: 82% (Certified Fresh)
Metacritic: 73 (Generally Favourable Reviews)
---
Best of Enemies
Age Restriction: 13 L V P
Based on a true story, The Best of Enemies centers on the unlikely relationship between Ann Atwater (Taraji P. Henson), an outspoken civil rights activist, and C.P. Ellis (Sam Rockwell), a local Ku Klux Klan leader who reluctantly co-chaired a community summit, battling over the desegregation of schools in Durham, North Carolina during the racially-charged summer of 1971. The incredible events that unfolded would change Durham and the lives of Atwater and Ellis forever.
Rotten Tomatoes: 54% (Rotten)
Metacritic: 49 (Mixed or Average Reviews)
---
The Current War
Age Restriction: 13 V
Three brilliant visionaries set off in a charged battle for the future in The Current War, the epic story of the cutthroat competition that literally lit up the modern world. Thomas Edison (Benedict Cumberbatch) is on the verge of bringing electricity to Manhattan with his radical new DC technology. On the eve of triumph, his plans are upended by charismatic businessman George Westinghouse (Michael Shannon), who believes he and his partner, the upstart genius Nikolai Tesla (Nicholas Hoult), have a superior idea for how to rapidly electrify America: with AC current. As Edison and Westinghouse grapple for who will power the nation, they spark one of the first and greatest corporate feuds in American history, establishing for future Titans of Industry the need to break all the rules.
Lightbulbs are briefly lit up before quickly sputtering out. The Current War, despite top-quality writing and casting, is blacked out by botched storytelling and ill-conceived filmmaking and execution. – 4/10
Rotten Tomatoes: 33% (Rotten)
Metacritic: 44 (Generally Unfavourable Reviews)
---
For more information about the age restrictions, click here.
Last Updated: July 26, 2019