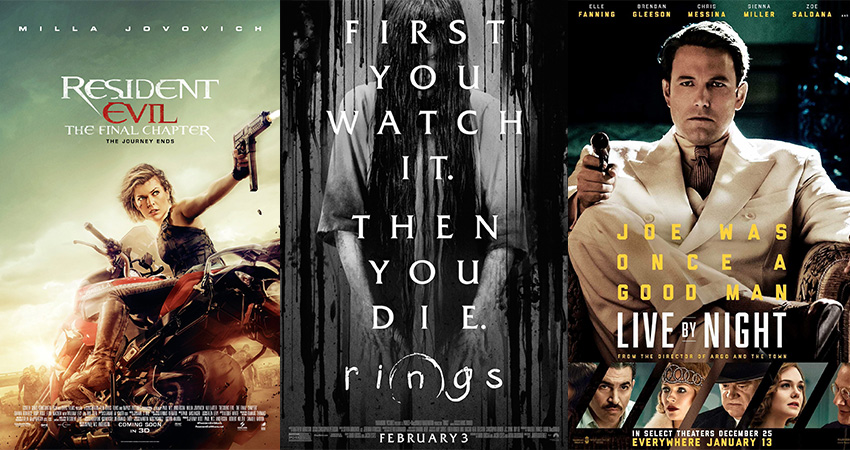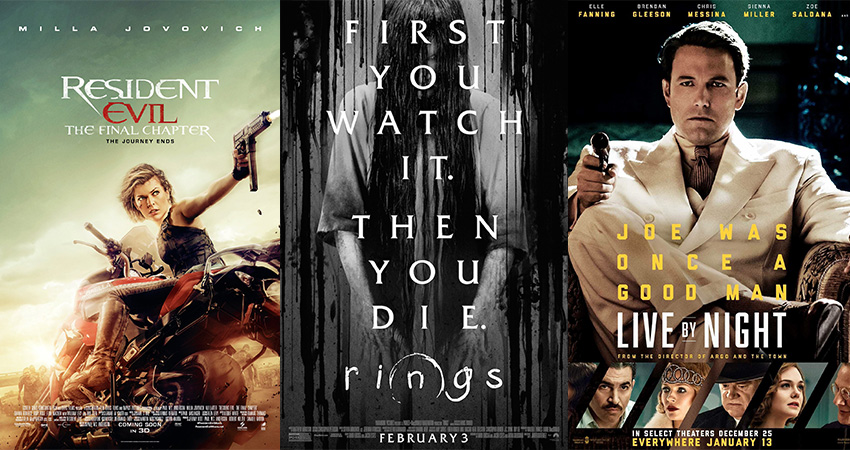 For the first week of February, this is a dire selection of movies. Usually by now we have at least one Academy Award contender opening per week. Instead, the movies out today are representing the complete opposite of Oscar worthy cinema.
Resident Evil: The Final Chapter
Age Restriction: 16 V
Picking up immediately after the events in Resident Evil: Retribution, Alice (Milla Jovovich) is the only survivor of what was meant to be humanity's final stand against the undead. Now, she must return to where the nightmare began – The Hive in Raccoon City, where the Umbrella Corporation is gathering its forces for a final strike against the only remaining survivors of the apocalypse.
I can't in good conscience recommend that you watch this movie. Everything about it is bad. The acting, the lighting, the editing (oh my word the editing), just… everything. If you want to watch it, I can't stop you, I'm not your mom. Just don't say I didn't warn you.
Critical Hit: 3/10
Rotten Tomatoes: 38%
Metacritic: 50
Book at Nu Metro (2D)
Book at Nu Metro or Ster Kinekor (3D)
Book at Nu Metro (4DX)
Book at Ster Kinekor (IMAX)
Rings
Age Restriction: 13 H V
A young woman becomes worried about her boyfriend when he explores a dark subculture surrounding a mysterious videotape said to kill the watcher seven days after he has viewed it. She sacrifices herself to save her boyfriend and in doing so makes a horrifying discovery: there is a "movie within the movie" that no one has ever seen before…
As Noelle points out in her review, horror movies have evolved. Unfortunately, Rings has not. It's a stagnant, tepid remake of an excellent horror movie that was great for its time, but doesn't do so well in a more updated setting. Lacking the surprised and the deeply creepy atmosphere of the original, Rings is "just another horror movie", and that's pretty damning.
Critical Hit: 2/10
Rotten Tomatoes: TBD
Metacritic: TBD
Book at Nu Metro or Ster Kinekor (2D)
Live By Night
Age Restriction: 16 L V
In the roaring '20s, Prohibition hasn't stopped the flow of booze in an underground network of gangster-run speakeasies. The opportunity to gain power and money is there for any man with enough ambition and nerve and Joe Coughlin, the son of the Boston Police Superintendent, long ago turned his back on his strict upbringing for the spoils of being an outlaw. But even among criminals there are rules and Joe breaks a big one: crossing a powerful mob boss by stealing his money and his moll. The fiery affair ends in tragedy, setting Joe on a path of revenge, ambition, romance and betrayal that propels him out of Boston and up the ladder of Tampa's steamy rum-running underworld.
Despite the beautiful cinematography and skilled directing from Affleck, Live by Night is let down by its problematic script. It's both too much, and not enough. Packed to the brim with story but ultimately lacking in substance, Live by Night doesn't live up to its promises.
Rotten Tomatoes: 35%
Metacritic: 49
Book at Nu Metro or Ster Kinekor (2D)
The Space Between Us
Age Restriction: 7-9 PG
After arriving to help colonize Mars, an astronaut dies while giving birth to the first human born on the red planet – never revealing who the father is. Thus begins the extraordinary life of Gardner Elliot (Asa Butterfield) – an inquisitive, highly intelligent boy who reaches the age of 16 having only met 14 people in his very unconventional upbringing. While searching for clues about his father, and the home planet he's never known, Gardner begins an online friendship with a street smart girl named Tulsa. When he finally gets a chance to go to Earth, Gardner is eager to experience all of the wonders he could only read about on Mars. But after his explorations begin, scientists discover that Gardner's organs can't withstand Earth's atmosphere. Gardner joins with Tulsa on a race against time to unravel the mysteries of how he came to be, and where he belongs in the universe.
The Space Between Us has a really fascinating premise, and I'll admit that my interest was piqued. Sadly, all that potential is buried in a mound of cheese. The movie vacillates between super corny and outright ridiculous, with stilted dialogue that even the accomplished Asa Butterfield struggles with. It might be a hit with the tween crowd, but it tries so hard to be hip and trendy that it will feel dated by next year.
Rotten Tomatoes: 13%
Metacritic: 33
Book at Nu Metro or Ster Kinekor (2D)
For more information about the age restrictions, click here.
Last Updated: February 3, 2017