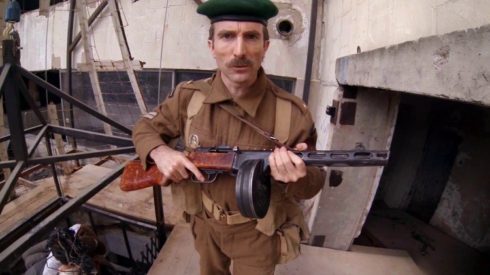 Opening on cinemas this week is the best video game movie that's not actually based on a video game, so strap in!
Strap in. Hardcore Henry is one of the most unflinchingly original wild-rides to hit the big screen in a long time: You remember nothing. Mainly because you've just been brought back from the dead by your wife (Haley Bennett). She tells you that your name is Henry. Five minutes later, you are being shot at, your wife has been kidnapped, and you should probably go get her back. Who's got her? His name's Akan (Danila Kozlovsky); he's a powerful warlord with an army of mercenaries, and a plan for world domination. You're also in an unfamiliar city of Moscow, and everyone wants you dead. Everyone except for a mysterious British fellow called Jimmy (Sharlto Copley.) He may be on your side, but you aren't sure. If you can survive the insanity, and solve the mystery, you might just discover your purpose and the truth behind your identity. Good luck, Henry. You're likely going to need it…
If you were looking for a movie to revolutionise the action film genre… sadly Hardcore Henry isn't really it. Although the first-person viewpoint is seriously innovative, it does little more than showcase what happens when you strap a Go-Pro to a stuntman as he goes through a series of flashy and admittedly impressive stunts. If you were expecting plot or motivation, there isn't much. Hardcore Henry is gimmicky but stylish as hell, even if it can't escape a 48% on Rotten Tomatoes.
Book now at Nu Metro or Ster Kinekor
Lee Gates is a bombastic TV personality whose popular financial network show has made him the money wiz of Wall Street. But after he hawks a high tech stock that mysteriously crashes, an irate investor takes Gates, his crew, and his ace producer Patty Fenn hostage live on air. Unfolding in real time, Gates and Fenn must find a way to keep themselves alive while simultaneously uncovering the truth behind a tangle of big money lies.
Money Monster is supposed to be a thriller, but the uneven, random pacing and tone lets it down. It strives to be intellectual and sophisticated, and succeeds occasionally, but as a result it also comes across as condescending. Critics are saying that it's "good enough", which is damning as far as praise goes, and have given it 55% on Rotten Tomatoes.
Book now at Nu Metro or Ster Kinekor
Gugu, the walking wounded, rejects men long before they can get too close to rock her self-imposed exile from love. But to find bliss with the right guy, she must first realise that no man is created equal and that, in love, nice guys not only have staying power but can be just right too.
So far critics haven't been too kind on Mrs Right Guy. There's some less-than-stellar acting, obvious technical mistakes and a cheesy predictable plot. What it does manage to get right is the visual appeal, from locations to wardrobes, everything is beautifully put together. Overall enjoyable but ultimately forgettable, Mrs Right Guy isn't setting a new standard for local productions just yet.
Book now at Nu Metro or Ster Kinekor
On the heels of his success with the groundbreaking drama Boyhood, director Richard Linklater shifts gears to sports for this comedy about a successful college baseball team that plays hard both on and off the diamond. Blake Jenner, Tyler Hoechin, Wyatt Russell, Ryan Guzman, Zoey Dutch, Will Brittain, and Glen Powell star.
With a great classic rock soundtrack and a perfect sense of the 80's, Everybody Wants Some!! is light-hearted, sweetly nostalgic and often incredibly funny. For a movie that has two exclamation marks in its title, 88% on Rotten Tomatoes has thoroughly exceeded any expectations I might have had.
Book now at Nu Metro or Ster Kinekor
In A BIGGER SPLASH, rock legend Marianne Lane (Tilda Swinton) is recuperating on the volcanic island of Pantelleria with her partner Paul (Matthias Schoenaerts) when iconoclast record producer and old flame Harry (Ralph Fiennes) unexpectedly arrives with his daughter Penelope (Dakota Johnson) and interrupts their holiday, bringing with him an A-bomb blast of nostalgia from which there can be no rescue. A BIGGER SPLASH is a sensuous portrait of desire, jealousy and rock and roll, under the Mediterranean sun.
A Bigger Splash is full of beautiful locations, a sensual and thought-provoking story and most importantly a powerful cast that create fascinating and complex characters. Even though it's a bit weak in the third act, A Bigger Splash still lands 88% on Rotten Tomatoes.
Book now at Cinema Nouveau, exclusive to Ster Kinekor
This and more at TheMovies.co.za
Last Updated: June 3, 2016