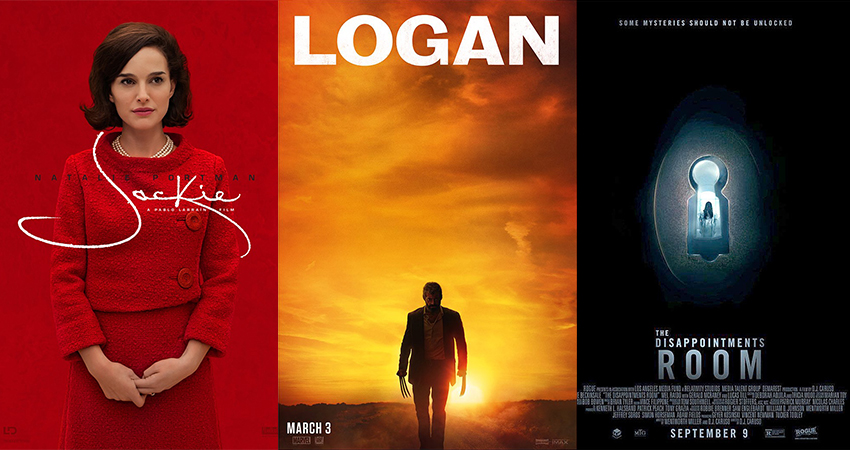 You've waited patiently and it's finally here. Logan has arrived and it's damn near perfect, so I'm sure that's what most of you will be watching. But if, for some reason, you're not keen on watching the best X-Men/Wolverine movie ever made (and why not?) here's what else is opening in cinemas this week to keep you entertained.
Logan
Age Restriction: 16 L V
In the near future, a weary Logan cares for an ailing Professor X in a hideout on the Mexican border. But Logan's attempts to hide from the world and his legacy are up-ended when a young mutant arrives, being pursued by dark forces.
Nearly two decades later, and we finally have the X-Men movie that we should have had from the start. Brutal, powerful and immensely gripping, with blood and guts alongside deep character drama, Logan is everything you'd hoped for and more.
Critical Hit: 9/10
Rotten Tomatoes: 93%
Metacritic: 77
Book at Nu Metro or Ster Kinekor (2D)
Book at Nu Metro (4DX)
Book at Ster Kinekor (IMAX)
Jackie
Age Restriction: 13 D V
Jackie is a searing and intimate portrait of one of the most important and tragic moments in American history, seen through the eyes of the iconic First Lady, then Jacqueline Bouvier Kennedy (Natalie Portman). Jackie places us in her world during the days immediately following her husband's assassination. Known for her extraordinary dignity and poise, here we see a psychological portrait of the First Lady as she struggles to maintain her husband's legacy and the world of "Camelot" that they created and loved so well.
Absolutely enthralling and utterly deserving of every Oscar nomination it received, Jackie is a tour de force of movie making. Jackie is a masterpiece, from the costumes, production designs, enchanting score, and the utterly perfect performance from lead actress Natalie Portman.
Critical Hit: 8.5/10
Rotten Tomatoes: 89%
Metacritic: 81
Book at Nu Metro or Ster Kinekor (2D)
Rock Dog
Age Restriction: PG V
For the Tibetan Mastiffs living on Snow Mountain, a dog's life has a simple riff: Guard a peaceful village of wool-making sheep from the thuggish wolf Linnux (Lewis Black) and his rabid pack. To avoid distractions, Mastiff leader Khampa (J.K. Simmons) forbids all music from the mountain. But when Khampa's son Bodi (Luke Wilson) discovers a radio dropped by a passing airplane, it takes just a few guitar licks for his fate to be sealed: Bodi wants to be a rock 'n' roll star. Yet that means defying his father's wishes, heading to the city, and locating the legendary – and reclusive – musician Angus Scattergood (Eddie Izzard), who needs to write a new song and fast. If Bodi can put a band together, help Angus with his song, and defeat the wolves' plot to take Snow Mountain, his life will be in tune. Bodi will become what he's always dreamed of being: More than a dog … more than a Rock God… he'll be a Rock Dog!
Rock Dog chases its tail from one joke to the next, but much like most dogs you've seen chasing their tails, never actually manages to catch it. Oh it's amiable and silly enough, but the story is a knock-off, jokes mostly fall flat and the characters are pretty boring. Only the very, very young will remain entertained for the duration.
Rotten Tomatoes: 41%
Metacritic: 50
Book at Nu Metro or Ster Kinekor (2D)
Book at Nu Metro or Ster Kinekor (3D)
The Disappointment Rooms
Age Restriction: 16 H L V
Dana (Kate Beckinsale) and David (Mel Raido) move from Brooklyn to a once-grand southern mansion with their 5 year old son looking for a fresh start. But Dana's discovery of a secret room unleashes unexplainable events that test her sanity and slowly reveal the home's terrifying past.
All I need to tell you about The Disappointments Room is right there in the title. It's disappointing. There's no zeal, no suspense, and no real scares. Kate Beckinsale tries her best but it's not worth the effort she put in. Avoid this lame thriller/horror at all costs, it's not worth the price of the ticket.
Rotten Tomatoes: 0%
Metacritic: 31
Book at Nu Metro or Ster Kinekor (2D)
The Hollars
Age Restriction: 7-9 PG L
John Hollar (John Krasinski), a struggling NYC artist is forced to navigate the small middle-American town he left behind when news of his mother's illness brings him home. Back in the house he grew up in, John is immediately swept up in the problems of his dysfunctional family, high school rival, and an over-eager ex-girlfriend as he faces impending fatherhood with his girlfriend in New York.
The Hollars is getting mixed reviews so far, but audiences have enjoyed it more than the critics. If you're a fan of indie dramedys, you'll likely enjoy it, even though it's very typical of its genre. It's quirky and bittersweet with an uplifting, though predictable, story.
Rotten Tomatoes: 43%
Metacritic: 53
Book at Nu Metro or Ster Kinekor (2D)
Keeping up with the Kandasamys
Age Restriction: 7-9 PG D L
Matriarchal rivals of neighbouring families whose young adult children become romantically involved try to keep them apart with hilarious results.
Keeping up with the Kandasamys is a modern day Romeo and Juliet story of star-crossed lovers and rivalling families set in Chatsworth, with more comedy and less murder/suicide. Light-hearted and entertaining, Keeping up with the Kandasamys opens a window into the lifestyle and subculture of modern-day Indian South Africans.
Book at Nu Metro or Ster Kinekor (2D)
For more information about the age restrictions, click here.
Last Updated: March 3, 2017