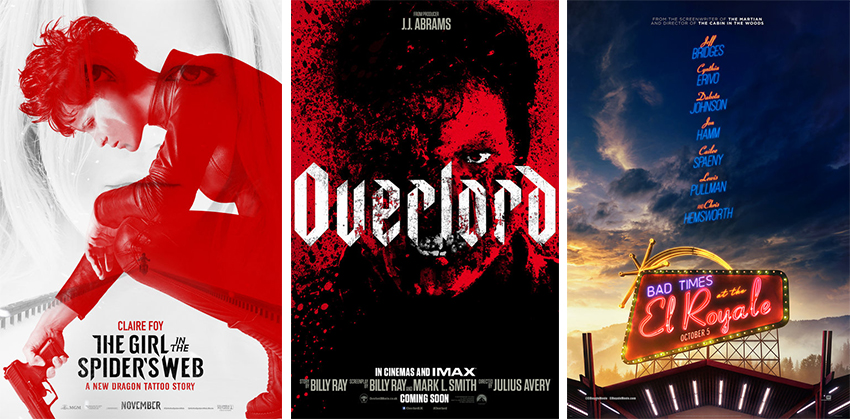 Of all the new movies opening in cinemas today, the only one that comes with a hearty endorsment by the Critical Hit team is Overlord. Everything else ranges from the so-so to the terrible.
Overlord
Age Restriction: 18 H L V
On the eve of D-Day, American paratroopers are dropped behind enemy lines to carry out a mission crucial to the invasion's success. But as they approach their target, they begin to realize there is more going on in this Nazi-occupied village than a simple military operation. They find themselves fighting against supernatural forces, part of a Nazi experiment.
Overlord may seem like the most ludicrous, straight-to-the-bargain-bin B-movie imaginable, and it kind of is, but it also has so much more. A seamless blend of war drama, horror and straight up monster movie, Overlord is a bonkers thrill ride from start to finish. Highly recommended.
Critical Hit: 8/10
Rotten Tomatoes: 90% (Fresh)
Metacritic: 57 (Mixed or Average Reviews)
The Girl in the Spider's Web
Age Restriction: 16 L S SV
Lisbeth Salander, the cult figure and title character of the acclaimed Millennium book series created by Stieg Larsson, will return to the screen in The Girl in the Spider's Web, a first-time adaptation of the recent global bestseller.
Positioned confusingly as both a reboot and a sequel, The Girl with the Spider's Web feels like the follow-up to a movie that doesn't exist. While Claire Foy does her best as popular literary heroine Lisbeth Salander in this third cinematic interpration of Stieg Larsson's Millennium books, she's simply not given the quality of material her critically-acclaimed predecessors had to work with in this competently made, but ultimately forgettable thriller.
Critical Hit: 6/10
Rotten Tomatoes: 54% (Rotten)
Metacritic: 44 (Mixed or Average Reviews)
Bad Times at the El Royale
Age Restriction: 16 L V D
Seven strangers, each with a secret to bury, meet at Lake Tahoe's El Royale, a rundown hotel with a dark past. Over the course of one fateful night, everyone will have a last shot at redemption… before everything goes to hell.
Bad Times at the El Royale isn't a bad time, per se. It's multi-layered and slow-burning, just maybe too slow-burning. Enough to test your patience at least. While all the puzzle pieces do eventually click into place, the overall picture is lacking in substance.
Rotten Tomatoes: 73% (Certified Fresh)
Metacritic: 60 (Mixed or Average Reviews)
Life Itself
Age Restriction: 16 L V D
Life Itself centers on a couple (Oscar Isaac and Olivia Wilde) that lead a multi-generational love story spanning both decades and continents, from the streets of New York to the Spanish countryside, and are all connected by a single event.
Cloyingly contrived and melodramatic to the end, Life Itself is a tiring and overwrought slog throughout its 117 minute run time. The more the film tries to say about the human condition, the less it means, until all that's left are basic platitudes. Life Itself is the cinematic equivalent of aiming for a philosophy essay but ending up with a greeting card.
Rotten Tomatoes: 12% (Rotten)
Metacritic: 21 (Generally Unfavourable Reviews)
Two Tails
Age Restriction: PG V
After becoming best friends, a Beaver and a Cat undertake a dangerous mission to free their fellow animals, who were kidnapped by Aliens.
I couldn't find a trailer for this film in English and honestly, I couldn't be bothered to look. Something about a beaver and a pussycat. ¯\_(ツ)_/¯
Rotten Tomatoes: Tomatometer not available
For more information about the age restrictions, click here.
Last Updated: November 9, 2018