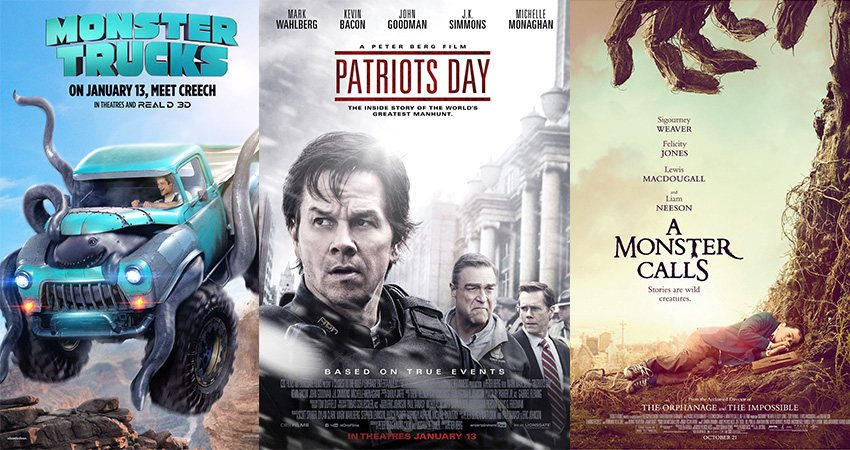 What a week we've had! The launch of Critical Hit has meant quite a shakeup in the regular articles you're used to from Lazygamer and TheMovies. Some features will be missed, some probably won't, but this is one that's definitely here to stay! Let's take a look at what new movies you can look forward to in cinemas this week.
Patriots Day
Age Restriction: 16 L V
In the aftermath of an unspeakable act of terror, Police Sergeant Tommy Saunders (Mark Wahlberg) joins courageous survivors, first responders and investigators in a race against the clock to hunt down the bombers before they strike again. Weaving together the stories of Special Agent Richard DesLauriers (Kevin Bacon), Police Commissioner Ed Davis (John Goodman), Sergeant Jeffrey Pugliese (J.K. Simmons) and nurse Carol Saunders (Michelle Monaghan) this visceral and unflinching chronicle captures the suspense of the most sophisticated manhunt in law enforcement history and the strength of the people of Boston.
Definitely not for the faint-hearted, Patriots Day is a taut thriller that doesn't shy away from the chaos and drama of the Boston Marathon Bombing. Unfortunately, using a fictional main character, played by Mark Wahlberg, to tie the real life events together is good for the movie, but not so good for the emotional impact. Fortunately, the main character is really the events of the day, and Peter Berg's skilful directing keeps you on the edge of your seat throughout.
Critical Hit: 8/10 stars
Rotten Tomatoes: 78%
Metacritic: 70
Book at Nu Metro or Ster Kinekor (2D)
Monster Trucks
Age Restriction: 7 – 9 PG V
Looking for any way to get away from the life and town he was born into, Tripp (Lucas Till), a high school senior, builds a Monster Truck from bits and pieces of scrapped cars. After an accident at a nearby oil-drilling site displaces a strange and subterranean creature with a taste and a talent for speed, Tripp may have just found the key to getting out of town and a most unlikely friend.
Did you watch that trailer? Good. Now, how low are your expectations? Pretty low I assume. Ok, now lower them a bit more… more… bit more… little bit… there you go! Ok, now that your expectations are basically in the negative, you might be able to tolerate Monster Trucks for the sake of the kids you're taking to watch it. Oh, it's still an awful movie – what else do you expect from a script pitched by a literal four-year-old – but now it won't be as bad as you initially thought. Still bad though.
Critical Hit: 5/10 stars
Rotten Tomatoes: 29%
Metacritic: 43
Book at Nu Metro or Ster Kinekor (3D)
The Birth of a Nation
Age Restriction: 16 P V
In the antebellum South, Nat Turner (Nate Parker) is a literate slave and preacher, whose financially strained owner, Samuel Turner (Armie Hammer), accepts an offer to use Nat's preaching to subdue unruly slaves. As he witnesses countless atrocities – against himself and his fellow slaves – Nat orchestrates an uprising in the hopes of leading his people to freedom.
Our full review of The Birth of a Nation will be up next week, but what Kervyn can tell you in the meantime is this: although lead actor turned debut writer/director Nate Parker occasionally stumbles as he adds overwrought embellishments in the name of artistry, and some aspects of the script shows his fledgling filmmaker status, The Birth of the Nation is still a gripping and harrowing retelling of an important – and uncomfortably relevant – bit of American history. It's not perfect, but it is effective.
Critical Hit: review coming soon!
Rotten Tomatoes: 72%
Metacritic: 69
Book at Nu Metro or Ster Kinekor (2D)
A Monster Calls
Age Restriction: 10–12PG
12-year-old Conor (Lewis MacDougall), dealing with his mother's (Felicity Jones) illness, a less-than-sympathetic grandmother (Sigourney Weaver), and bullying classmates, finds a most unlikely ally when a Monster appears at his bedroom window. Ancient, wild, and relentless, the Monster guides Conor on a journey of courage, faith, and truth.
If you've seen a trailer for A Monster Calls, or even read between the lines of the synopsis, I think it's pretty obvious the direction the story is going to take. But my word the journey looks beautiful. A grim and unflinching take on some heavy grown-up issues, A Monster Calls is a darkly beautiful and bittersweet emotional ride.
Rotten Tomatoes: 87%
Metacritic: 76
Book now at Nu Metro or Ster Kinekor (2D)
For more information about the age restrictions, click here.
Last Updated: January 16, 2017