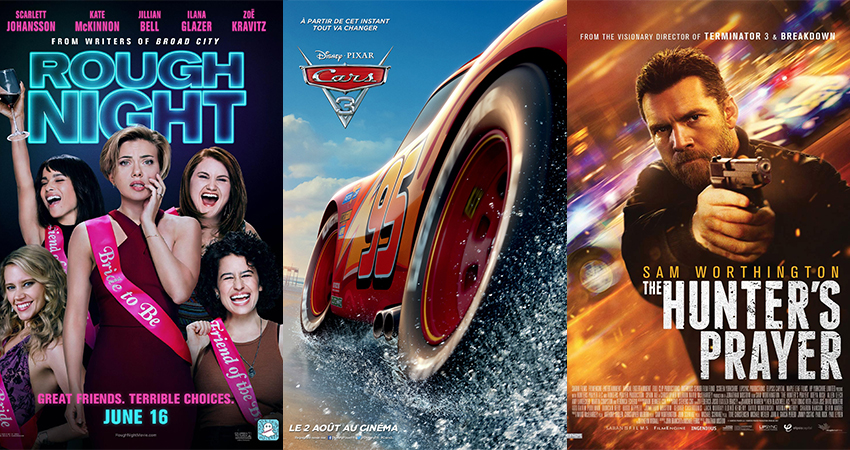 As with most long weekends, there are more cinema releases than usual. This week we have six new movies running a gamut of interests, from the movie your kids are already begging you to see, to the ones you really shouldn't take your kids to.
Cars 3
Age Restriction: PG
Blindsided by a new generation of blazing-fast racers, the legendary Lightning McQueen (voice of Owen Wilson) is suddenly pushed out of the sport he loves. To get back in the game, he will need the help of an eager young race technician, Cruz Ramirez (voice of Cristela Alonzo), with her own plan to win, plus inspiration from the late Fabulous Hudson Hornet and a few unexpected turns. Proving that #95 isn't through yet will test the heart of a champion on Piston Cup Racing's biggest stage!
Of all the Disney/Pixar movies, Cars was the last one anyone wanted a sequel of, let alone getting its own franchise, including spin-offs. Yet, here we are. And Cars 3 is, well, fine. It's not amazing nor great nor any other superlative. It's basically okay. I think the mediocrity speaks for itself.
Critical Hit: 6.5/10
Rotten Tomatoes: 67%
Metacritic: 64
Book at Nu Metro or Ster Kinekor (2D)
Book at Nu Metro or Ster Kinekor (3D)
Rough Night
Age Restriction: 16 D L S
Five best friends from college (Scarlett Johansson, Kate McKinnon, Jillian Bell, Ilana Glazer, and Zoë Kravitz) reunite 10 years later for a wild bachelorette weekend in Miami. Their hard partying takes a hilariously dark turn when they accidentally kill a male stripper. Amidst the craziness of trying to cover it up, they're ultimately brought closer together when it matters most.
How do you bond of the death of a male stripper? Because that's what Rough Night is trying to accomplish with its story, and it sounds frankly bizarre. Unfortunately, the rest of the movie takes highlights from other, better films and ties them together with the thinnest thread imaginable. In the end, a Rough Night is what you're in for.
Rotten Tomatoes: 46%
Metacritic: 56
Book at Nu Metro or Ster Kinekor (2D)
The Hunter's Prayer
Age Restriction: 16 L V
An assassin forges an unlikely partnership with one of his targets: a woman seeking revenge for the murder of her family.
Gritty but persistently stupid, The Hunter's Prayer will make for fine killing-time-in-front-of-the-TV entertainment. It's a pleasantly mind-numbing waste of time, but probably not the kind of movie you'd spend big bucks on to see in the cinemas.
Rotten Tomatoes: 44%
Metacritic: 35
Book at Nu Metro or Ster Kinekor (2D)
This Beautiful Fantastic
Age Restriction: PG
A contemporary fairy tale revolving around the unlikely of friendship between a reclusive young woman with dreams of being a children's book author and a cantankerous widower, set against the backdrop of a beautiful garden in the heart of London. Bella Brown (Jessica Brown Findlay) is a beautifully quirky young woman who dreams of writing and illustrating a successful children's book. When she is forced by her landlord to deal with her neglected garden or face eviction, she meets her nemesis, match and mentor in Alfie Stephenson (Tom Wilkinson), a grumpy, loveless, rich old man who lives next door and happens to be an amazing horticulturalist.
This Beautiful Fantastic is, by all accounts, incredibly twee and precocious. If you like movies that come with those sorts of saccharine descriptors, along with whimsical, enchanting and Very British, then you'll like This Beautiful Fantastic.
Rotten Tomatoes: 67%
Metacritic: 51
Book at Nu Metro or Ster Kinekor (2D)
Free Fire
Age Restriction: 18 L V
Set in a colorful yet gritty 1970s Boston, Free Fire opens with Justine (Brie Larson), a mysterious American businesswoman, and her wise-cracking associate Ord (Armie Hammer) arranging a black-market weapons deal in a deserted warehouse between IRA arms buyer Chris (Cillian Murphy) and shifty South African gun runner Vernon (Sharlto Copley). What starts as a polite if uneasy exchange soon goes south when tensions escalate and shots are fired, quickly leading to a full-on Battle Royale where it's every man (and woman) for themselves.
Free Fire is a mishmash of genre tropes and characters, but if you don't mind a lot of violence and a lot of swearing (no really, there's a lot) then this is for you. Free Fire might not hit dead centre all of the time, but it's still one heck of a ride.
Rotten Tomatoes: 67%
Metacritic: 63
Book at Ster Kinekor (Cinema Nouveau)
The Case for Christ
Age Restriction: 7-9 PG
A hard-driving journalist, Lee Strobel was exactly where he expected to be at work: on top. His award-winning investigative reporting recently earned him a promotion to legal editor at the ChicagoTribune. But things weren't going nearly as well at home where his wife Leslie's newfound faith in Christ went against everything Lee believed—or didn't believe—as an avowed atheist. Utilizing his journalistic and legal training, Lee begins a quest to debunk the claims of Christianity in order to save his crumbling marriage. Chasing down the biggest story of his career, Lee comes face-to-face with unexpected results that could change everything he knows to be true.
Props to the The Case of Christ for being a well put-together movie, with a solid cast that can actually act. Aiming to be more thoughtful than preachy, it's still too tedious to be offensive to critical thinkers and it certainly won't win any of them over.
Rotten Tomatoes: 79%
Metacritic: 51
Book at Ster Kinekor (2D)
For more information about the age restrictions, click here.
Last Updated: June 15, 2017