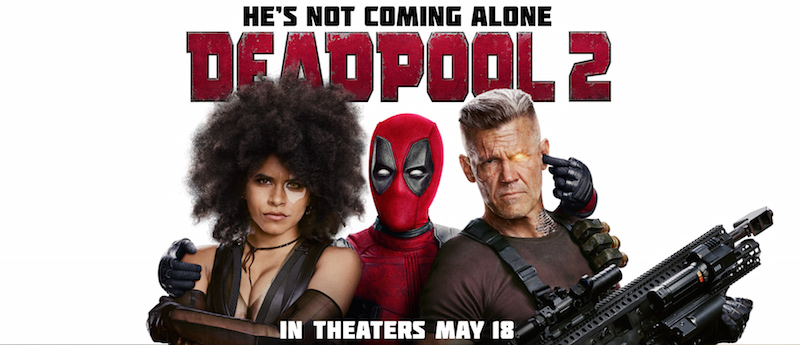 Hold on to your butts, people! Deadpool is back! The Merc with the Mouth will be tearing up your screens this weekend in the bigger, better, more badass sequel. Will it be enough to dethrone Infinity War? Let's see.
Deadpool 2
Age Restriction: 16 D L PPS S V
After surviving a near fatal bovine attack, a disfigured cafeteria chef (Wade Wilson) struggles to fulfill his dream of becoming Mayberry's hottest bartender while also learning to cope with his lost sense of taste. Searching to regain his spice for life, as well as a flux capacitor, Wade must battle ninjas, the yakuza, and a pack of sexually aggressive canines, as he journeys around the world to discover the importance of family, friendship, and flavor – finding a new taste for adventure and earning the coveted coffee mug title of World's Best Lover.
If you didn't get any joy from Deadpool 1, Deadpool 2 probably won't tickle your fancy. Or any other special places. But if you loved the first one, you'll love this one even more, as everything that worked on the first film is back, but better. With a better support cast, more gags, and even fancier action choreography, Deadpool 2 has managed to outshine its predecessor.
Critical Hit: 8.5/10
Rotten Tomatoes: 85% (Certified Fresh)
Metacritic: 68 (Generally Favourable Reviews)
Life of the Party
Age Restriction: 13 D L S V
When her husband suddenly dumps her, longtime dedicated housewife Deanna (Melissa McCarthy) turns regret into re-set by going back to college…landing in the same class and school as her daughter, who's not entirely sold on the idea. Plunging headlong into the campus experience, the increasingly outspoken Deanna—now Dee Rock—embraces freedom, fun and frat boys on her own terms, finding her true self in a senior year no one ever expected.
Great actors can only do so much with what they are given, and sadly, there is little life in this party, despite Melissa McCarthy's game efforts. Life of the Party might be harmless and good natured fun, but the jumbled messy script has far more misses than hits.
Rotten Tomatoes: 39% (Rotten)
Metacritic: 46 (Mixed or Average Reviews)
Journey's End
Age Restriction: 16 L V D
March, 1918. C-company arrives to take its turn in the front-line trenches of norther France, led by the war-weary Captain Stanhope (Sam Claflin). With a German offensive imminently approaching, the officers (Paul Bettany, Stephen Graham, Tom Sturridge) and their cook (Toby Jones) use food and the memories of their lives before the war to distract themselves, while Stanhope soaks his fear in whisky, unable to deal with the dread of the inevitable. A young officer, Raleigh (Asa Butterfield), arrives fresh out of training and abuzz with the excitement of his first real posting – not least because he is to serve under Stanhope, his former school house monitor and the object of his sister's affections. Each man is trapped, the days ticking by, the tension rising and the attack drawing ever closer.
Journey's End brings R.C. Sherriff's 90-year-old play to the big screen with exhilarating power, thanks to director Saul Dibb's deft sense of urgency and outstanding work from a talented cast. Though the "war is hell" message may start to feel overwhelming in its constant heavy-handedness, it serves as an excellent window into the headspace of the soldiers on the front lines.
Rotten Tomatoes: 92% (Certified Fresh)
Metacritic: 73 (Generally Favourable Reviews)
For more information about the age restrictions, click here.
Last Updated: May 18, 2018