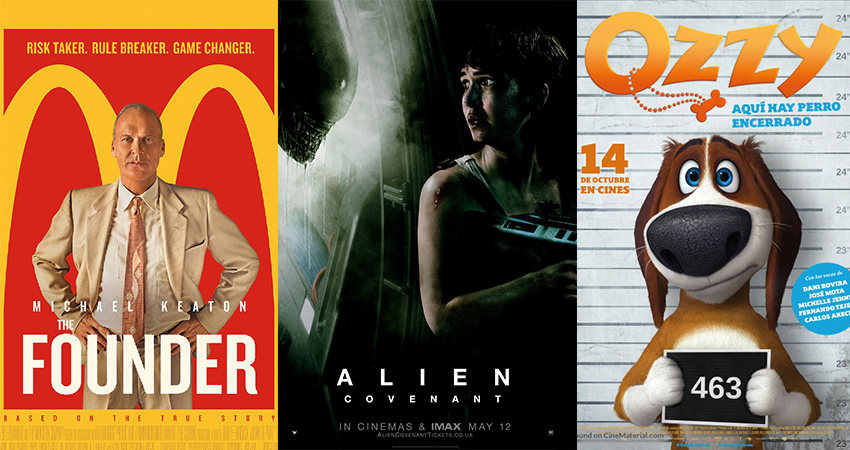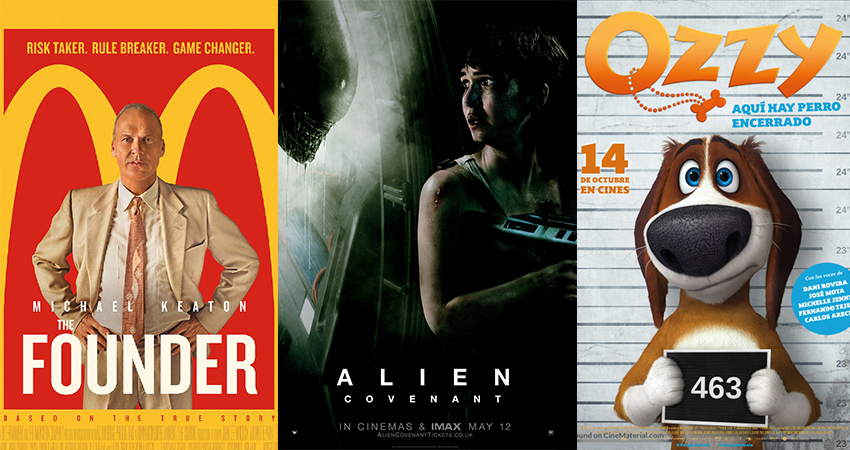 This week's new releases will be filling the cinema with horror. Between Alien: Covenant's return to gore, a look into the yuckiest fast-food franchise ever and two children's movies that will make parents recoil, there's something to torture everyone with this week.
Alien: Covenant
Age Restriction: 16 H L V
Bound for a remote planet on the far side of the galaxy, the crew of the colony ship Covenant discovers what they think is an uncharted paradise, but is actually a dark, dangerous world — whose sole inhabitant is the "synthetic" David (Michael Fassbender), survivor of the doomed Prometheus expedition.
Despite living up to the promise of a return to gory, sci-fi horror, Alien: Covenant is still a hot mess. Filled with recycled ideas and shoehorned philosophy, director Ridley Scott drops the ball multiple times in multiple ways. Ultimately, he just doesn't know where he wants to go with the franchise. If this is the end of the Aliens movies, it's a disappointing one indeed.
Critical Hit: 6/10
Rotten Tomatoes: 74%
Metacritic: 67
Book at Nu Metro or Ster Kinekor (2D)
Book at Ster Kinekor (IMAX)
The Founder
Age Restriction: 10-12 PG
The true story of how Ray Kroc (Michael Keaton), a salesman from Illinois, met Mac and Dick McDonald, who were running a burger operation in 1950s Southern California. Kroc was impressed by the brothers' speedy system of making the food and saw franchise potential. He maneuvered himself into a position to be able to pull the company from the brothers and create a billion-dollar empire.
Our full review of The Founder will go up next week, but in the meantime here's a snippet to whet your appetite:
The Founder is a must-watch movie for anyone who enjoys Michael Keaton. Keaton brings to life McDonalds "founder" Ray Croc in a charming, confident way that carries you along for a ride of ups and downs. Director John Lee Hancock realizes the 1950's in a sumptuous and almost too-good-to-be true way that fits in so well with a plastic, mass-produced franchise. The undertone of the movie is always there, but just out of grasp – what are our values and what will you do to keep them?
Rotten Tomatoes: 84%
Metacritic: 66
Book at Nu Metro or Ster Kinekor (2D)
Diary of a Wimpy Kid: The Long Haul
Age Restriction: PG V
Greg convinces his family to take a road trip to attend his great grandmother's 90th birthday as a cover for what he really wants: to attend a nearby gamer convention. Unsurprisingly, things do not go according to plan and Heffley family antics ensue.
Even with a brand new cast and an aim to reinvent the franchise, the latest instalment of Diary of a Wimpy Kid falls flat on its face. The tired, unfunny mix of slapstick and sentimentality will have anyone over the age of 8 wishing they'd gone to watch something else.
Rotten Tomatoes: 28%
Metacritic: 41
Book at Nu Metro or Ster Kinekor (2D)
Ozzy
Age Restriction: PG
Ozzy, a friendly, peaceful beagle has his idyllic life turned upside down when the Martins leave on a long and distant trip. There's only one problem: no dogs allowed! Unable to bring their beloved Ozzy along for the ride, they settle on the next best thing, a top-of-the-line canine spa called Blue Creek. This picture perfect place turns out to be a facade constructed by its villainous owner to capture dogs. Ozzy will soon end up in the real Blue Creek, a prison for dogs, run by dogs. Ozzy will have to avoid danger and find strength in his new friends, Chester, Fronky and Doc to escape the prison and return home safely.
Ozzy is aimed solely at the kids, but the movie takes on a weirdly dark tone which might be on the heavy side for its intended audience. It also lacks the wit and creativity we've come to expect from animated movies, so there's nothing to keep the parents entertained.
Rotten Tomatoes: TBD
Metacritic: TBD
Book at Ster Kinekor (2D)
The Resurrection of Gavin Stone
Age Restriction: PG
Gavin Stone, a washed-up former child star, is forced to do community service at a local megachurch and pretends to be Christian so he can land the part of Jesus in their annual Passion Play, only to discover that the most important role of his life is far from Hollywood.
For those that enjoy faith-based movies, The Resurrection of Gavin Stone is funny, charming, and poignant. Even if it lacks surprises, it's still got a strong message and good performances. Though, if this movie isn't targeted at you, you're not going to enjoy it, so don't bother.
Rotten Tomatoes: 42%
Metacritic: 36
Book at Ster Kinekor (2D)
For more information about the age restrictions, click here.
Last Updated: May 19, 2017