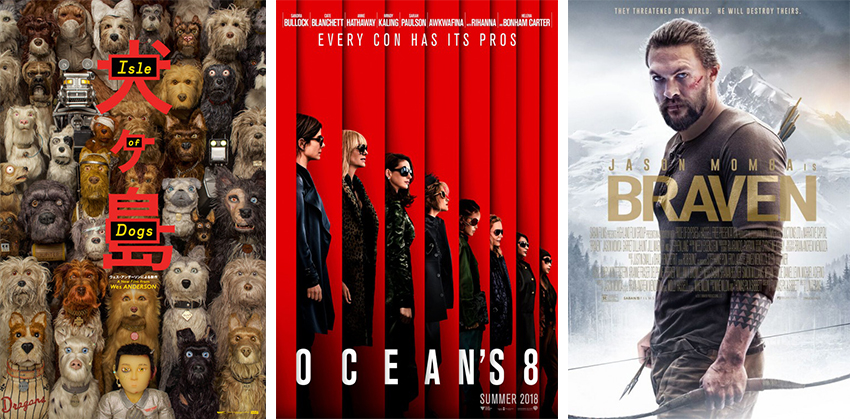 Between isles, oceans and Aquaman, I was trying to come up with some water-themed puns for this week's Movies out Today intro, but alas. Everything I could think of wouldn't float.
Ocean's 8
Age Restriction: 13 D IAT L
Upon her release from prison, Debbie, the estranged sister of legendary conman Danny Ocean, puts together a team of unstoppable crooks to pull of the heist of the century. Their goal is New York City's annual Met Gala, and a necklace worth in excess of 150 million dollars.
Ocean's 8 is a stylish film, there's no denying it, but it's as aloof as its protagonist. There's little investment in the story and, with the plot stumbles in the third act that saps all the energy from the film, it's a bit too style over substance. Nevertheless, it's a chic, naughty heist film that's going to entertain – just not to the degree you may have hoped.
Critical Hit: 6.5/10
Rotten Tomatoes: 67% (Fresh)
Metacritic: 61 (Generally Favourable Reviews)
Isle of Dogs
Age Restriction: 10-12 PG L V
Isle of Dogs tells the story of Atari Kobayashi, 12-year-old ward to corrupt Mayor Kobayashi. When, by Executive Decree, all the canine pets of Megasaki City are exiled to a vast garbage-dump called Trash Island, Atari sets off alone in a miniature Junior-Turbo Prop and flies across the river in search of his bodyguard-dog, Spots. There, with the assistance of a pack of newly-found mongrel friends, he begins an epic journey that will decide the fate and future of the entire Prefecture.
Isle of Dogs is beautifully stop-motion animated, and, with its meticulous attention to detail and endearingly charming story, it's a must for Wes Anderson fans and fans of the medium of cinema in general.
Rotten Tomatoes: 89% (Certified Fresh)
Metacritic: 82 (Universal Acclaim – Metacritic Must-See)
Braven
Age Restriction: 16 D L V
Jason Momoa takes no prisoners in this intense action-thriller. When Joe (Momoa) and his father (Stephen Lang) arrive at their remote hunting cabin, they're hoping for a quiet weekend. What they find is a stash of heroin, hidden in the cabin by drug traffickers. When the criminals suddenly descend upon the cabin, Joe and his father must make a kill-or-be-killed stand for survival.
Visceral and adrenaline-infused, Braven is the pinnacle of the action-thriller genre. It's a total popcorn flick, but the engaging action scenes, interesting setting, and strong performances keep it from turning too typical.
Rotten Tomatoes: 76% (Fresh)
Metacritic: 61 (Generally Favourable Reviews)
On Chesil Beach
Age Restriction: 16 L V N S
Adapted by Ian McEwan from his bestselling novel, the drama centers on a young couple of drastically different backgrounds in the summer of 1962. Following the pair through their idyllic courtship, the film explores sex and the societal pressure that can accompany physical intimacy, leading to an awkward and fateful wedding night.
On Chesil Beach is a slow and measured period piece, but perhaps too slow and measured for some. The elegant and understated story is ignited by a stellar cast, but it's a slow burn that might lose your interest before too long.
Rotten Tomatoes: 69% (Fresh)
Metacritic: 62 (Generally Favourable Reviews)
Thys en Trix
Age Restriction: 16 L V D
Thys and Trix are siblings and eager yet helpless police officers. Their constant feud results in their expulsion after it causes yet another embarrassment for the police service. Detective Solomons is investigating the activities of a crime syndicate in an exclusive golf estate outside Mossel Bay. Due to their 'vanilla' looks, Thys and Trix are singled out for the first time as the most competent team to lead an investigation. However, the fact that they must pretend to be a married couple to make the investigation credible complicates the situation. Solomons has to accompany them but isn't happy that he'll be their butler. Are any of Thys and Trix's new neighbours perhaps involved with the production and distribution of MTHC, a paralysing hallucinogenic?
Just reading the synopsis leads me to suspect that this film was the result of too many paralysing hallucinogenics. Which, coincidentally, is the only thing you could use to get me to watch it.
For more information about the age restrictions, click here.
Last Updated: June 22, 2018