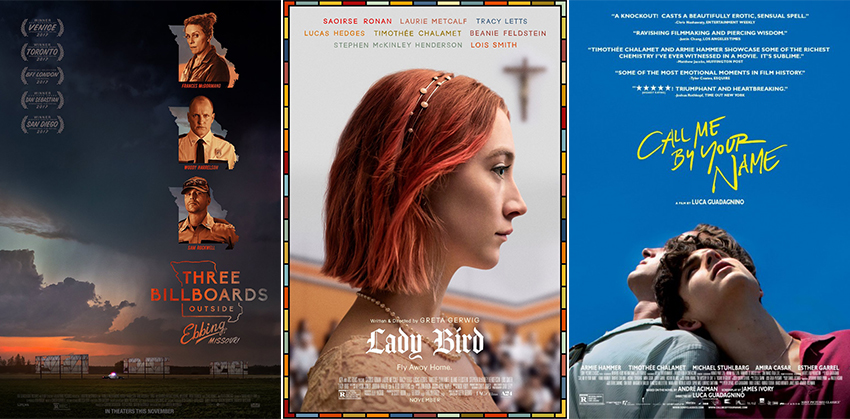 It's definitely Oscar season this week, as three of the nine Academy Award nominees for Best Picture grace our screens in the build up to next weekend's award ceremony.
Lady Bird
Age Restriction: 16 D L S
Christine "Lady Bird" McPherson (Saoirse Ronan) fights against but is exactly like her wildly loving, deeply opinionated and strong-willed mom (Laurie Metcalf), a nurse working tirelessly to keep her family afloat after Lady Bird's father (Tracy Letts) loses his job. Set in Sacramento, California in 2002, amidst a rapidly shifting American economic landscape, Lady Bird is an affecting look at the relationships that shape us, the beliefs that define us, and the unmatched beauty of a place called home.
Lady Bird first started generating buzz when it became the highest rated film of all time on Rotten Tomatoes, edging out the previous record holder, Toy Story 3. Subsequently, Lady Bird has won 14 accolades across ceremonies like the Golden Globes and the National Society of Film Critics' Awards, as well as gathered itself 5 Academy Award nominations. Our own review by Craig has praised Lady Bird for being sentimental, infectious and utterly relatable.
Critical Hit: 7.5/10
Rotten Tomatoes: 99% (Certified Fresh)
Metacritic: 94 (Universal Acclaim)
Three Billboards Outside Ebbing, Missouri
Age Restriction: 16 L V P
After months have passed without a culprit in her daughter's murder case, Mildred Hayes (Frances McDormand) makes a bold move, painting three signs leading into her town with a controversial message directed at William Willoughby (Woody Harrelson), the town's revered chief of police. When his second-in-command Officer Dixon (Sam Rockwell), an immature mother's boy with a penchant for violence, gets involved, the battle between Mildred and Ebbing's law enforcement is only exacerbated.
With unforgettable performances and seven Academy Award nominations, Three Billboards Outside Ebbing, Missouri is a balance of black comedy and intense drama. It's bleak, angry and harshly thought-provoking.
Rotten Tomatoes: 92% (Certified Fresh)
Metacritic: 88 (Universal Acclaim)
24 Hours to Live
Age Restriction: 16 L V
24 Hours to Live is a fast-paced action-packed movie about a career assassin (Hawke) who is given a chance at redemption after his employer brings him back to life temporarily after being killed on the job.
Loud and ridiculous, 24 Hours to Live is like a knock-off Crank, minus Jason Statham but with added lunacy and even more pathetic dialogue – if that's even possible. While Ethan Hawke does his best to carry this train wreck with his everyman's machismo, even he can't help it from becoming a total dumpster fire by the third act.
Rotten Tomatoes: 38% (Rotten)
Metacritic: 38 (Generally Unfavourable Reviews)
Loving Vincent
Age Restriction: 13 L V D
On 27th July 1890 a gaunt figure stumbled down a drowsy high street at twilight in the small French country town of Auvers. The man was carrying nothing; his hands clasped to a fresh bullet wound leaking blood from his belly. This was Vincent van Gogh, then a little known artist; now the most famous artist in the world. His tragic death has long been known, what has remained a mystery is how and why he came to be shot. Loving Vincent tells that story.
In what seems like a heck of a lot of effort for a gimmick in line with A Scanner Darkly or Waking Life, Loving Vincent is the world's first fully oil painted feature film. Unfortunately, the astonishing visual achievements are let down by a patchy narrative, but this Van Gogh biopic is still worth it if you want to experience true artistic cinema.
Rotten Tomatoes: 84% (Certified Fresh)
Metacritic: 62 (Generally Favourable Reviews)
Call Me by Your Name
Age Restriction: 16 D L N S
It's the summer of 1983 in the north of Italy, and Elio Perlman (Timothée Chalamet), a precocious 17- year-old American-Italian, spends his days in his family's 17th century villa transcribing and playing classical music, reading, and flirting with his friend Marzia (Esther Garrel). Elio enjoys a close relationship with his father (Michael Stuhlbarg), an eminent professor specializing in Greco-Roman culture, and his mother Annella (Amira Casar), a translator, who favor him with the fruits of high culture in a setting that overflows with natural delights. While Elio's sophistication and intellectual gifts suggest he is already a fully-fledged adult, there is much that yet remains innocent and unformed about him, particularly about matters of the heart. One day, Oliver (Armie Hammer), a charming American scholar working on his doctorate, arrives as the annual summer intern tasked with helping Elio's father. Amid the sun-drenched splendor of the setting, Elio and Oliver discover the heady beauty of awakening desire over the course of a summer that will alter their lives forever.
Melancholy and powerful, Call Me by Your Name is an empathetic look at coming-of-age and first loves. With nuanced performances and subtle storytelling set against the gorgeous backdrop of sun-drenched Italy, this future classic of gay cinema has earned three Academy Award nominations, including the coveted Best Picture Nomination.
Rotten Tomatoes: 96% (Certified Fresh)
Metacritic: 93 (Universal Acclaim)
For more information about the age restrictions, click here.
Last Updated: February 23, 2018