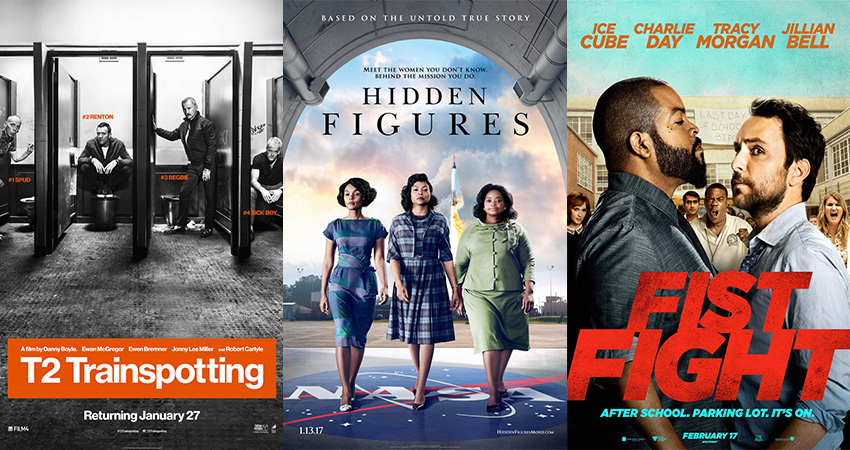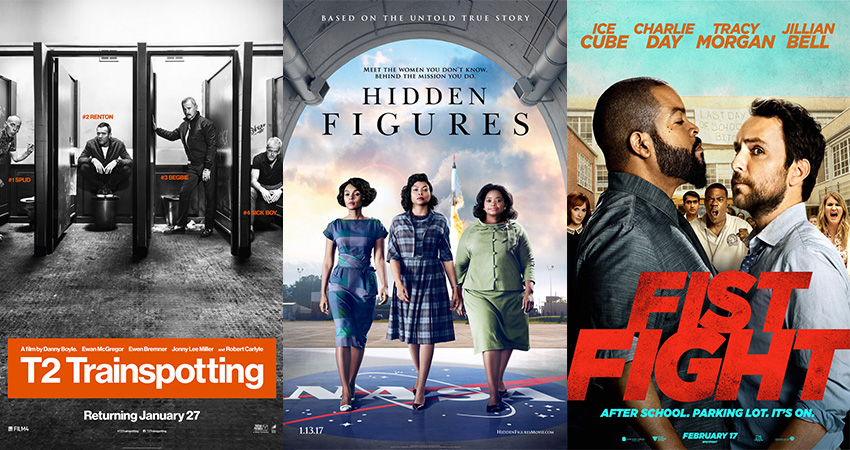 Usually my intro paragraph for the Movies out Today post links the movies together in someway. This week is a bit of a challenge, as they're running the gamut from long-awaited sequels to Academy Award nominees to saccharine movies about dog reincarnation. I guess the best news is that for a change, all of this week's new releases are in regular 2D, which is a relief for all the glasses wearers out there! Here's what you've got to look forward to in cinemas this week.
T2: Trainspotting
Age Restriction: 16 D L S V
First there was an opportunity……then there was a betrayal. Twenty years have gone by. Much has changed but just as much remains the same. Mark Renton (Ewan McGregor) returns to the only place he can ever call home. They are waiting for him: Spud (Ewen Bremner), Sick Boy (Jonny Lee Miller), and Begbie (Robert Carlyle). Other old friends are waiting too: sorrow, loss, joy, vengeance, hatred, friendship, love, longing, fear, regret, diamorphine, self-destruction and mortal danger, they are all lined up to welcome him, ready to join the dance.
Sequels are a hit-or-miss affair at the best of time, and ridiculously titled T2: Trainspotting is a sequel twenty years down the line, which makes it all the more difficult. Times have changed rather drastically since Trainspotting became a cult classic. T2 doesn't quite reach the heights of the original, but that being said, it's not a complete disaster. When it's good, it's really good, but relies too heavily on the original to hit its own stride.
Critical Hit: 7/10
Rotten Tomatoes: 78%
Metacritic: 62
Book at Nu Metro or Ster Kinekor (2D)
Hidden Figures
Age Restriction: 7-9 PG
As the United States raced against Russia to put a man in space, NASA found untapped talent in a group of African-American female mathematicians that served as the brains behind one of the greatest operations in U.S. history. Based on the unbelievably true life stories of three of these women, known as "human computers", we follow these women as they quickly rose the ranks of NASA alongside many of history's greatest minds specifically tasked with calculating the momentous launch of astronaut John Glenn into orbit, and guaranteeing his safe return.
Hidden Figures might be totally unoriginal as far as "underdog" stories go, but it's a heartening crowd-pleaser with a strong message. The three lead actresses will have you falling in love and cheering for them from the moment they appear on screen. Entertaining, poignant and uplifting, Hidden Figures is a charming, irresistible movie.
Rotten Tomatoes: 92%
Metacritic: 74
Book at Nu Metro or Ster Kinekor (2D)
Fist Fight
Age Restriction: 16 L
On the last day of the year, mild-mannered high school English teacher Andy Campbell (Charlie Day) is trying his best to keep it together amidst senior pranks, a dysfunctional administration and budget cuts that put jobs on the line. But things go from bad to worse when he accidentally crosses his much tougher and deeply feared colleague, Ron Strickland (Ice Cube), who challenges Campbell to an old-fashioned throw down after school. News of the fight spreads like wildfire and ends up becoming the very thing this school, and Campbell, needed.
The trailer for Fist Fight might be full of laughs, but unfortunately they show you pretty much all of the chuckle-worthy moments to be had. Stretch that over a 90 minute runtime and you've got a bad movie on your hands. Given the talent that director Richie Keen had to work with, it's almost shocking just how awful it is, but the critics have spoken. It's tedious, exasperating and paper-thin.
Rotten Tomatoes: 30%
Metacritic: 37
Book at Nu Metro or Ster Kinekor (2D)
A Dog's Purpose
Age Restriction: 10-12 PG
Based on the beloved bestselling novel by W. Bruce Cameron, A Dog's Purpose shares the soulful and surprising story of one devoted dog (voiced by Josh Gad) who finds the meaning of his own existence through the lives of the humans he teaches to laugh and love.
The only reason anyone's heard of A Dog's Purpose was because it gained internet notoriety for alleged mistreatment of its animal stars (the video of which was subsequently debunked). Otherwise, this movie would have flown completely under your radar. Why? Because without the controversy, A Dog's Purpose is just a saccharine Hallmark card of a movie with a shamelessly manipulative script and about as much emotional significance as a Buzzfeed list of cute dog gifs.
Rotten Tomatoes: 34%
Metacritic: 43
Book at Nu Metro or Ster Kinekor (2D)
Tess
Age Restriction: 16 D L S V
A sassy twenty-year-old prostitute on the streets of Cape Town is hooked on painkillers to dull the pain of her grim existence. Her life is turned upside-down when she falls pregnant. Despite her wry sense of humour, she is tormented by her past and starts to question her own sanity. Fragile as she is, her fighting spirit awakens as she attempts to confront her demons and seek her truth.
Based on Whiplash, the novel by Tracey Farren, Tess is a hard film to watch. As a gritty and unflinching look into the life of a Cape Town prostitute, it's not exactly brimming with happiness. But the dark tone is masterfully captured by lead actress Christia Visser, and the film will be worth it for both the outstanding performances and artful cinematography.
Book at Nu Metro or Ster Kinekor (2D)
For more information about the age restrictions, click here.
Last Updated: February 24, 2017