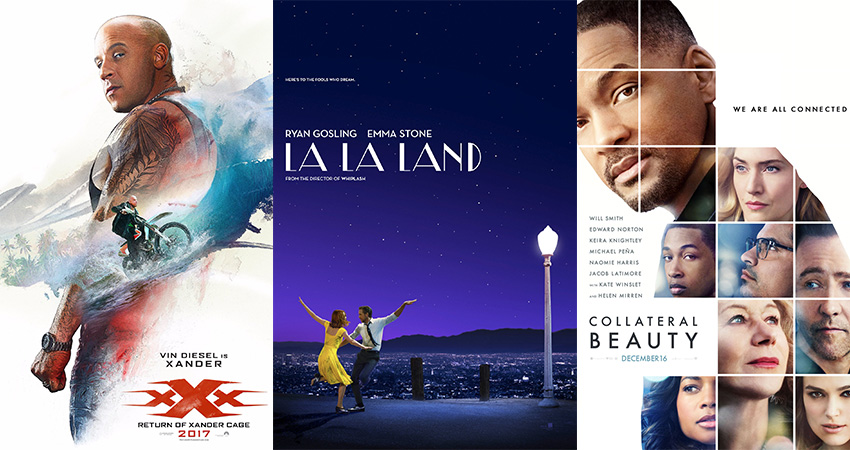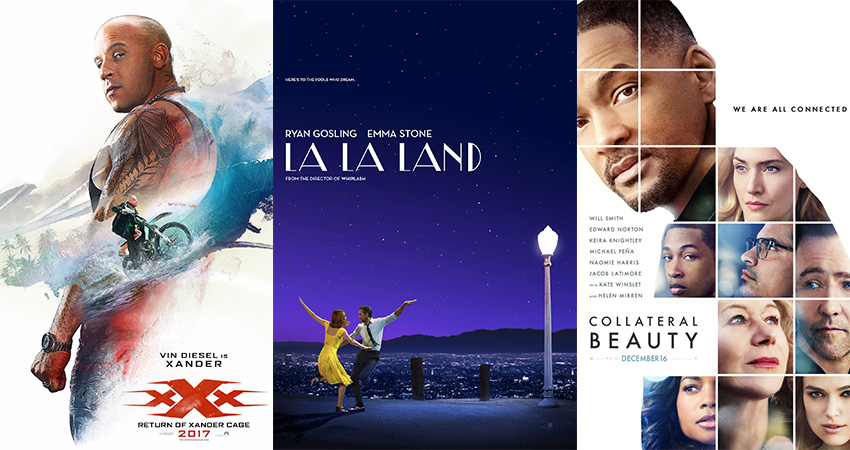 Did anyone else know that xXx: Return of Xander Cage is the third in the xXx franchise? I didn't even know they made a second one, and I only dimly remember the first. I expect to be completely lost for this one, not that I'm watching it for the plot or continuity in the first place!
xXx: Return of Xander Cage
Age Restriction: 10-12 PG LV
Xander Cage (Vin Diesel) is left for dead after an incident, though he secretly returns to action for a new, tough assignment with his handler Augustus Gibbons.
Okay, I can't believe I'm saying this, but I really, really enjoyed xXx: Return of Xander Cage. Not because it was good, far from it, but because it was so (unintentionally) hilarious. I laughed the whole way through. It's over the top, the special effects and acting are terrible (Donnie Yen excluded), nothing makes sense and the entire movie is utterly ridiculous. It's really good for a laugh.
Critical Hit: 5/10
Rotten Tomatoes: 44%
Metacritic: 41
Book at Nu Metro or Ster Kinekor (2D)
Book at Nu Metro or Ster Kinekor (3D)
Book at Nu Metro (4DX)
Book at Ster Kinekor (IMAX 3D)
La La Land
Age Restriction: 7-9 PG V
Mia (Emma Stone), an aspiring actress, serves lattes to movie stars in between auditions, and Sebastian (Ryan Gosling), a dedicated jazz musician, scrapes by playing cocktail piano gigs in dingy bars, but as success mounts they are faced with decisions that begin to fray the fragile fabric of their love affair, and the dreams they worked so hard to maintain in each other threaten to rip them apart.
La La Land is currently leading the Oscars race with 14 nominations (tying with Titanic and All About Eve for the most nominations for a single film), and almost universal praise from Rotten Tomatoes and Metacritic. What's even better is it doesn't look like your typical tug-the-heartstrings Oscar-bait. This is definitely one movie I want to see what all the fuss is about.
Rotten Tomatoes: 93%
Metacritic: 93
Book at Nu Metro or Ster Kinekor (2D)
Collateral Beauty
Age Restriction: 7-9 PG L
When a successful New York ad executive suffers a personal tragedy and retreats from life, his friends devise a drastic plan to reach him before he loses everything. Pushing him to the very edge, they force him to confront the truth in surprising and profoundly human ways. From Oscar-winning director David Frankel, this thought-provoking drama explores how even the deepest loss can reveal moments of beauty, and how the constants of love, time and death interlock in a life fully lived
No matter how well-meaning Collateral Beauty tries to be, it completely falls apart. It's cheesy and tired and ends up feeling like a made-for-TV drama that somehow landed an A-List cast. The road to hell is evidently paved with good intentions.
Rotten Tomatoes: 12%
Metacritic: 23
Book at Nu Metro or Ster Kinekor (2D)
Hoener met die Rooi Skoene
Age Restriction: 10-12 PG L V
It was a dark and stormy night. Bonnie van der Byl, a receptionist at the internationally renowned De Waal Theatrical Agency, is working late, when she discovers the body of her boss—the successful, but not-as-popular Mossel Bay businessman, Du Toit de Waal—with a dagger on his back. Bonnie calls the police and Constable Mickey Mentz is assigned to the case. Mentz finds himself thrown in a web of secrets and lies, as another victim is also found with a stab wound in the back. Bonnie decides to compete with the constable, as self-appointend amateur sleuth.
I think that Hoener met die Rooi Skoene is going for some kind of noir, murder-mystery type vibe? Or, that's what I gathered from the trailer. I'm having a hard time buying it when it looks like it was filmed in the '80s instead of the '40s… but it's safe to say that if there's a butler, he did it.
Book at Nu Metro or Ster Kinekor (2D)
For more information about the age restrictions, click here.
Last Updated: January 27, 2017