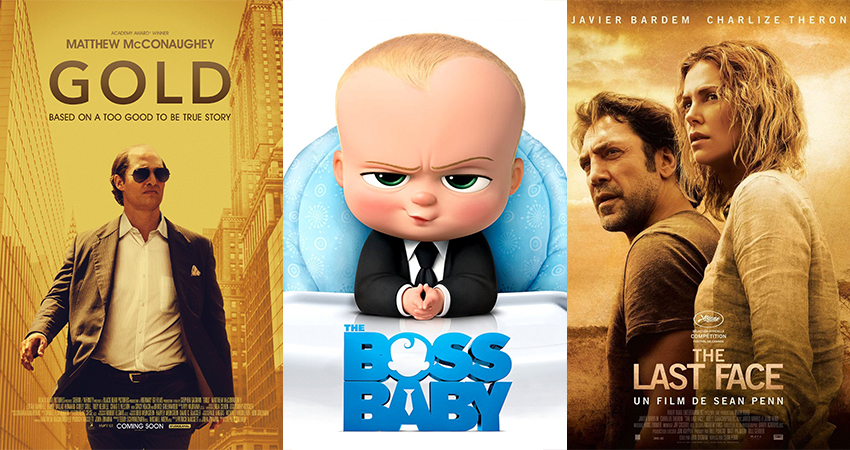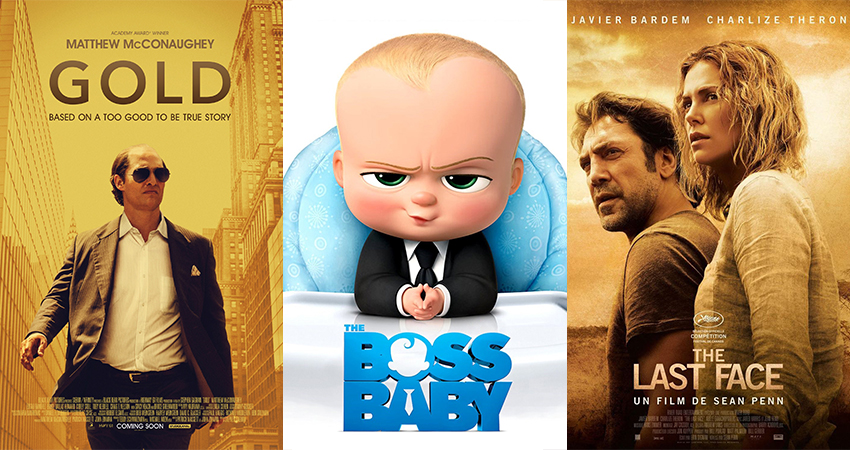 The country is currently gripped in protest action as thousands of concerned citizens have taken to the street to let their voices be heard about the dissatisfaction, the sadness, the outrage they're feeling about the current state of our nation.
And after all the marching and demonstrations and hand-holding, if these patriotic citizens feel like they need to unwind, then there are luckily some movies hitting cinemas today to do just that with a little something for everybody. We have suited babies, unbelievable true stories, secret rebellions, crises of faith, hard hitting drama in Africa, and even a robot dog. Which is actually a pretty apt summary of our current political climate, if you ask me. Okay, maybe not the robot dog part.
The Boss Baby
Age Restriction: PG
Meet a most unusual baby. He wears a suit, speaks with the voice and wit of Alec Baldwin, and stars in the animated comedy, DreamWorks' The Boss Baby. The Boss Baby is a hilariously universal story about how a new baby's arrival impacts a family, told from the point of view of a delightfully unreliable narrator, a wildly imaginative 7 year old named Tim.
The Boss Baby is cutesy, goofy entertainment that's aimed solely at the kids. Sure, there are some moments of wit and a surprisingly A-list cast, but the rest of the humour leans heavily towards the poop-joke side. If you're looking for something to stave off the school holiday boredom, The Boss Baby is probably good enough.
Rotten Tomatoes: 50%
Metacritic: 50
Book at Nu Metro or Ster Kinekor (2D)
Book at Nu Metro or Ster Kinekor (3D)
Gold
Age Restriction: 13 D L
Kenny Wells (Matthew McConaughey), a prospector desperate for a lucky break, teams up with a similarly eager geologist and sets off on an amazing journey to find gold in the uncharted jungle of Indonesia. Getting the gold was hard, but keeping it would be even harder, sparking an adventure through the most powerful boardrooms of Wall Street.
Matthew McConaughey has gotten really good at playing Matthew McConaughey, and he's perfected his performance for Gold. He's McConaughey distilled, the essence of the swaggering cowboy. Unfortunately, the rest of the movie doesn't do his performance any justice. At the end, Gold is just uninspired and unevenly paced.
Rotten Tomatoes: 42%
Metacritic: 49
Book at Nu Metro or Ster Kinekor (2D)
The Last Face
Age Restriction: 16 L V
A director (Charlize Theron) of an international aid agency in Africa meets a relief aid doctor (Javier Bardem) amidst a political/social revolution, and together face tough choices surrounding humanitarianism and life through civil unrest.
Poor editing and awful dialogue is the tip of the iceberg for The Last Face. Director Sean Penn had good intentions but a terrible execution. The Last Face has its heart in the right place, but loses everything important it wants to say thanks to being an all-round shoddy film.
Rotten Tomatoes: 11%
Metacritic: 16
Book at Nu Metro or Ster Kinekor (2D)
Die Rebellie Van Lafras Verwey
Age Restriction: 10-12 PG V
Lafras Verwey has worked as a clerk in the Civil Service in Pretoria for thirty years. By day he sorts, files and whiles away the mundane hours writing grandiose propaganda speeches and drilling imaginary platoons in the washroom, but unbeknownst to his colleagues he is also a clandestine parcel courier for a secret organization that recruited his services to complete their covert mission.
From what I can tell, this is a movie is based on a famous radio drama based on a play from award-winning author, Chris Barnard. That's some Inception-level remaking.
Book at Nu Metro or Ster Kinekor (2D)
Gallows Road
Age Restriction: 13
Loss and heartbreak challenges one man to forgive the unforgivable.
There was a bit of confusion in the office about Gallows Road. We thought it was a Wesley Snipes zombie/cowboy movie, but it turns out that was Gallowwalkers, not Gallows Road. We couldn't find much information about Gallows Road though, other than we're pretty sure it's lacking in both cursed gunmen and Wesley Snipes.
Book at Ster Kinekor (2D)
Robo-Dog 2: Airborne
Age Restriction: Everyone. Everyone is restricted from watching this.
After an accident causes Robo-Dog to get lost and lose his memory, he is taken in by a new family. Tyler enlists the help of Barry as they scour the town in search of their missing robotic best friend.
No. No no no no no. I can't. I won't. Who let them make a second one of these? Who, damn it?! It was bad enough I had to write about the first one, I'm not doing it again. YOU HEAR ME? I REFUSE, YOU CAN'T MAKE ME, YOU F[Censored ~ Ed.]
Book at Ster Kinekor (2D)
For more information about the age restrictions, click here.
Last Updated: April 7, 2017