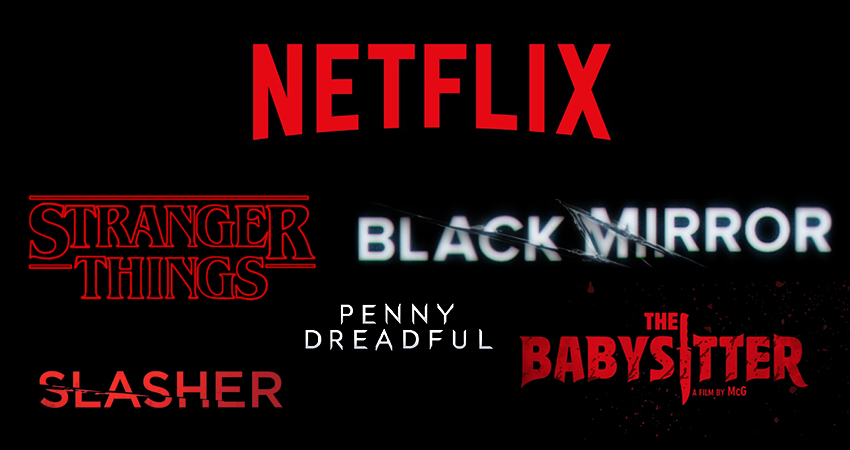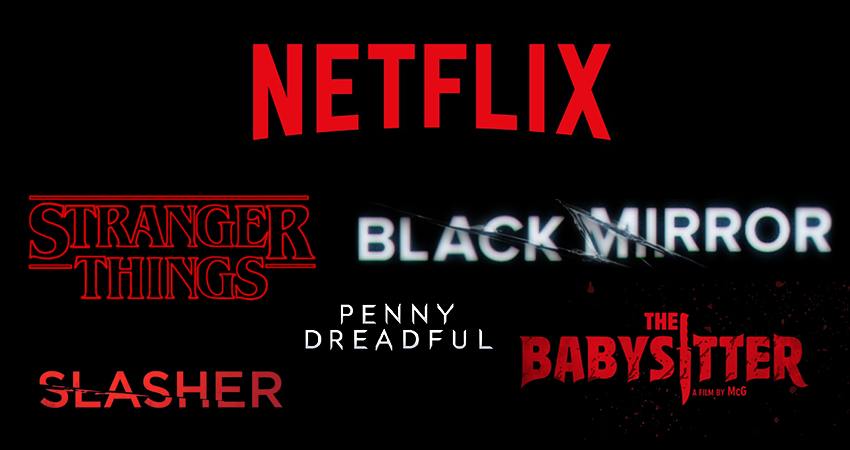 If you didn't have any plans for this weekend yet, well, now you do! We've put together a list of our top picks to watch over Halloween weekend on Netflix. Old and new, famous and potentially undiscovered, as long as it's creepy, scary or gory, it's a must-watch for this weekend.
Netflix Original Series
Stranger Things Season 2
In my opinion, the second season of Stranger Things is the most highly anticipated Netflix release of the year. The full season will be released on the 27th of October, so you've got a whole weekend to binge-watch it and hopefully get ahead of the spoilers. If there's one Halloween show you don't want to miss, it's this one!
Black Mirror
If you like your horror more on the nihilistic side, Black Mirror is for you. With season four dropping later in the year, now is the perfect time to catch up on this creepy anthology series. Just be warned, this show gets under your skin and will leave you feeling very uneasy with the world we live in.
Slasher
Slasher is another anthology series, but more on the "typical" horror side. As a modern-day monster series, Slasher combines contemporary murder-mystery with classic slasher films. There's something for every horror fan in Slasher, alongside well-developed characters and a great cast.
Netflix Original Movies
Gerald's Game
Based on the Stephen King novel of the same name, Gerald's Game is a gripping, claustrophobic small-scale horror/thriller. So far it's been getting rave reviews from critics, in most part thanks to Carla Gugino's stunning performance and Mike Flanagan's skilful directing. As an aside, Gerald's Game has also been billed as one of the most faithful King adaptations to date, which has me sold already!
1922
Another Stephen King adaptation makes the list! 1922, based on King's novella originally published in Full Dar, No Stars, is a slow-burning psychological thriller, interspersed with real, visceral horror. Insidious and compelling, 1922 is captivating in the same way that a car accident is captivating, you feel like you can't tear your eyes away even when you don't want to look.
The Babysitter
If you're not ready to be psychologically tortured, you can take a "breather" with Netflix's horror/comedy The Babysitter. It's essentially a coming-of-age story covered in blood, gore and satanic rituals. While The Babysitter might veer off into the realms of the ridiculous, it never takes itself too seriously. You might not get all the scares you were expecting, but The Babysitter is still silly fun.
Horror Series
Penny Dreadful
Beautiful and bloody in equal measures, Penny Dreadful is an amazing show. If you like your horror more high-brow than low-blow, or macabre instead of gory, then this is for you. Mixing up classic horror monsters like Frankenstein, Dracula, werewolves and Dorian Grey in a Victorian setting, Penny Dreadful is impeccably acted with some of the most poetic dialogue I've ever heard.
The Mist
Hey, look, another Stephen King adaptation! I haven't had a chance to dive into The Mist yet (figuratively, not literally) but it comes highly recommended by those who have watched it. The acting is somewhat subpar and the characters are middling, but the special effects and overall atmosphere are solid wins.
Dead Set
If you've ever asked yourself "What would happen to reality TV contestants if a zombie outbreak happened?" well, that's a very odd question. But, as luck would have it, Dead Set is the answer. Taking place over five days during the filming of the reality TV show Big Brother, contestants and production crew alike are trapped in the Big Brother house while a zombie outbreak wipes out the UK.
Horror Movies
Hostel
Widely regarded as the reason for the resurgence of splatter films back in the mid-2000's, Hostel is absolutely brutal. Filled with blood and gore, Hostel is a torturous watch, audaciously executed by Eli Roth. Not for the faint-hearted or weak-of-stomach.
Friday the 13th
Sadly, we're missing the original Friday the 13th from our local Netflix line-up, but you can make do with the 2009 re-imagining. If you're a die-hard Jason fan, you'll enjoy the cynical setup and the frenzied slasher fun. If you're not a Jason fan, you can still appreciate this soft reboot in the spirit of Halloween.
The Conjuring
Genuinely creepy and exceptionally well crafted, The Conjuring is suspenseful haunted house horror at its best. Though it sticks to a typical horror formula, the mounting unease and memorable spookiness makes The Conjuring a modern classic. Unfortunately, the multiple sequels and spin-offs it spawned aren't as highly acclaimed, so it's best if you stick to the greatest of the series.
From Dusk Till Dawn
For those of you that love the cheesy horrors, From Dusk Till Dawn is a must-watch. Cheap and nasty, but intentionally so, it's a wild ride into pulpy, B-Grade horror with all of Robert Rodriguez's trashy grindhouse flair.
The Shining
At this point, we might as well call this the list of Stephen King adaptations you should watch! Our fourth and final King entry is probably the most well-known of them all. The Shining is a chilling window into one man's descent into madness in an evil, haunted hotel. Directed by Stanley Kubrick, The Shining should be on everyone's Must Watch List of movies, regardless of its horror/thriller status.
Last Updated: October 26, 2017