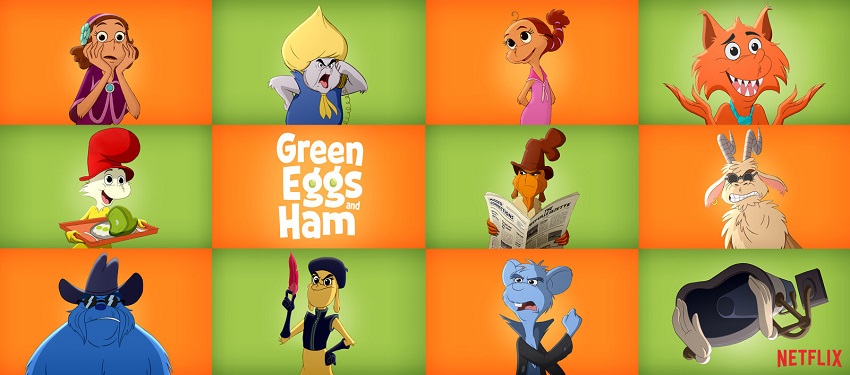 Dr. Seuss' (or Theodor Seuss Geisel to give his real name) Green Eggs and Ham is one of the world's most popular and enduring children's books. First published in 1960 it's gone on to sell over eight million copies worldwide, not bad for a book that only uses fifty different words – which amusingly enough was the result of a bet between Seuss and his publisher that he couldn't complete a book using less words than he did in The Cat in the Hat, which used 236 different words.
It's also the subject of an upcoming animated Netflix adaption that hails from Ellen DeGeneres and Warner Brother's joint-venture A Very Good Production. It was originally announced way back in 2015 with a perfectly apt press release:
Issued from Netflix headquarters. Delivered straight to all reporters. We'd love to share some happy news based on the rhymes of Dr. Seuss. Green Eggs and Ham will become a show and you're among the first to know. In this richly animated production, a 13-episode introduction, standoffish inventor (Guy, by name) and Sam-I-Am of worldwide fame, embark on a cross-country trip that tests the limits of their friendship. As they learn to try new things, they find out what adventure brings. Of course they also get to eat that famous green and tasty treat!
The series was initially scheduled for release back in May 2018, but will now premiere in fall 2019, or in the spring for those of us in the Southern Hemisphere. It's also been rumoured that this will be one of the most expensive animated TV series ever produced, clocking in at between five to six million dollars per episode. Whatever the actual number turns out to be, we know that no expense has been spared on the voice cast which Netflix has just confirmed and features a number of Oscar, Emmy, and Golden Globe recipients in its ranks.
It's headlined by Adam Devine, Michael Douglas, and Keegan-Michael Key as Sam-I-Am, Guy-I-Am, and the narrator respectively. Then we have John Turturro as Goat, Tracy Morgan as Fox, and Daveed Diggs as Mouse, Diane Keaton as Michellee, Eddie Izzard as Snerz, Jeffrey Wright as McWinkle, Ilana Glazer as Eb, and Jillian Bell as Gluntz. Very impressive indeed.
And this is the end of the article, where there should be a rhyme farcical. Which I've just done, and I dare say it's a home run. But before I leave here, how about a quick teaser:
Last Updated: February 21, 2019