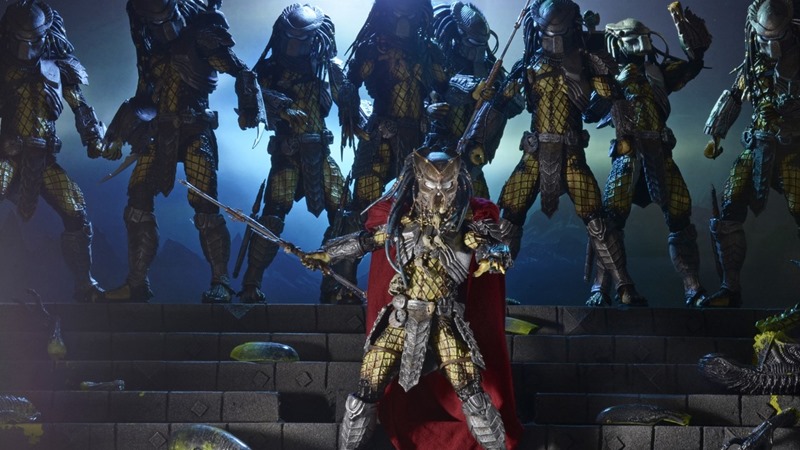 I've got a love affair with Predators. Not the apex kind mind you, as that only ends in one of two ways: Your face being eaten or realising that as long as you can outrun your friends you'll be just fine. Nah, I'm talking about the movie Predators who almost murdered Arnold Schwarzenegger and made Danny Glover realise that he definitely was too old for this kind of crap.
Years back when we started getting the superb NECA action figures locally, the Predator was one of my very first purchases. It was proof that an action figure could be art and posable, something you didn't see all to often. NECA has been churning out new Predator toys regularly for over a decade now, and they've got a few new variants on the way. So feast your eyes on this trio of hunters inspired by the 2004 Aliens Vs Predator movie. The Youngblood, the Elder and the Serpent Hunter:
NECA's longest running action figure line continues! Series 17 features even more action figure debuts from the Alien vs. Predator movie and video game.

The assortment includes Youngblood and Elder from the 2004 movie, and Serpent Hunter from the 2010 video game. Elder Predator wears a regal soft goods cape with real chain and comes with a removable mask and staff accessory. Youngblood Predator features dual wrist blades and comes with a staff with impaled Xenomorph head.

The frequently requested Serpent Hunter Predator (also known as Alien Head Predator) features a unique, Xenomorph-inspired bio mask, dual extendable wrist blades, and sword and shuriken accessories. We've paid close attention to detail to make these as accurate to the movie and game as possible.

Each stands 8.25" tall and has over 30 points of articulation. As an added bonus, Elder and Youngblood's hands and blades are removable and compatible with other AvP Predators. Blister card packaging.
Oh frakk yes, those look awesome. Especially that Serpent Hunter. ESPECIALLY THAT SERPENT HUNTER. It was worth saying twice. These new Predator figures will be available sometime in 2017. And they won't break your budget either. Let the hunt begin.
Last Updated: October 7, 2016