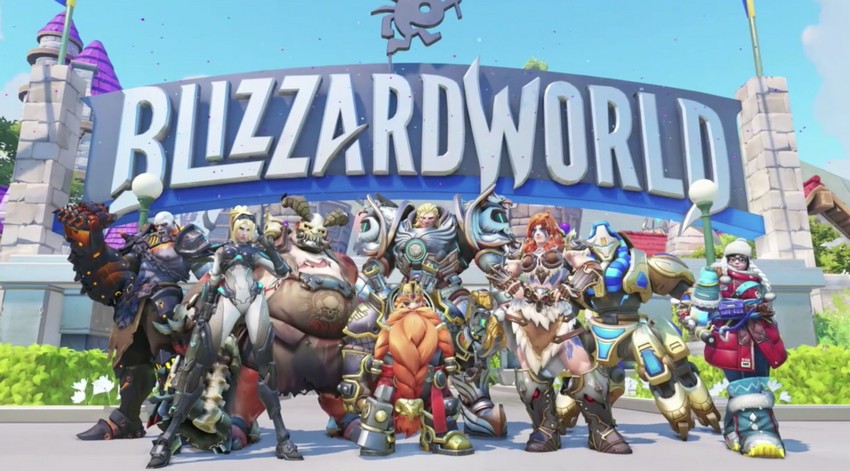 With the launch of the Overwatch League last week, my love of Blizzard's multiplayer shooter was rekindled. I hopped into a game the other night for the first time in ages, and absolutely had a blast playing as Moira. This is sort of fitting as you may recall that when Overwatch's most recent hero was revealed it was alongside a look at a brand new map that would pay homage to all Blizzard's most famous gaming franchises from the past. Well, Blizzard World is almost here now!
Although it's been out since that initial reveal on the game's PTR on PC, it hasn't been available on the live version of the game. That's all changing next week though, as the game's official Twitter account revealed that Blizzard World is going live next Tuesday, 23 January.
Epic memories can only be made in an epic world…

So, grab a ticket & join us for the GRAND OPENING of Blizzard World!

Your adventure begins January 23 ?️ https://t.co/PHG4qA7dfP pic.twitter.com/5W2o73qElc

— Overwatch (@PlayOverwatch) January 17, 2018
As we previously reported, Blizzard World is a hybrid map – so just like King's Row and Numbani, it starts with a control point before becoming a payload escort mission – designed to look like an amusement theme park which pulls from Blizzard classics like Warcraft, Starcraft, Lost Vikings, Diablo, Heroes of the Storm, Hearthstone and more. Along with the map, players will also be boasting character skins inspired by these other Blizzard franchises like a Diablo "Butcher" skin for Roadhog, and a Starcraft "Nova" skin for Widowmaker.
Blizzard also revealed yesterday that as expected, there will be some new sprays and other cosmetic items celebrating Blizzard World, and gave a sneak peek of them on Twitter. Check out the sprays closely and you can see some of the skins that have already been revealed as well as some new ones we haven't seen before.
Only 6 more days until our cosmetics update arrives in Overwatch! Join us as we count down to their release with new item reveals every day.

Today's reveal: NEW HERO SPRAYS

? by @tinysnails pic.twitter.com/D4JgG7eYqq

— Overwatch (@PlayOverwatch) January 17, 2018
With all the excitement around the Overwatch League, teases about the 27th hero maybe being ready sooner than we might expect, and some meta-changing character tweaks that are on the way as well, Blizzard is definitely keeping interest in Overwatch up big time. I can't wait to get back into it!
Last Updated: January 18, 2018